Studio time adds up, so home music studios are increasing in popularity. After all, who doesn't want to be able to just head down the hall when inspiration strikes? As home music studios become more popular, several design trends have come around. 
Home Music Studio Design Trends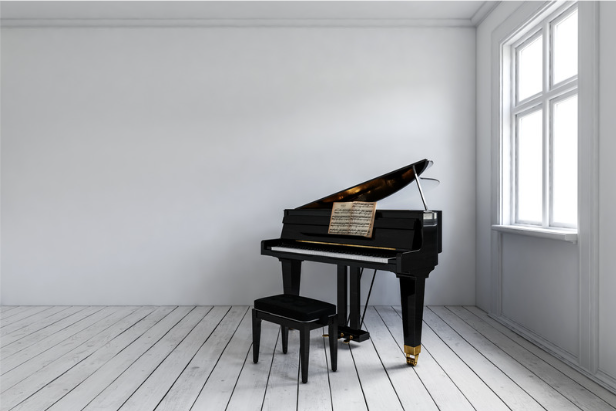 If you are considering creating your own home music studio, take a look at these 6 design trends that might inspire you:
1. Home Music Studio That's Versatile
Faux walls on wheels and furniture that can be easily moved are a great way to give the space versatility. Having a versatile music studio is great for two reasons. 
Lacking space in your home is a huge incentive for creating convertible furnishings when designing your home music studio.
When you have multiple hobbies you might need to create organized workspaces that will accommodate all interests.
2. Sound Absorbing Panels
If there is anything a home music studio has to have its plenty of sound absorption. This is not only to keep the sound from bothering neighbors but also to get clear recordings. However, the days of boring sound-absorbing panels reminiscent of egg cartons are over. Nowadays, you can get all kinds of decorative acoustic panels that contribute to your studio's design. They come in a variety of shapes, colors, and sizes which can be mixed and matched depending on the style you have chosen for the space. 
3. Lighting Solutions for Your Home Music Studio
Lighting can go a long way to set the vibe and keep creative momentum. Opt for layered lighting solutions for the multiple tasks one performs in a home music studio. Consider LED light strips for a glow, a statement fixture for overhead lighting, and a floor lamp that can be turned on for task lighting. 
With new options for LED bulbs that can change colors and be managed with your phone, you can always curate the exact setting whether you are recording, writing, or just hanging out in your home music studio. 
4. Resilient Flooring
Everyone always thinks about the walls when designing an at-home music studio, but you can't forget about the floor! A lot of sound bounces off the floor and the typical solution is to just throw rugs down everywhere. However, there is a better solution.
Resilient flooring is actually a group of flooring materials that are durable and firm while also having some give and bounce. These materials are great for music studios because they are durable, stylish, and reduce noise. 
A few of the options include luxury vinyl tile, sheet vinyl, rubber, and cork. We love cork for music studios since it is natural, renewable and has excellent insulation. 
5. Consider Plants 
Now, this may seem like an odd trend, but plants in a music studio are something you should consider. Potted plants bring a bit of nature into your music studio which makes long nights less stressful and weary by grounding you. They also filter the air to improve your mental clarity. 
6. Include a Stage
Including small stages in a home music studio is an up-and-coming trend that makes for a fantastic, fun addition.
Having a stage in your music studio can help improve recordings as it will sound much more natural when someone is on stage performing rather than sitting and singing into a mic. Just like candid photos are often more beautiful and natural than posed photos, the same idea can apply to music. 
Bottom Line
Ultimately, creating a home music studio should be more than simply putting your equipment into a room. These design trends can help round out the space creating an environment that you love to be in, aid in high-quality recordings, and be versatile enough to accommodate your lifestyle as a whole. 
I know it might not be possible to implement all of these design trends, though if there are two that should be top of your list, it's acoustical sound panels and resilient flooring because getting rid of echo and live reverb during production is a good idea.
Other posts you might enjoy:
Creating a Home Music Room Ideas
5 Tips to Decorate Your Home with Music
Share This Story, Choose Your Platform!