To many people, music is the soundtrack of their life. Music epitomizes their whole being. Also, even if they hear it all the time, they want a constant reminder of their connection to it. Music fans all over the world love collecting memorabilia, souvenirs, and merchandise when they go to concerts and gigs. Of course, all of which pile up over time. For a 'Musicophile' or someone fond of music, their homes are the perfect place to house all of these.
There are many other ways to decorate your home with music. If you want to know more about this unusual topic, we invite you to continue reading for five ways you can decorate your home with music.
Do You Want To Decorate Your Home With Music? Read This!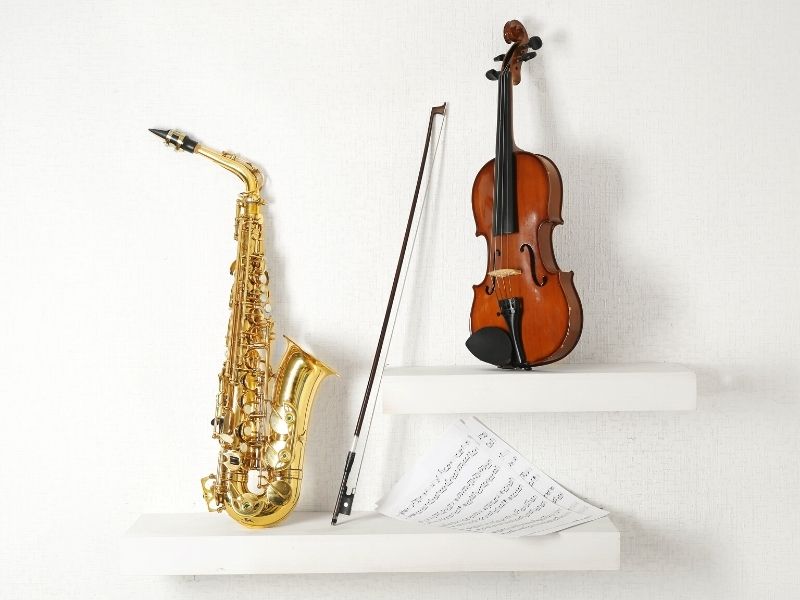 1. Music memorabilia wall.
All the keepsakes you collect over the years need a display on your wall. You may dedicate a unique space in your home for all your souvenirs. You may use floating wooden shelves to display small merchandise items like mugs, collection of artist pins, or guitar picks in a glass frame.
For more oversize items, you may frame and mount them on the wall. If you have a signed denim jacket of your favorite artist, you may frame it in an elegant vintage frame and mount it on the wall. The same goes with the collection of concert tickets you accumulate over the years. Put them in frames and place them in a particular spot in your home for a nostalgic and sentimental feeling.
2. Guitar wall mounts.
Musicians usually own several guitars, and love to mount their guitars on the wall. It's safer than a stand and has an air of sophistication. The wall itself might have textures, a wood panel or wallpaper that matches the decor. Then, why not focus a spotlight on it for a more dramatic effect?
You may also decorate the wall with other memorabilia in glass frames such as antique vinyl, cassette tapes, and compact discs of your favorite bands, artists, and musicians. The total effect of this is a combination of vintage, retro, and classic.
3. State of the art sound system.
Install this technology to bring about the complete concert experience when you play your favorite music. The latest Smart TV with the most sophisticated soundbar will give you the best theater experience. Also, a surround system with the best quality sound is always preferable. Of course, you need a company specializing in home AV installation to ensure that your setup is crystal clear and glitch-free.
4. Framed photos and concert posters.
Concert posters that serve to authenticate your fan status are a great conversation starter. So, whether you've attended many heavy metal concerts or boy band gigs won't matter as much. It's the social interactions that unravel in your home that are important. However, it's nice to frame the concert posters in a nice sleek metal frame to ensure their protection.
5. Transformed instruments.
What is more interesting is when an old musical instrument transforms into a new piece of furniture, right? Old drum sets nicely transform into coffee tables. You may also restore them to their original glory, a shiny finish or a vintage piece. Also, bass drums make fabulous center tables. In addition, the snare drum and the smaller tom drums convert into hanging shelves. Snare drums are also nice lampshade substitutes.  
You may hollow out old acoustic guitars turn them into a wall organizer. You can add mini shelves inside and install hooks for keys. 
Old trumpets, with their length and smooth finish, make great lamp shades as well. Plus, don't throw away old amplifiers if they're not working anymore. Instead transform them into a really nice bedside table.
The key here is creativity and ingenuity. The options are endless if you're creative and resourceful in looking for ways to use old instruments and make them into new decorative pieces for your home.
In conclusion.
It's been said that music is an escape and it defines moments. Of course, people who love music want to be in its presence all the time. To make music reverberate in your life, you can take its intangible form and transform its physical form into beautiful pieces that are a charming reminder of how music defines your life. If you have any questions or suggestions, we always love to hear from you in the comments below. Also below are links to more fantastic articles about ALL things DESIGN for your home or business.
Images Courtesy of Canva.
Other Posts You Might Enjoy:
5 User-Friendly House Design Software to Help You Redecorate Your Home
A Simple Guide on How to Decorate a Nursery
6 Tips About How to Decorate a Small House
Share This Story, Choose Your Platform!