Modern houses and buildings with clean lines and simple designs are becoming ever more prominent.  Adding wooden elements to your exterior architecture can give it a more modern feel. In our article, we discuss different types of wooden elements that are commonly sought after by designers. 
Add Wood for a Modern Architecture Design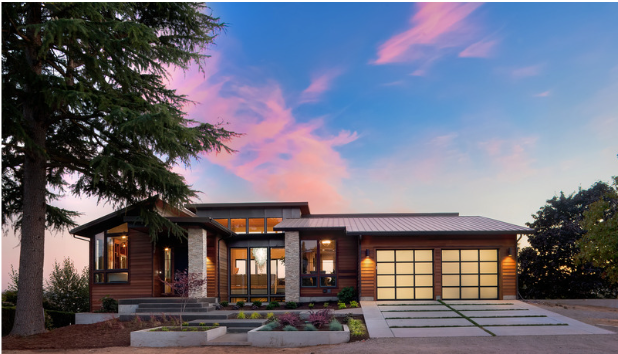 So why pick wooden elements? Designing your exterior with wood provides a finish that fits in organically with its natural surroundings. Lately, it has become popular to use wood in quite unexpected places and in the most artistic ways. When using wood elements in your exterior architecture, it is essential to pick the right type of wood material. Durability is key and hardwoods like Black Locust lumber can withstand the effects of natural elements and surroundings: UV, rain, and snow. Here are a few ideas for incorporating wood into your exterior architecture.
Add Rainscreens and Wood Siding to Exterior Architecture
When designed with aesthetic care, wood siding exteriors will leave a lasting impression on onlookers. Rainscreens and wood sidings give your building or home a distinct look and allow it to stand out in the neighborhood. The combination of the wood's natural coloring, mixed with clean glass window designs will give the house a modern finish. 
Add Wood Elements to Exterior Architecture
Adding unique architectural elements made of wood, like simplistic brackets will create a new, unique design dimension to your exterior architecture. Wood materials added to the exterior of the building celebrates the balance between the natural and built environment. Enhancing your home with wooden architectural elements such as brise soleil will set your property apart from others. It also absorbs sunlight and can reduce cooling costs. 
Natural Wood Permeable Pavers
Lastly, to truly elevate your exterior, go for something unexpected like natural wood permeable pavers as a pathway or patio area. The architectural design world has been very much taken with permeable wood pavers. These wooden blocks have been up and coming when designing urban green spaces, pocket parks and green rooftops. Due to its natural beauty and ease of installation, designers and landscape architects are now catching on to the trends. By utilizing the right type of wood material, such as Black Locust you may also achieve the highest level of sustainability.
Black Locust Lumber is a global corporation with sawmills and supply operations across multiple continents. The company has a zero-waste policy in manufacturing sustainable wood products made of Black Locust. Black Locust is a non-tropical hardwood with a natural longevity of 50+ years, it is an organic product that does not require treatment to enhance its longevity and durability. It has water-resistant, rot-resistant and anti-fungal properties without the help of chemicals.
Other posts you might enjoy:
The Role of Architecture in Commercial Building Design
5 Modern Ways to Bring Natural Elements Into Your home
5 Great Examples of Mid-Century Modern Influential Architecture
Share This Story, Choose Your Platform!