Design 2019 is upon us and this is the time of year that we like to look around and decide what to leave behind to make room for new beginnings. So naturally, the interior design of our homes and businesses is part of this process.
"We're seeing more robust furnishings; dimensions are larger, cushions are plusher, and detailing is more elaborate, even historical at times,"

— Jeffrey Beers of Jeffrey Beers International in New York
This year there is an array of creative excitement in architectural arches, darker wood, and eco-chic choices by international designers. But, that's not all, so read on to see what designers predict for design 2019.
12 Trends for Interior Design 2019
Trend 1
• 
Architectural Arches
Arches are a pleasant transition from one room to the next which is only one reason why they are a current architectural trend. They also create a luxurious classical atmosphere and add exceptional character to your modern home design. I am also impressed with the way their round soft curves create a tranquil work of art out of a simple passageway.
Trend 2
•
Bold Beachy Colors
I love Pantone's Color of the Year "Living Coral"! This color is an absolute joy and will enliven any room but looks especially at home in this beach house. Pair it with other pastels or jazz it up with complimentary accessories all around.
Trend 3
•
Creamy Pastel Colors
Combine the earthy elements of concrete or wood with these soft yet glowing ice-cream colors to get a space with a heavenly effervescence. This year's pastels fit nicely with most decors and are easily complemented by terracotta or emerald green. You may consider these colors as the new neutrals for design 2019.
Trend 4
•
Earthy Natural Colors
If you want natural elements throughout your home, consider decorating in colors like this kitchen shown in Sherwin-Williams "Cavern Clay" 2019 color of the year. These colors are mediums through which you may dress up your home with sophistication or bring it right down to earth.
Trend 5
•
Eco-Chic Living
Sustainable furniture design continues to expand and grow in popularity among designers. You will see more of this style in 2019 as designers explore increased possibilities of recycled materials in their creations. Shown here is the work of Kim Markel whose delightful, earth-friendly Glow Chairs are made of recycled plastic.
Trend 6
•
Gallons of Greenery
Living plants instantly add inexpensive color and luxurious, organic texture to any decor. Plants not only look great with most interiors, but they also purify and keep the air healthy. As designers become more and more conscious of the importance of bringing the outside in, look for lots of greenery in design 2019 because clean air is something we all need.
Trend 7
•
Headboards of Grandeur
Big headboards make a grand statement as you enter a bedroom. The nice part is, you won't need to decorate as much space so it is an easy way to bring your bedroom up to a new level. Use soft colors and textures such as a fabric that is silky to the touch in a neutral blush to create an atmosphere of serenity.
Trend 8
•
Japandi Style
When this rustic Scandinavian style melds with the traditional elegance we all expect from the Japanese style, it equals minimalism with extraordinary lines, textures, and earthbound colors. Moreover, this modernistic style is still going strong in 2019.
Trend 9
•
Modern Mediterranean Style
We hear a lot of buzz among designers around updating the old and bringing in the new for 2019. This is no more evident than with the modern Mediterranean style with its expected classic features plus the addition of elegant contemporary design.
Trend 10
•
Metallics as Accents
Metals are in and it isn't limited to a particular tone. Use them together or use one tone across an entire room. The spectacular gold multi-layer round chandelier shines over a round glass table with a gold-toned metal base. Metallics are inherently glamorous in any setting and this one tops the charts!
Trend 11
•
Rugs as Statement Wall Art
An eclectic yet modern statement that's now trending is when you put your rug on the wall as a striking statement of art. So, before you put that new area rug down on the floor, try it on the wall first to see how it feels. It might just be the coup de gras of your interior design for 2019.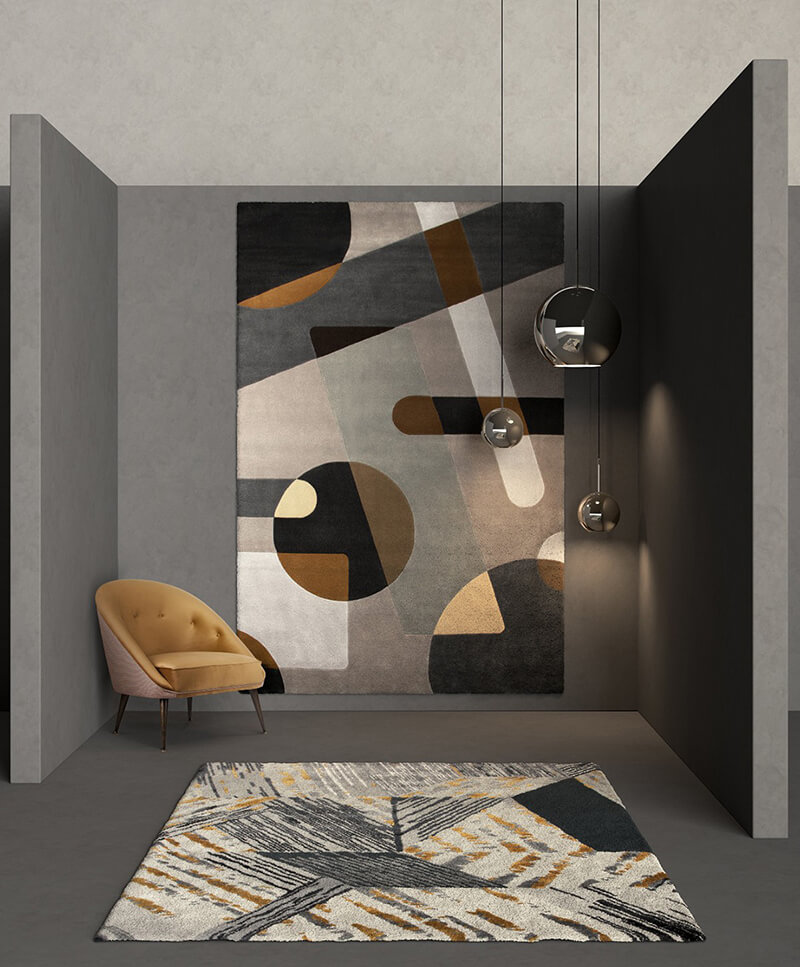 Trend 12
•
Warmer Darker Wood
A deeper, darker shade of wood is seen not only in the kitchen but the living room and bathroom as well. Interior design 2019 brings out the warmth of luxurious wood paired with textured wallpaper for layers of organic elements across the spectrum of your design. In particular, black oak is a strong trend not only for its natural beauty but also for its incredible warmth. Additionally, it gives us a feeling of being grounded which is a very nice effect for you, your family, and guests.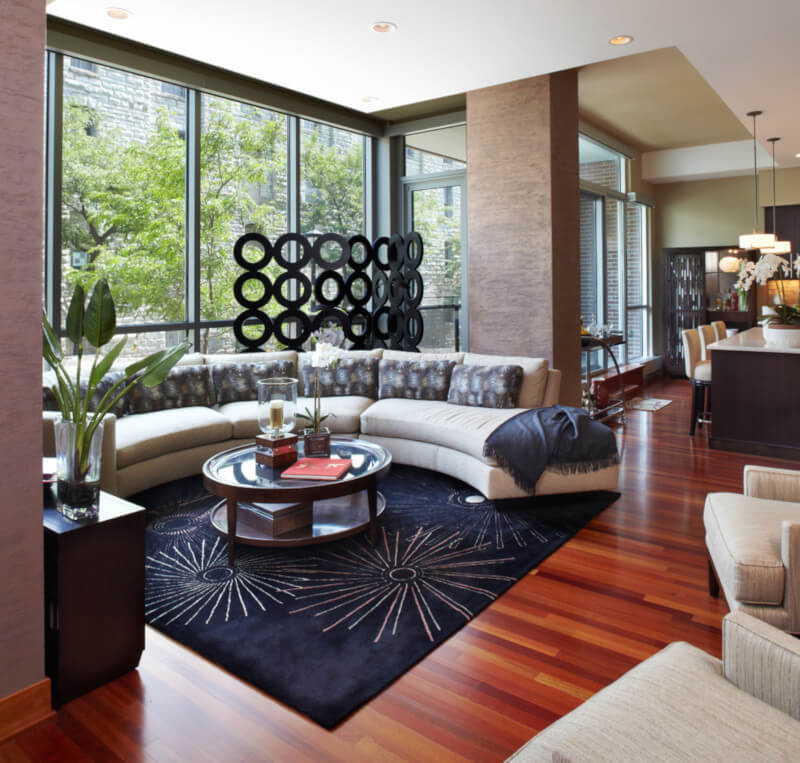 Please note that if you opt for a wood basin in your bathroom such as the beauty shown below, ensure that it is sealed properly with a waterproof silicone to prevent mold and keep its finish intact for a longer period of use.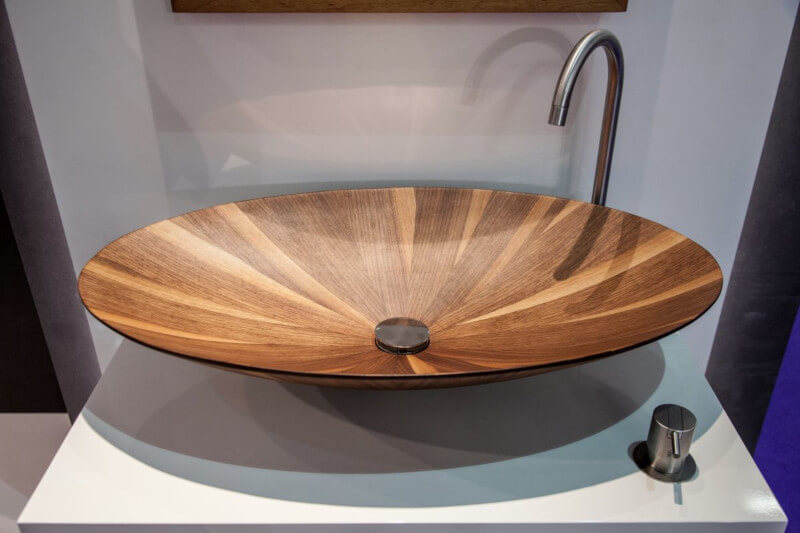 This is a lot of information but understand that this is only the beginning of the 2019 trends! Stay tuned for upcoming posts that goe into more depth about what to look for when you want to update your surroundings to one or a few of the latest interior design alternatives and trends for your home or office.
Other Posts You Might Enjoy:
Enhance Your Interior Design with Beautiful House Trees
3 Excellent Interior Design Resolutions to Bring in the New Year
6 Styles of Winter Rugs You Can Heat Up Over