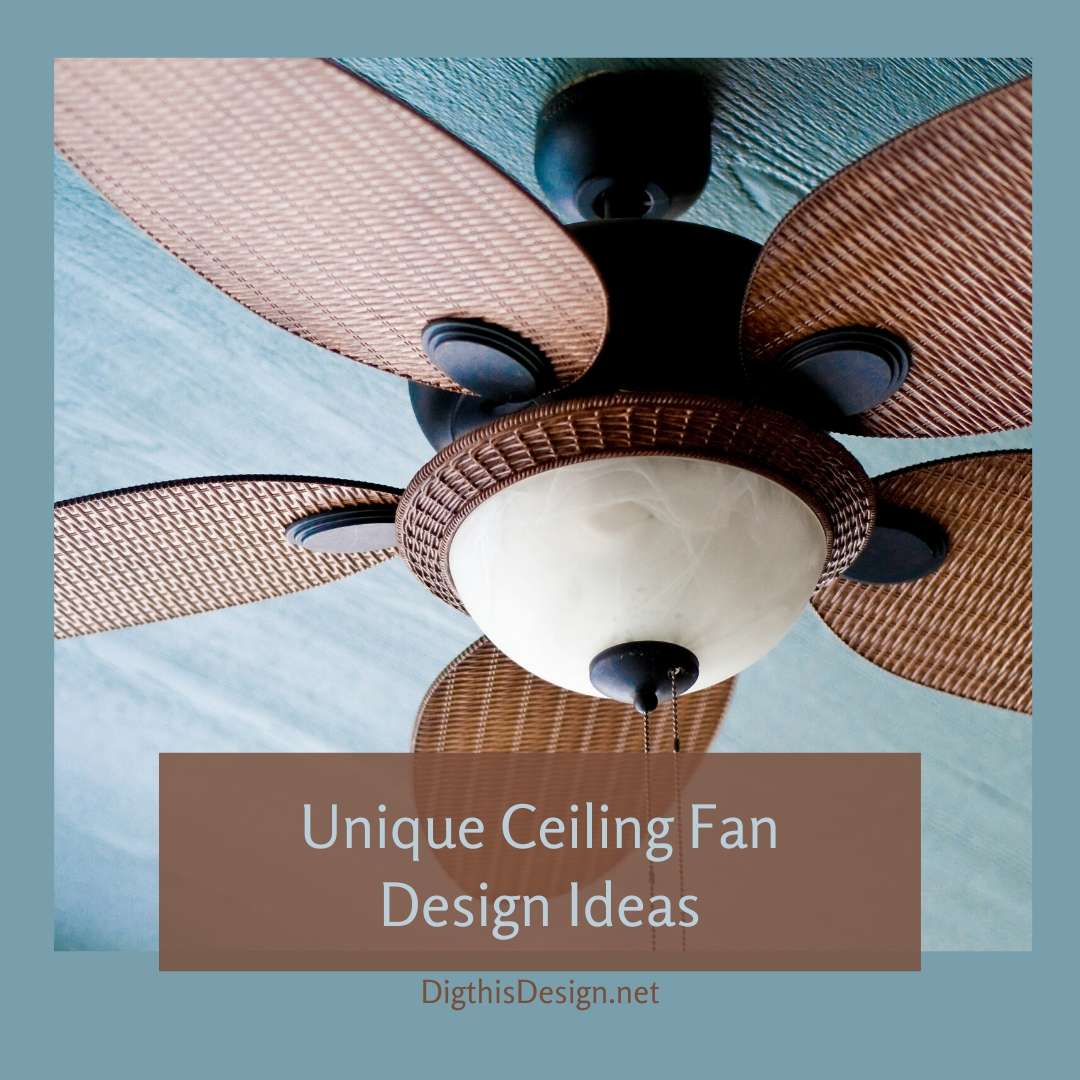 All this downtime due to COVID-19 has left us with many home improvement questions. What's our next job? How can I put this time to better use?  There are almost too many options to choose from. So why not start with a simple DIY project like installing a unique ceiling fan? 
So, throw away those old, run-of-the-mill ceiling fans. Then, take a look at the unique ceiling fan designs below and spark your creativity!
5 Inspirations for Unique Ceiling Fan Designs for Your Home
Regardless of your preference, you're sure to find a unique ceiling fan design that will suit any home decor. 
1 • Modern Style Ceiling Fans 
If your home is in the city, or your house has modern architecture, why not match your ceiling fans with modern home ceiling fans? Modern style blades offer supreme air circulation and a sleek design reminiscent of an airplane propeller or a windmill turbine.
2 • Rustic-Style Ceiling Fans 
If you're not into the modern style, and your home has a lodge feel, opt for a rustic-style fan. This type of fan has a 19th-century western saloon design that's sure to provide you with the comfort you desire. 
Another alternative to the rustic-style is a fan with ten blades to mimic the design of an old farm windmill. You can even combine modern technology by buying a rustic ceiling fan that has a LED light. Also, try an heirloom bronze finish to feel like you're transporting back to simpler times. 
3 • Ornate Ceiling Fans 
If you're in the market for something a little fancier then, consider buying an ornate ceiling fan. These ceiling fans have intricate designs that add posh to any room. Moreover, you'll feel like royalty the second you walk into the room and feel the wonderful air blowing on your face. What's more, there's nothing as classy as an ornate ceiling fan. 
4 • Tropical Ceiling Fans 
If you're in a warmer climate, and the heat is blazing so hard you can't think, remind yourself why you live by the beach. Moreover, tropical fan designs add character to any room and make you feel like sipping a pina colada on a hot summer day. 
Install one on your enclosed porch and have a nightcap while you listen to those Southern crickets. Next, put one in your bedroom and listen to the silent whoosh that makes you feel like you're listening to waves on the beach. 
Whatever warmer climate you live in, tropical fans make you feel right at home.
5 • Double Ceiling Fans 
If you have a large room or you just need that extra kick, double ceiling fans are your best bet. In fact, they provide double the power, and you'll find energy-saving options that make you feel like a responsible citizen and home-owner. After all, when it comes down to it, isn't that what everyone wants? 
Install Your Unique Ceiling Fan Today!
Deciding on which unique ceiling fans to install comes down to preference and use. Examine your home, find out what kind of vibe you want, then, get creative. Remember, your ceiling fan is a cooling reminder of why you bought your home. Now, sit back and get ready for years of enjoyment!
To read more of our articles, tips, and design tactics, you will find several links below for all things design.
Images Courtesy of Canva.
Why CBD Cream Is Preferable Over CBD Oil to Some
How Much Does Furnace Replacement Cost? A Guide for Homeowners
5 Problems Faced by People with Smaller Bathrooms
How to Buy a Home with Good Interior Design
https://digthisdesign.net/wp-content/uploads/2020/07/Inspirations-for-Unique-Ceiling-Fan-Designs-for-Your-Home1.jpg
1080
1080
Susan Daniels
http://development.digthisdesign.net/wp-content/uploads/2016/11/OLD_DigThisDesign_logo.jpg
Susan Daniels
2020-07-04 01:00:48
2020-07-02 13:21:09
Unique Ceiling Fan Design Ideas That'll Inspire Your Creativity