Do you want to hit the refresh décor button on your home furnishings? If the answer is yes, there are some simple, inexpensive ways to accomplish to refresh décor that won't break the bank! Take a look at a few steps you can take to instantly refresh the décor of your home.
Refresh Décor Instantly with These Easy Tips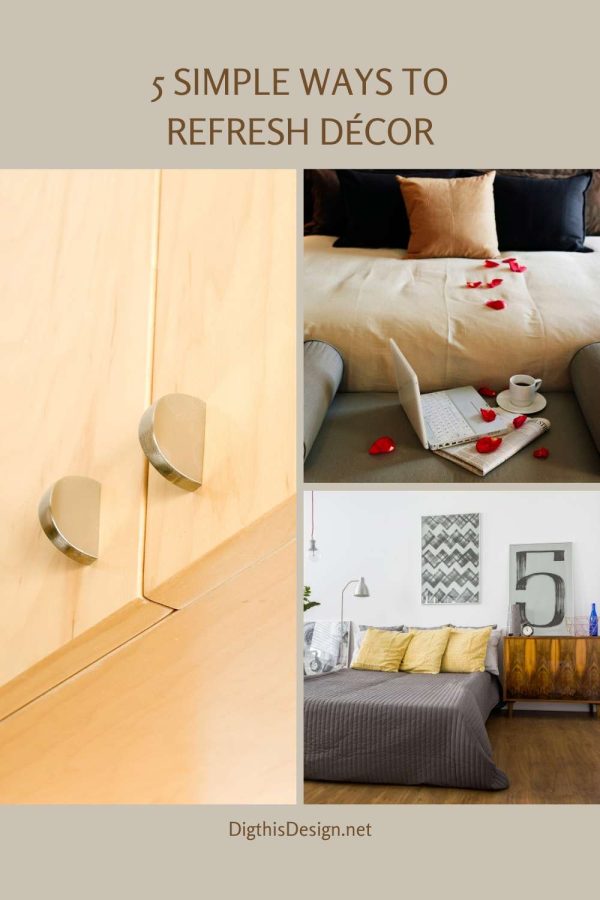 Invest in a Slipcover
Relaxing on your comfortable living room sofa may be one of your favorite things to do. But, perhaps you've noticed that its fabric is starting to fade or look worn. One simple way to remedy the situation is to purchase a slipcover for your sofa. You can choose one featuring a colorful design or a bright solid color that goes with the rest of the furniture in your living room. White is my fav and can really brighten up a room. Be sure to measure your sofa so you can select a slipcover in the proper size. Most slipcovers are washable and can stretch to fit the dimensions of your sofa.
Change the Handles on the Kitchen Cabinets
This is an especially simple thing you can do to refresh the look of your kitchen. If you have gold knobs on your cabinets right now, you may want to go with bronzed cups giving it a completely different vibe. Or, if you have handles in a bar design now, you may opt for curved handles to achieve a different style. Changing the handles instantly gives your cabinets new life!
Get a Colorful Comforter
You may think you have to change the wallpaper or lighting fixtures in your bedroom to give it a fresh appearance. But, it can be as easy as getting a new comforter for the bed. For example, if you have a comforter in a solid, dark color, try replacing it with one that features a floral design with pastel colors. It's a smart idea to choose a comforter that has some of the same colors displayed in the décor of your bedroom. For instance, if you have a favorite print hanging in your bedroom featuring lots of greens and blues, try getting a comforter with greens or blues in its design. This brings visual harmony to the space.
Paint the Walls a Bright White
This décor refresher is a little more time consuming than others, but it can bring about big changes in any room. When you paint the walls of a living room, bedroom or hallway a glowing white, you are creating the perfect background for colorful artwork, a mirror with a decorative frame or family photographs. Plus, white walls make any room appear larger. If you're leasing a home through a place like Invitation Homes, you're likely to have some beautiful white walls that are ready to decorate.
Finally, if you plan to lease a home, you should check the guidelines in your lease agreement to see what changes you can make in the décor. Invitation Homes is one example of a resource if you plan on leasing a home.
Images Courtesy of Canva.
Other posts you might enjoy:
Home Decorating Details with the Most Impact
Decorating Tips for Moving In Together
Share This Story, Choose Your Platform!