You have finally taken that next step in your relationship: you and your significant other have signed a lease and are going to move in with each other! Congratulations! It's exciting, it's wonderful and it's about to get a little hairy. Wait, you're thinking. How is it not going to be anything but sunshine and roses? The answer to your question is because you're two different people with, more likely than not, two different design aesthetics. Here are some easy to follow decorating tips that will help you transition into your new home without conflict.
3 Decorating Tips on Designing for Two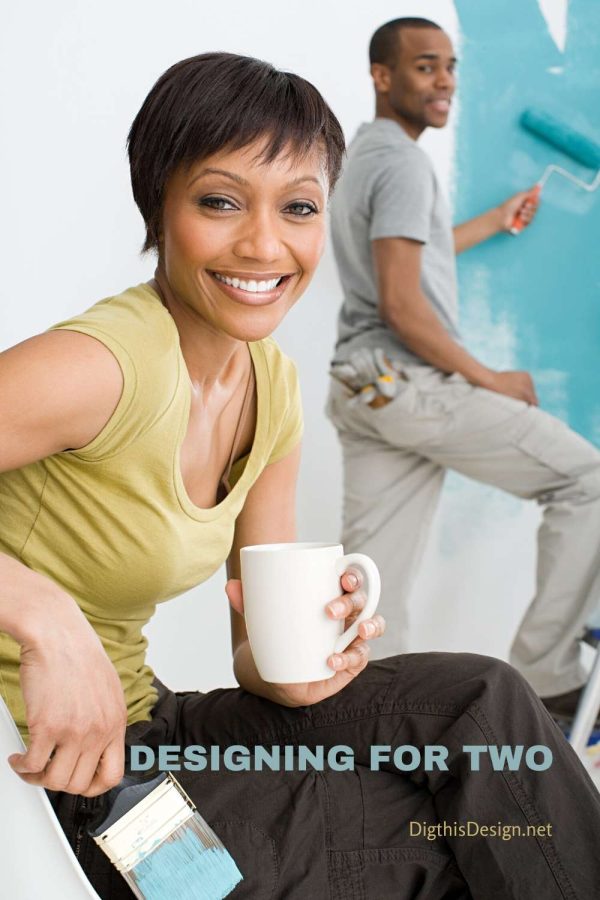 Learning to Design a Shared Space
You'd be surprised at how quickly just walking around a furniture store and commenting on the different products you like could turn into a big argument. No, you're thinking. It won't be like that. We'll find what we're looking for with zero conflict. Here's the thing: you're wrong. There is going to be an item you or your partner desperately wants for your new shared space, and the other is going to hate it. It's just the way it goes. To keep things from getting out of control, you'll need to learn how to compromise, and believe me, it's not going to be easy, but it will help you to learn to be more receptive and communicative.
You and your S.O. also, have probably imagined what your home would look like once you were able to afford your own place. You probably have a Pinterest board filled with interior design posts about sofas, rugs, and accessories. You can still use those ideas for inspiration, they just may need a few tweaks to satisfy your partner's wants for the space to.
Learning Each Other's Likes and Dislikes
You already own the staples for the living room: the couch, coffee table, and floor lamp. You assumed you would be moving all of these items into the new place, but your partner abhors the couch. They would like to purchase a new one, but you don't see the need, you already have a couch, why would you buy something you don't need?
Moving into a new space together demands that you blend your aesthetics, but that can be hard when there's one item you or your partner absolutely hates that the other owns. Houzz suggests "setting [design] expectations ahead of time" in order to get a better understanding of what it is the two of you are looking to have and get out of your new home. In learning what does and doesn't work in your competing design aesthetics, you'll have a better understanding of what will work.
For example, your partner might not like your couch because the cushions are lumpy, the armrests are stained and the color is faded. The only reason you've held on to it for so long might be because it was given to you by an aunt, and you feel guilty getting rid of it. You're starting a new chapter in your life, and that means you'll have to let some things go. Once you discuss why you want to keep some things or get rid of others, you'll learn that it's based on sentimentalities or pre-conceived ideas. Discovering what you both like and dislike and for what reasons will open the path to compromise.
Creating Your Coupledom Design Aesthetic
If you should decide that some of the big furniture items need replacing, decide together what type of aesthetic you want to go with. Mid Century Modern design for the staple pieces best allow for adaptation and reinvention through the surrounding décor accessories. For example, if you and your partner purchase a Blu Dot sofa at a store like Lumens, you can spice it up with funky throw pillows and a textured throw blanket that you and your S.O. found at a flea market on a romantic weekend trip.
Your home should be filled with things that represent your combined personalities. If compromise fails, you can always play a game of rock paper scissor!
Images Courtesy of Canva.
Other posts you might enjoy:
Shelving That Makes a Design Statement
A Bright and Artsy Apartment in the Heart of Rome
Share This Story, Choose Your Platform!