The internet has changed how a lot of us go to work. There are less brick and mortar offices and many of us work from home. There are many couples living in the same house that need to share one office space and it's important that this space is designed with that in mind.
Office Space – Designed for Two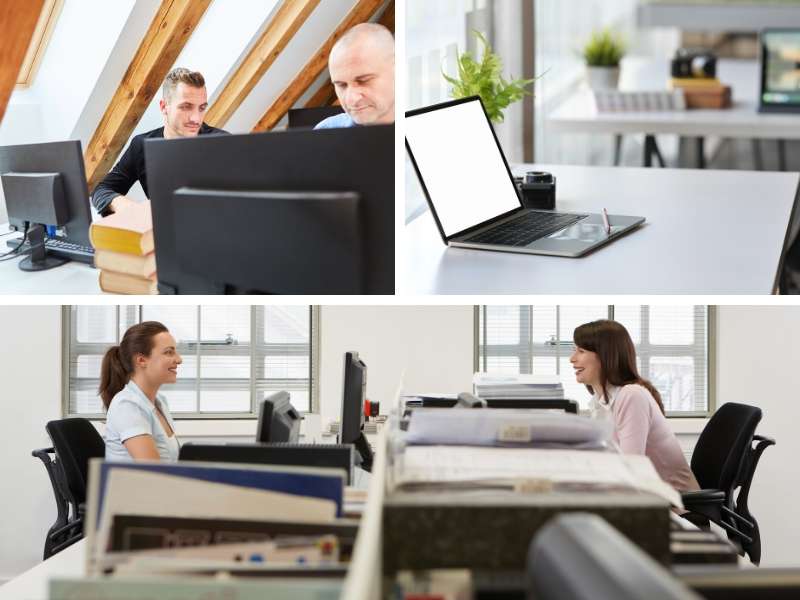 It's important to take inventory on how each person works in order to best meet both individuals needs. Here is a list of questions you will need to answer:
What office equipment and devices do you need to accommodate at each workstation?
How much counter space is needed per person?
How much knee space does each person need to meet their ergonomic needs?
How much shelving is necessary for each person.
How much file storage is needed?
What style can you agree on?
How much lighting do you need for your comfort levels?
Will either of you be meeting clients in your home office?
Which Design Works for You?
Side by Side
Working side by side makes for less distraction and if you are a person that is easily distracted then this might be the option for you. I myself have a home office set up in a side by side design, where my assistant and I can work comfortably next to each other. This works well for collaborating with each other and yet we each have our own personal zone.
Face to Face
This might be the perfect solution for married couples who like to have coffee together while they work. This is a multi-tasking way to work which some people love. Lifestyles today are such that many couples share their morning joe sitting in front of their computer and talking to their significant other while they work.
Two Separate Work Zones
Completely separate zones in the same room are for people who want no distraction. This back to back solution works great for individuals who do not need to collaborate on a project and possibly work in different industries. You can work together, but separate, which makes for the perfect solution!
Two Separate Work Zones with Shared Work Table
As a designer, having a shared work table is a must, for laying out plans or materials. If you're in an industry together that you need to collaborate on a project this makes perfect sense. The two work zone with a center peninsula gives you that ability to do your computer work and then spread out a project, very functional for this type of work.
Other posts you might enjoy:
3 Ways to Use Innovative Glass Technologies for Home or Office Design
Home Office Design Inspiration
Share This Story, Choose Your Platform!