If you've ever redesigned a room, you'll know how important it is to get the lighting right. But despite its importance, there's relatively little advice out there on the subject. Much of the focus is on the colors, and the decor and lighting tends to take a back seat. The following are some of the things that most people don't know about lighting and the importance of a layered lighting design.
Tips – Designing a Layered Lighting Plan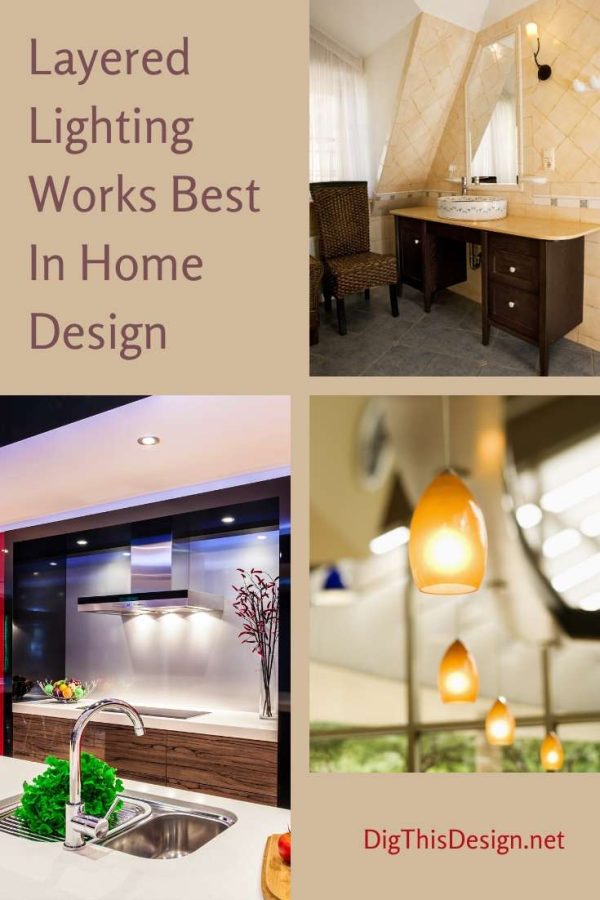 You Don't Have To Install Recessed Lights Everywhere
At the moment, there's a trend towards installing recessed lights, especially in the kitchen and bathroom. And it's not hard to see why. Recessed lights are both stylish and customizable. But there's a problem with how most people are installing these lights. They believe that they have to be fitted in a regular grid-like fashion to light up the whole room. But this isn't necessarily the case with recessed lights. A lot of recessed lights don't have a high lumen output. And that means that they're quite poor at lighting up vertical surfaces. Think of the layers of the kitchen or bathroom that you need to light. The general pathways, the countertops, and the ambient spaces like above and below the cabinets. The recessed lights for the general lighting are the fixtures that will flood the pathways and filter light on the vertical surfaces like the cabinetry. I like to use a larger trim for these, like a 5-inch can, and use a flood lamp to achieve the effect I want. These should be placed in a grid.
You Need Task-Specific Lighting
The recessed lights for the task areas, over the countertops, will not follow the general grid as they serve the purpose of lighting the work areas. I like to change to a smaller aperture and use a 3-inch can trim, I think it looks better to distinguish the separate zones. These lamps will not flood lighting everywhere and should have a confined beamspread and more output of lumens.
Recessed Lighting Doesn't Provide Ambient Lighting
The decorative lighting, that you might find at My Lighting Source, is great for lighting the dining counters for the ambiance you are trying to create. Glass cabinetry should be lit to not only show the decorative glassware but also adds a glow to the room. I recommend using LED lighting because they are energy efficient and will not heat up the glassware and melt your ice. Strip LED fixtures are a great choice for above and below the cabinetry for additional task and mood lighting.
Vanity Lighting
Another room that needs layered lighting is at our bathroom vanity where we shave or apply makeup and we need good lighting to do it right. Recessed lighting will light down onto the countertop and you want to make sure you do not just center one fixture right over the sink. You want to place two equal distance from the center of the sink in order to distribute light evenly across the face. This will not be enough lighting and there will be some shadowing from the light coming from just the ceiling so you will also want cross lighting. Sconce lighting is a great choice for this and should be placed at eye level. For more information on vanity lighting read my post, "How To Light A Vanity Correctly – A Lighting Design How To".
Other posts you might enjoy:
Basic Tips To Lighting Your Kitchen Correctly
Decorative Lighting Trends for 2016; What's New?
4 Tips: How To Use Lighting Design To Create The Perfect Mood
Tips To Designing A Layered Lighting Plan For Your Master Bathroom
Share This Story, Choose Your Platform!