Chandeliers are lustrous and they transform the feel and look of every room. Many people think that installing chandeliers in each room looks ridiculous, so they limit it to a living or dining room. However, we are here to show you inspiration for chandeliers for other rooms in your home.
In general, chandeliers transform even hallways, stairways, bathrooms, and bedrooms. You can even get creative and boldly position dazzling chandeliers in each corner rather than hanging them traditionally from the ceiling. 
However, the truth is, chandeliers are a showstopper for every room! Here is inspiration for chandeliers to transform the look of every room in your home. 
Transform the Look of Your Rooms with Inspiration for Chandeliers
Entryway or foyer chandeliers.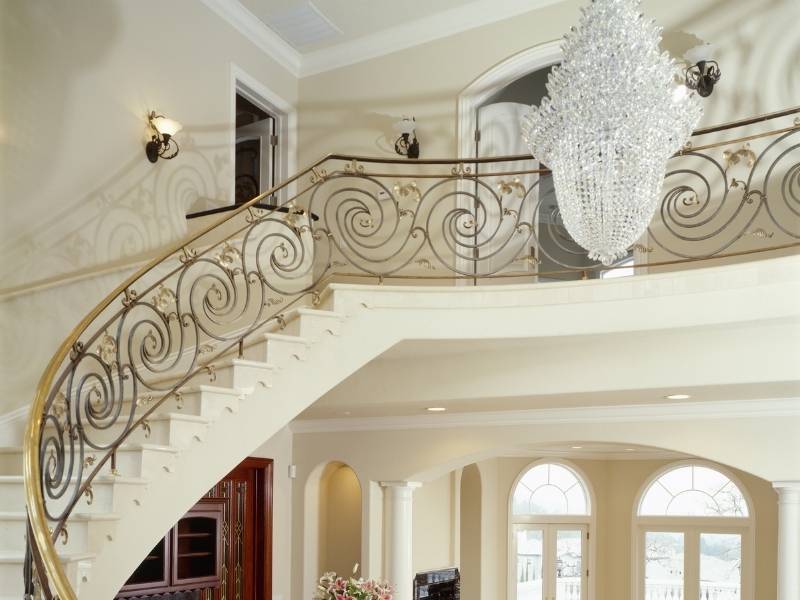 Homes with grand foyer lack style and substance. The entryway greets guests when they visit your home. Set the tone with good lighting and make an optimistic first impression. Even if your entryway is small with a low ceiling then a roof-mounted lighting fixture creates a grand entrance feel to visitors. On the other hand, in a large 2-story, the entranceway is brightened best with 2 to 3 tier chandeliers.
Living room chandeliers.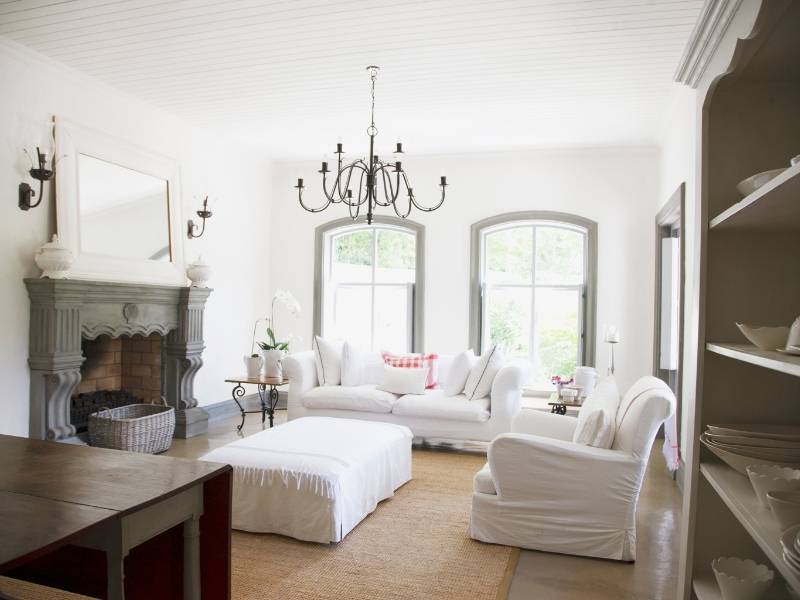 The chandeliers in the living don't need to be all glamorous and glitzy. You can even add layers of different lighting fixtures to be used together for flexible use of the space. Double lighting pleasure using a couple of pendant lights gives the room a feel of symmetry and balance. You can add sculptural scones to artwork or an empty wall. If the living room lacks natural light then a solo ceiling fixture is not sufficient. Use several overhead lights like recessed lighting along with a pendant. You can visit Sofary.com to check the attractive living room chandelier designed with two to three tiers hanging down from the staircase. 
If there is no opening in the ceiling to hang chandeliers then consider floor lamps that curve across the room. Doing so adds brightness from above. Such floor lamps help create a calming spot in the empty corner for curling up with your romance novels. You can even think outside the box by choosing an oversize hanging pendant light to illuminate the space. If the living room ceiling is high then dangle low-hanging lights to add a nice layer to the space. 
Kitchen area chandeliers.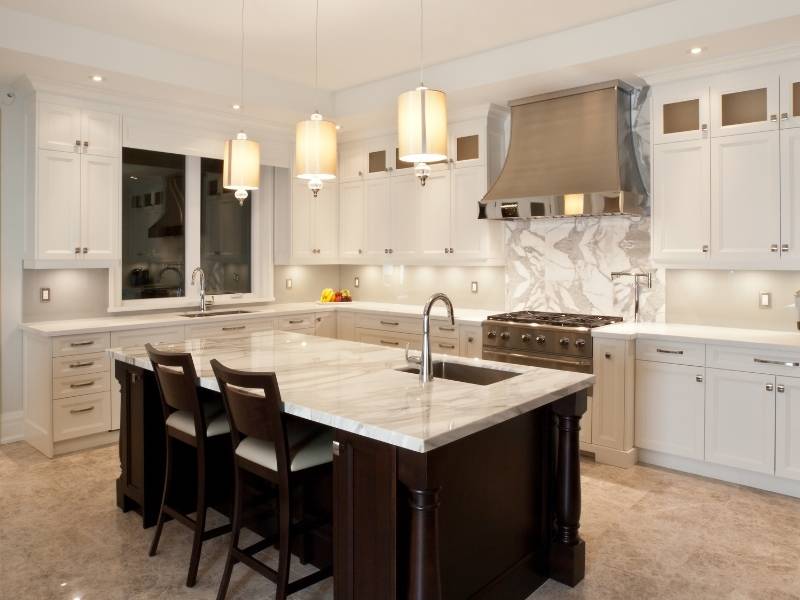 The kitchen area is where families spend quality time enjoying and sharing their daily activities. Plus, it is an area that smells good. Kitchen designs are created for lots of use andf traffic. Each element has a distinctive purpose including the appliances, countertops, and cabinetry. In fact, you can play with kitchen lighting and get innovative. Chandeliers are a focal point, so you must choose one with an oomph factor. 
For wooden white cabinets choose a crystal chandelier to bring softness and elegance to this practical space. It even offers the area a rustic yet sophisticated look. In minimalist kitchen designs, choose white globe chandeliers because it offers visual interest to a sleek design.
Dining room chandeliers.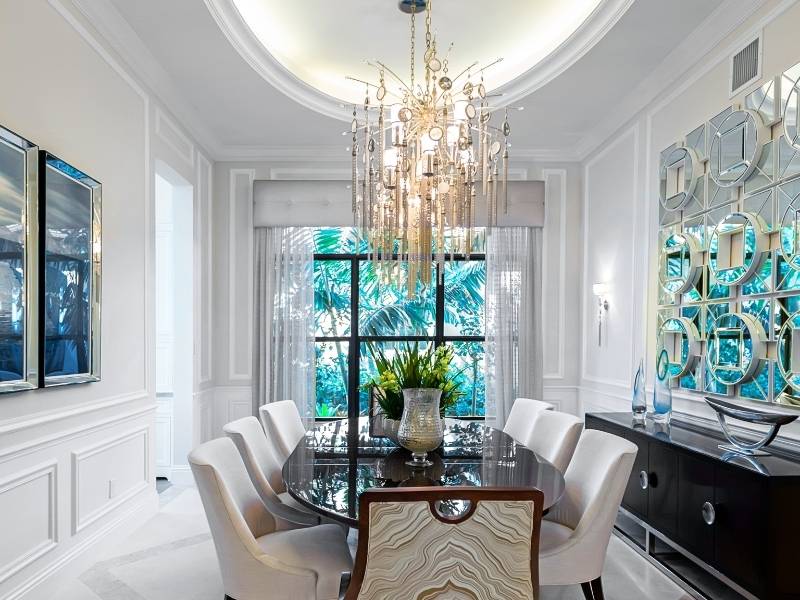 A chandelier is a popular lighting fixture in the dining room. You can try something offbeat. Instead of installing the chandelier in the center of the dining room base it around your dining table. You can choose a solo chandelier or a pendant light or an array of pendant lights that hang low but 36" above the tabletop.
If the dining table is small, install one large pendant light. Then, for a lengthy dining table, install several pendant lights in odd numbers. A single big pendant light even helps to create zoning in an open living space or the kitchen-with-dining space. 
Bedroom chandeliers.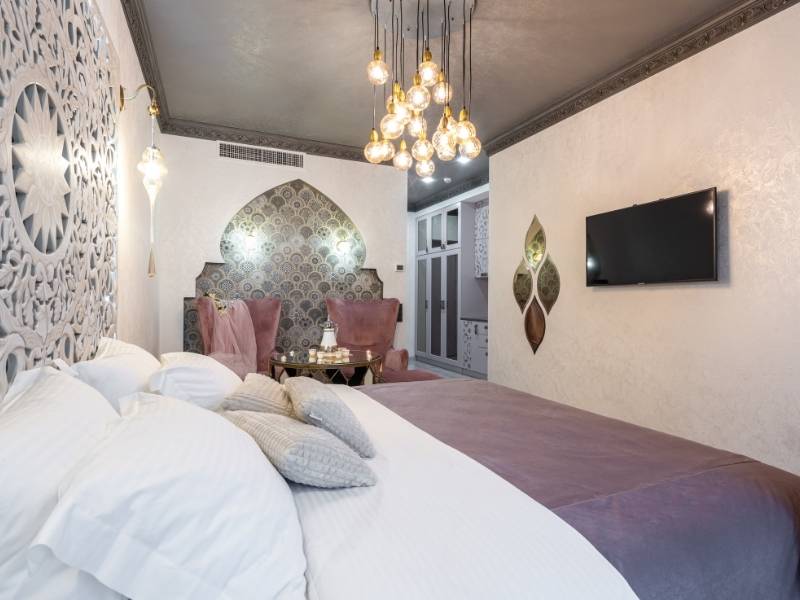 Choose a fabulous light fixture for your master suite. Chandeliers reveal a bold statement in the entryway or the living room or over the kitchen island but they create a focal point in your bedroom. Chandeliers are the most ornate hanging objects and you can hang one in the middle of the bedroom but ensure head clearance. 
You might even install two small flush mount chandeliers on either side of the bed above the bedside table. It adds a luxurious feel and dramatic touch. Hanging crystal chandeliers over the nightstand instead of the center of the bed means it can be hung lower. It even plays the role of an ideal reading lamp. 
It is tempting to choose a big and most elaborate chandelier but ensure to calculate the room dimension and use an online calculator for sizing. Bigger is not always better because you need elegance and serenity inside the bedroom rather than overwhelming lighting. 
Guestroom chandeliers.
A big or small guestroom looks comfortable and inviting with proper lighting elements. Pendant lights are the latest alternative to the traditional bedside lamps. A couple of pendant lights hanging on both sides over the bed head look awesome. A stunning chandelier hanging from the ceiling is ideal to give a thoughtful feel towards the guest.
Bathroom inspiration chandeliers.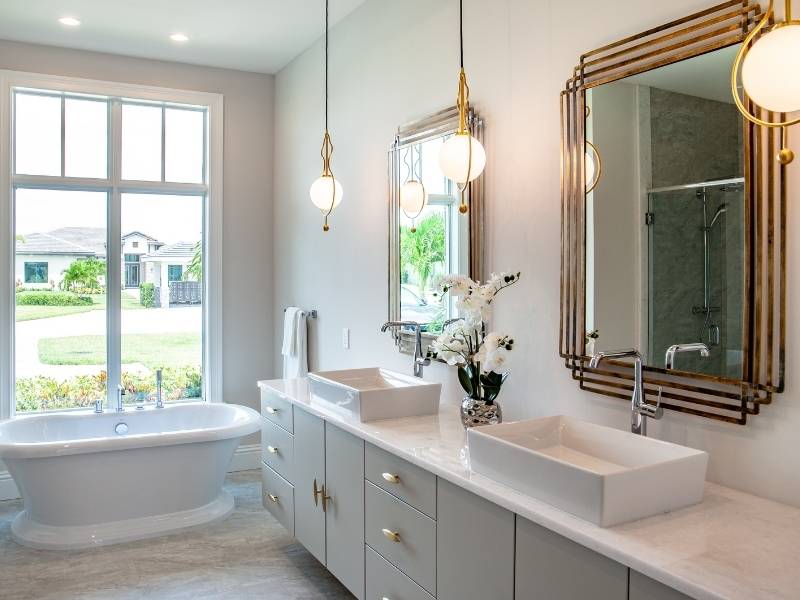 Homeowners hardly think about decorating their bathrooms with luxurious lighting fixtures. Bathroom chandeliers are associated with 5-star hotels, but today people are adding multilayered, glass rods or raindrop crystals to elevate the feel and look of uninspiring bathroom lighting. It looks aesthetic when hung over a magnificent free-standing tub and transforms your bath space into a luxurious spa. 
If the ceiling height does not allow you to hang the chandelier directly over the tub, install it some feet away. If the tub and shower area is separate then hang a chandelier in the center to offer a balance.
For a grand bathing area, choose grand chandeliers based on the bathroom shape. In small bathrooms, there are small chandeliers available, but ensure that the lighting fixtures are rated to be used safely in a wet and moist environment. 
The variety of finishes.
When you choose a lighting fixture the finishes will generally depend on the room's overall theme. Consider matte or chrome-nickel fixtures to balance a contemporary, clean theme. You can even go contrast and consider matte gold, copper, or black finishes to add an ideal sense of luxury and finishing touch. 
Here's to your inspiration for chandeliers throughout your home for a spectacular effect. If you have any suggestions, please leave them in the comments below. Also below, you will find more fantastic articles about ALL things DESIGN for your home or business.
Images Courtesy of Canva.
Other Posts You Might Enjoy:
12 Tips to Make Your Living Room Look More Expensive and Elegant
5 Ways to Mix it Up With Metal Home Decor
4 Design & Decor Styles for Flat Screen TVs
Share This Story, Choose Your Platform!