Your living room is the place where you sit around with your friends, family, and guests to have fun.  It is also the place where you spend time to unwind and relax after a long day.  This space is certainly the life of your house and most importantly it is usually the first room your eyes gaze upon while entering the house. It is only natural you want your living room to look elegant and luxurious.
You don't have to go over your budget and buy expensive furniture and chandeliers to give the place an exquisite look. You can do it just by letting your creative imagination flow.
We have put together 12 tips on how you can easily decorate your living room and give it a more elegant look.
Elegant Tips & Inspirations for your Living Room
1 • Simplify the Layout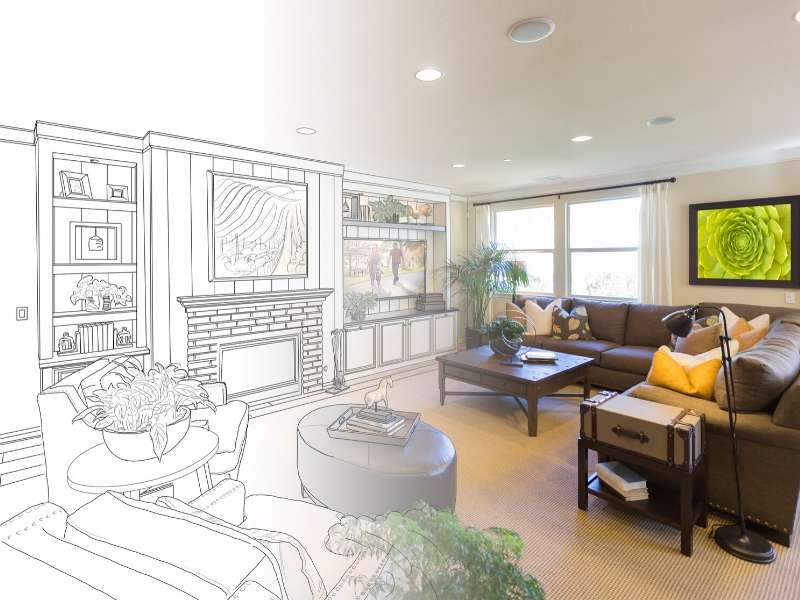 The first thing you want to do is keep your room layout simple and organized. It won't matter how much you invest in the room if it ends up looking messy. So, select a simple layout and keep only the necessary furniture around while you declutter the space. What's nice is that without clutter, you get extra space to let your decor shine through.
2 • Select the Right Furniture
You can learn a lot about your living room just by looking at the furniture. Once, you have decided on your layout, fill it with some amazing pieces of furniture. For starters, you will need some Luxury Sofas to give the room the lux look. You will also need a wall-mounted TV, a coffee table, and possibly, some storage cabinets.
3 • Put a Rug in the Middle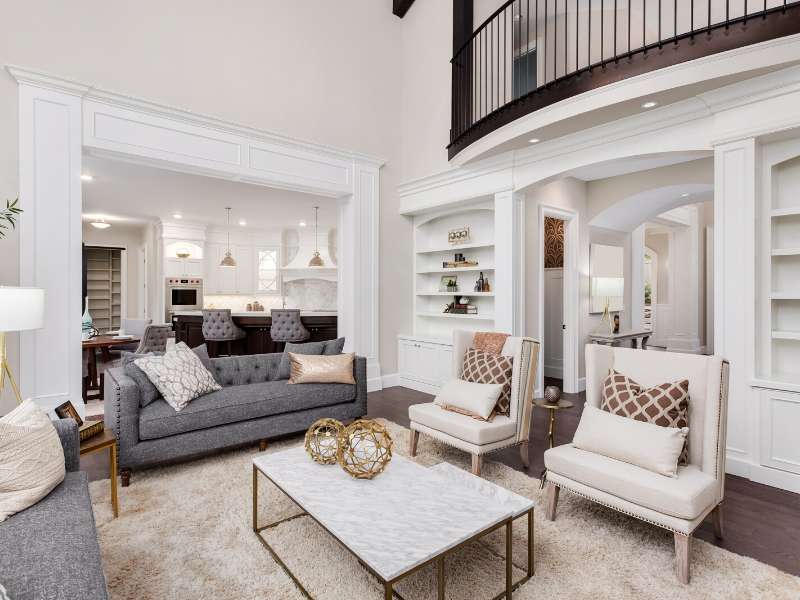 This goes without saying that a nice rug will certainly enhance the look of the room. The best placement of the rug will be right in the middle of the sitting arrangement of your room. It should be in the center and should stretch out a bit beyond the sofas and chairs.
Especially on a hardwood floor, a nice thick faux-rug in the middle of the room gives the entire room a cozier feel. Moreover, this will anchor the room and give it a central focal point.
4 • Use a Creative Textile
The best way to decorate your room is by using a nice pattern design. Here is what you don't want to do. You do not want to match all the patterns. It might be easy to pull off but will make the room look dull. Instead, mix it up!
Use different materials like metal, wood, glass, fabric. Use decorative pillows and throws to make things look more dynamic. Try this and you will see that mixing things up greatly enhances the visual appeal.
5 • Add Some Paintings
You don't need to invest a lot in paintings and neither do you want to turn your living room into an art gallery. Although a large-sized art is certainly an attention grabber. It also creates a nice conversation starter. Having some emotional significance or a personal story behind the artwork will personalize the room
If you are the creative type you can even hang up your personal creation. All you will need is a large canvas and some paint and acrylics.
6 • Let Your Curtains Hit the Floor
Your living room and your entire house might not have a high ceiling like some expensive places do but you can use a little trick to make it look like you do. Hang the curtains up high and make sure they hit the ground.
Short curtains give out a cheap look. Since we are trying to make the room luxurious and exquisite, make sure you have long floor to ceiling curtains. Before going to the store to buy curtains, measure the window first. Also, make sure the curtain rods aren't bright and distracting.
7 • Let There Be Light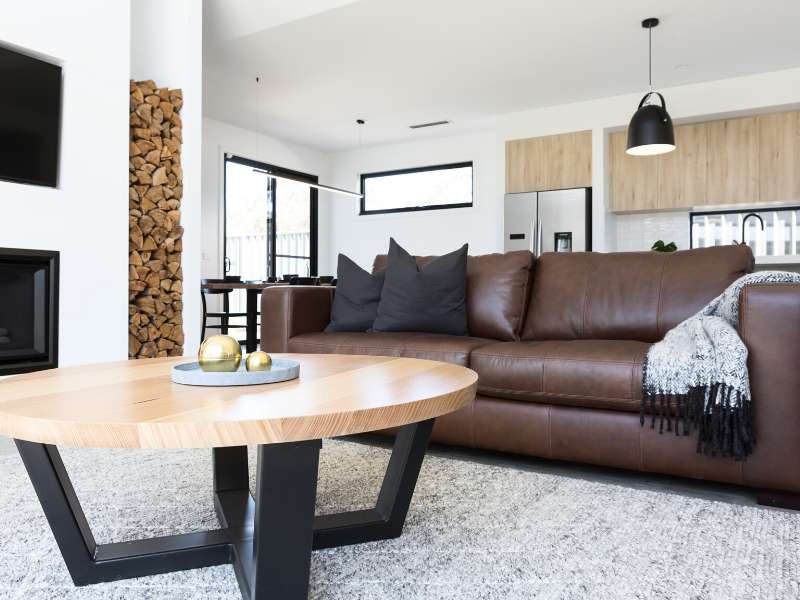 Of course, flooding the space with natural light in the living room is the best thing in terms of lighting. It makes the place look and feels more refreshing. To add more depth to the room have a variety of light sources. The best would be if you have a layered lighting concept.
Use hanging pendant lights instead of ordinary lamps, use plug-in sconces around your furniture, and have dimmer switches. Apply these little tweaks and see how the atmosphere changes instantaneously.
8 • Feature Some Antiques
Why not add some antique pieces in the living room to jazz up the place?. Not to mention, antique items have a certain allure that no modern-looking items can portray. You can either go for large lamps, racks, mirrors or rocking chairs, or even small scale sculptures, wall sconces, or picture frames.
Keep an eye out the next time you pass by the local thrift shop and pick up a unique piece of antique to add character to your room.
9 • Add Decorative Molding
Moldings are possibly the best way to make your living room feel elegant. Truth be told, it is also one of the cheapest ways to make your room look high end. You can even take the time for some DIY and create your custom moldings.
Even if you have a builder-grade home, you can still install ornate and decorative moldings. If you want to hire a professional, then that's also not a big deal since molding does not cost much.
Make sure the color of the moldings and walls match perfectly.
10 • Select the Same Color for Walls and Trims
The right paint and the right shades can dramatically change the whole atmosphere. Using the right color pallets gives you the dynamic freedom of highlighting certain features around the room.
For doors and trims, you can use a darker shade. Matching colors for walls and trim goes easy on the eyes and blends right in. This also allows you to highlight any significant architectural designs or details.
11 • Add A Few Metallics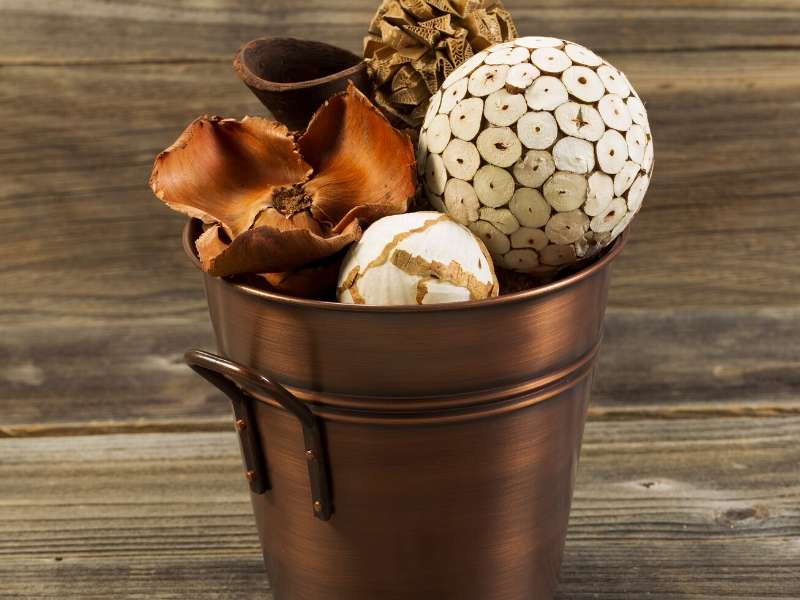 Make the living room look even fancier by adding some metallics. You don't have to go overboard with this part. Just add a nice metallic mirror on the wall, some vintage silver pieces around the room, some light fixtures with metal finishes, and lastly a metallic desk clock.
A little bit of glam can certainly add to the wow factor of your beautiful living room.
12 • Flowers for The Final Touch
Finally, to bring an organic look in the room and make things seem livelier add some fresh flowers. A nice bouquet in the center coffee table and a few small pots on top of the shelves, mantles, or cabinets will give your living room the perfect splash of nature it needs.
Final Thoughts
Whether the size of your living room is big or small, you can make it look luxe and elegant. You also don't need to have a huge budget. Apart from the furniture, you won't need to spend a lot to upgrade the look of your living room. So, be sure to follow the above-mentioned tips to make your living room look expensive and even livelier than before.
Images Courtesy of Canva.
Green Living: How Worms Help Your Compost
10 Signs that You Have a Leaking Basement in Your Home
5 Home Improvement and Remodeling Ideas to Boost Your Home Value
Share This Story, Choose Your Platform!