The first rule of decor for flat-screen TVs is that simpler is better. That's because when most people watch TV, they don't want distractions. So, naturally, flat-screen TVs are at their best when they're included in modern, contemporary, or minimal designs. What you surround them with is entirely up to you and of course, your TV doesn't have to be in a modern setting. With the clean and simple lines of a modern flat-screen TV, you can easily work them into any decor.
However, as we look to the future, let's also look at four stylish designs and decor for flat-screen TVs.
Flat Screen TVs Design & Decor
Set the Screen as a Focal Point

Which is the focal point in this room? The recessed fireplace or the TV? In reality, it's either one, depending on the occasion. The white frame of the TV is a perfect choice for varying shades of grey in this room while a light oak counter sits on top of the free-standing white console coordinating with the floor below. In addition, the atypical coffee tables are reminiscent of the atomic era and serve a useful function in this fun space.
Wrap a Sofa Around It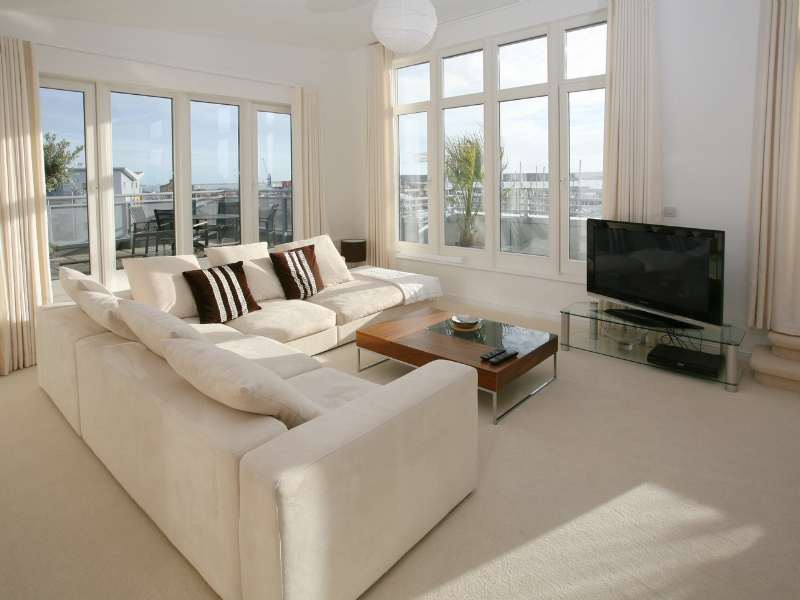 This TV sits on a 2-tier clear glass bench with brushed chrome legs. It is entirely surrounded by creamy tans and whites throughout the room. The sectional sofa is ultra-plush with big soft cushions and creamy suede covers. The caramel toned coffee table with dark glass inserts and chrome legs is the perfect complement to the super-soft lounging sofa and will hold all your TV watching snacks.
Set a Modern Mood
Sophisticated moods are set with cheerful light grey walls that provide a glimmering backdrop to the charcoal grey look of the TV. Add a chrome pot with a tall green plant off to the side not only for style but also for a breath of fresh air. On top of a stand is a small chrome cone lamp in perfect proportions leading up to the small charcoal grey lamp shade. But nothing in this setting is more unique than the small chest style table with a faux Holstein covering and lots of shiny chrome buttons.
Up & Over a Fireplace Mantle
In this modern transitional living room with rustic touches – a larger screen is perfect in a spot such as this. Before you place your new TV in your home, it's best to learn about the recommended distances from TV to the viewer. To help you learn more about how to choose the right size screen for your room, see the table below. According to Crutchfield, if you prefer the picture of a 4K Ultra HDTV, then, figure into your design the optimum viewing range of 1 to 1 ½ times the screen as measured diagonally.
| Diagonal Screen Size | Best Viewing Distance for 4K Ultra HDTV |
| --- | --- |
| 40 in. | 3.3 to 5 ft. |
| 50 in. | 4.2 to 6.3 ft. |
| 60 in. | 5 to 7.5 ft. |
| 80 in. | 6.7 to 10 ft. |
Use it as Art Work
Work your TV into the room as a piece of art as shown in this urban modern living room. The soft grey chrome-like finish on this TV looks outstanding against the textured slate grey wall with the two abstract works of art with slivery gilded frames. The simple round black metal clock balances perfectly over the TV for a nicely finished wall arrangement.  What really pops in this room though is the silken sheen of the burnt orange cushions that blend so well with the window shades, the rustic wood floor, and the wonderful TV stand.
As you can imagine, this only brushes the surface of ways to decorate around your TV. Please let us know your tips and ideas in the comments below. We have also included some other links below for your further enjoyment.
All Images Courtesy of Canva.
Other Posts You Might Enjoy:
Elegant Enchantment in Modern Mediterranean Design
4 Ways to a Modern Nursery with Fresh Designs
3 Exciting Modern Chandeliers for Your Home
8 Great Examples of Mid-Century Modern Influential Architecture
Share This Story, Choose Your Platform!