The whole process of moving is one that invites a lot of stress for most people. The reasons for moving vary from needing more space to just simply wishing to move out of the area you are in. Sometimes, you can find yourself in a position of needing extra space, but without the funds to be able to do an entire house move. One reason many people need to find a new home is they are expecting a new baby and the current house doesn't offer the necessary space. Converting rooms to make it work might be the answer.
There are a lot of considerations when you are moving, it's a little overwhelming, to say the least! You must think about giving notice on your current property if you are renting, or putting the house up for sale if you are selling and buying elsewhere. Then there's packing, organizing movers… it's a lot! If you can avoid it, why wouldn't you? So, let's say you need an extra room for a new baby, but you love your house. An option that's there for you is converting rooms like a walk-in wardrobe or study into a small nursery while you get your bearings for a full house move!
Tips to Converting Rooms Into a Nursery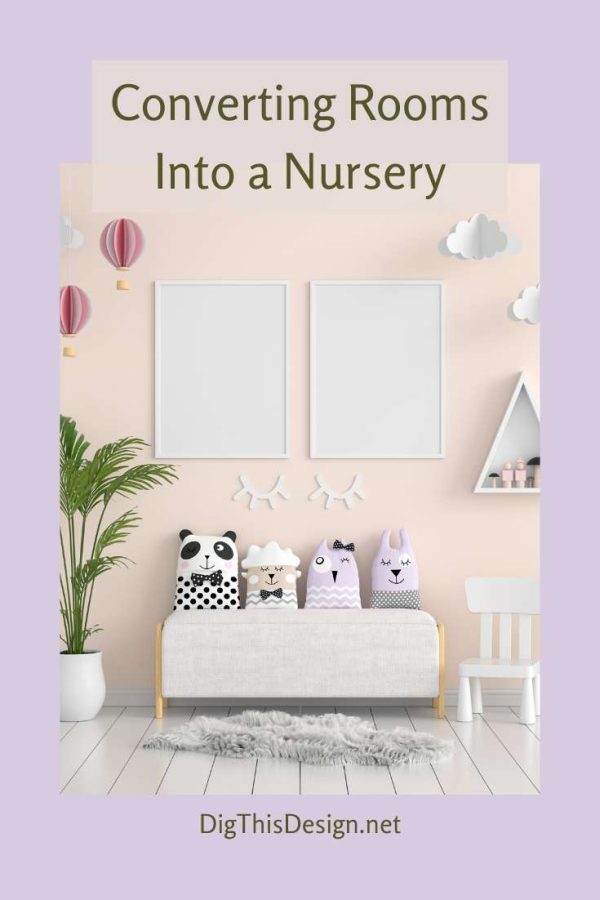 Converting a room isn't easy but it can be a great solution when time is of the essence. You should look at all the particulars so you can get yourself as organized as possible. When you're having a new baby, a nursery is exciting to organize. Making it safe, cozy, and beautiful all at once and fitting it into a space that you may previously have used for something else takes some imagination.
Converting a Walk-in Wardrobe
If you're converting a rather large walk-in wardrobe, you'll need more light. If one of the closet walls is an outside wall you might be able to add a window to let some natural lighting into the space. This is not always an option so you will want to choose a light fixture that lights the space efficiently and be sure to install a rheostat so you will be able to dim the light to a comfortable level.
Adding Loft Space
If your house has high ceilings you might be able to add loft space. Anytime you add loft space you are doubling your square footage and by doing this you could make the perfect room for a new baby. This will involve a lot more work as you have to add a whole new floor and a staircase. You will need to have a contractor in order to get it done right. This will cost some upfront money but will add to the value of your home and be less money than having to move. Anytime you are going to do a major renovation to your home you want to make sure that everything is currently sound. One thing that many people don't think about is the possibility of termites. Be sure to call a pest control company to screen your home for future problems that could grow as your square footage grows.
Bonus Room or Attic Space
Converting rooms like a bonus room or attic into living spaces is a win, win! With a little imagination, you can really utilize this space for the perfect baby nursery. Spend a little extra money and hire an interior designer who knows the latest tricks to finding the perfect fabrics, furniture, and storage solutions.
Converting a room in the home to make more room is simply utilizing the space that you already have rather than paying out to move your whole life to another building. It's a big job but when you already own your own home, the design of a nursery for a new addition to the family feels right, rather than like work. Once the building work is over, it's time to look at colors to make the room simply shine, so grab that brush!
Images Courtesy of Canva.
Other posts you might enjoy:
Tips on Planning Your First Born's Nursery
Share This Story, Choose Your Platform!