Starting to work from home comes with its own set of challenges. For one, it is hard to find motivation when you are stuck in a place associated with leisure and relaxation. Switching from your regular office to one at home is not a smooth transition for some people, and you want to make things easier for yourself to have a more productive work day from home while finding the balance between a work office and a home office.
When designing a home office you should take some time and decorate your home office to make it feel cozier than a work office, but work inspiring as well. Here are 6 ways you can design the perfect balance between a work office and a home office to help you work efficiently and comfortably.
Creating the Perfect Home Office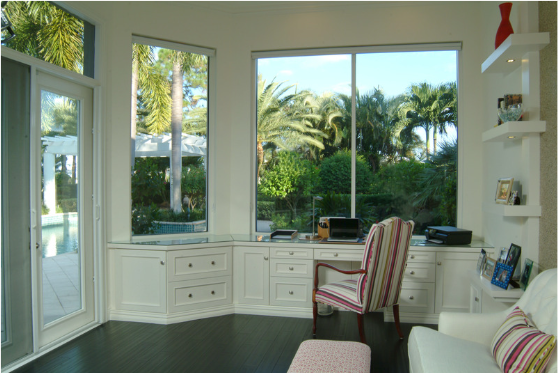 Design by Patricia Davis Brown
Adding Layers to Your Home Office
Area rugs are a way you can add texture and a pop of color to your office. Get inspired by searching great internet sites like Wayfair or Etsy to get rug design ideas. The more texture, the more fun, or perhaps you want a more sophisticated look with less texture and a subdued color creating a serious vibe. You know what inspires you and it's a matter of finding what feels right for your personality.
Wall Art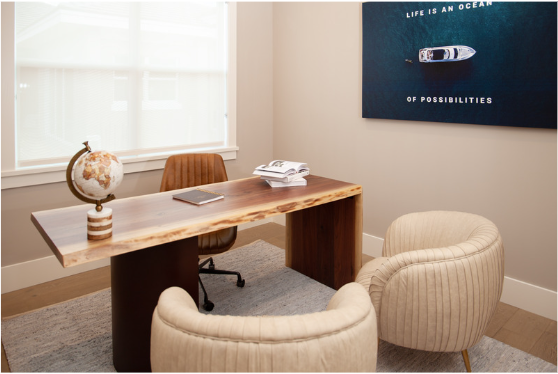 Design by Patricia Davis Brown
Wall art should be inspiring. Art is meant to create an emotion and it's personal to each and every person. Some wall art offers inspirational quotes which might be the perfect reminder you need to start your morning off each day.  It could also be another layer that creates the cozy feeling you need while starting your day with a warm cup of coffee before jumping into your workload.
Bookshelves are Not Just for Books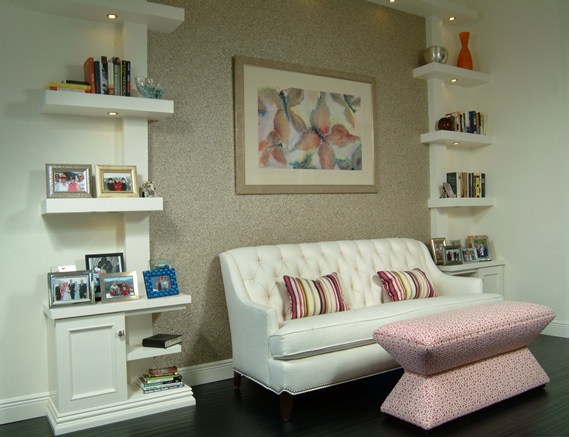 Design by Patricia Davis Brown
Think out of the box when designing your bookshelves. Bookshelves can really add to the overall personality of the home office design and should be integral to the architecture of the room, like the molding. Once the bookshelf is there, you can add more than just books to it, pictures of your family and friends. Depending on the design, a bookshelf could become a centerpiece of your home office.
Add Your Favorite Mug
It is more than likely that you will be drinking coffee, tea, or another beverage throughout your work day. Who doesn't have a favorite mug they like drinking their coffee or tea out of? This is what helps you create that cozy home office feeling, by personalizing it. At the office, you might have picked up a coffee from the coffee shop on your way to work and be drinking out of a paper cup. It is these little things that make a home office GREAT!
Add Personal Framed Photos
If there are pictures from your life that you cherish a lot, you should frame them and have them placed in a visible location. If you ever feel down, you can look at the pictures, which should help you find motivation. I love having pictures of my dog, they just make me smile every time I look at them. We all have that type of photograph that just makes us happy so frame it and add it to your dècor. Personal photos might not seem like a direct way to increase the coziness of your home office, but they are another addition to the overall result.
Declutter Your Home Office
Your efforts of adding and arranging things in the office will not go too far if you neglect to clean the office on a regular basis. Coziness comes from more than just material things. If you are stuck in a messy environment, no amount of material goods will make you feel cozy. Make sure your office is an organized space because a  messy environment breeds negativity and affects your productivity.
Conclusion
All in all, there are quite a few ways to decorate and make your home office cozier. If you know what you want, it should not take too long before you have the home office of your dreams. And in case you are not the most creative person, you can always hire a professional interior designer. The creator of Dig This Design is Patricia Davis Brown who is a national award-winning interior designer. Visit her site, PatriciaDavisBrownDesigns.com and contact her for a consultation quote.
Other posts you might enjoy:
10 Essentials for Your Work from Home Office
How to Transform Your Workspace Into a Home Office
5 Creative Bookshelf Design Ideas for Your Home Office
Share This Story, Choose Your Platform!