Your home is supposed to be your refuge and your haven. But as it gets older and your interior design decisions start to age, it may be time for some room updates. Instead of disrupting your life and updating your whole home at once, you can focus on your top priorities first. Going room by room can keep your project manageable and on budget.
Updating Your Home Room by Room
Here are some ideas and tips for updating your home room by room:
Room Updates that Are Smart: Make Your Home Office a Place for Productivity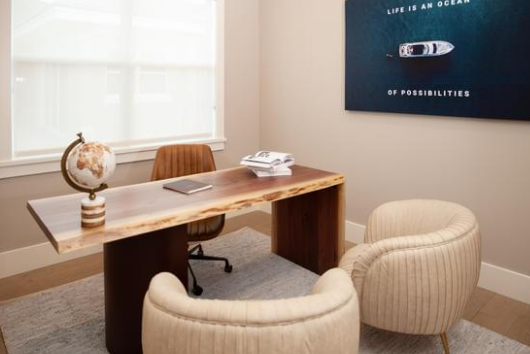 Design by Patricia Davis Brown Designs
With work-from-home more prevalent than ever, you must have a home office that's both comfortable and inspires productivity. A few crucial improvements can have a dramatic change on your home workspace.
Some of the top renovations you can make include:
Improving the lighting: Natural light has the

biggest positive impact

, but you can also add brightness by painting the walls white and keeping the furniture sleek.

Adding office plants as the greenery will not only improve your mood, but they can also help with air purity.

Buying a desk and chair that make you feel comfortable, confident, and ready for success.
 Bring Conversation into the Living Room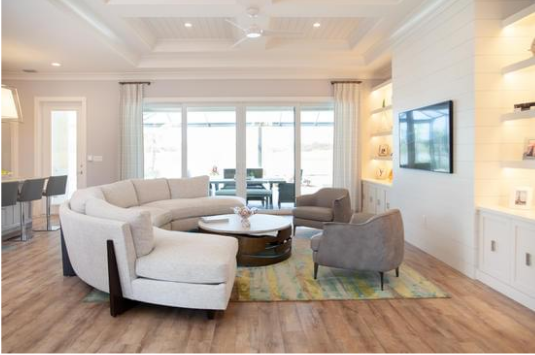 Design by Patricia Davis Brown Designs
The living room is where you unwind at the end of the day. It's where you spend quality time with your family and where you host your friends and relatives. As much as the living room has become a place where we binge our favorite T.V. shows, it must be also laid out in a way that encourages conversation.
There are a few simple tricks that will help you encourage conversation in your living room:
Choose a focal point, such as a fireplace or bay window, that can guide the placement of the rest of your furniture.

Position the couch and chairs in such a way that people can converse without having to turn or crane their necks.

Create a sense of balance and symmetry rather than grouping large or small pieces all in one place.
If you're planning a living room update, check out used furniture for sale to save money and stick to your budget. You can usually find deals on couches, chairs, recliners, and electronics by using online classifieds and finding out what other people are selling. 
Room Updates that Are Relaxing: Turn the Bathroom into a Safe Haven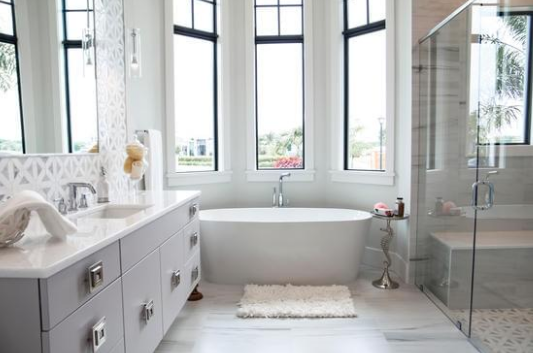 Design by Patricia Davis Brown Designs
A dark bathroom or one that's showing wear and tear can make it tough to relax in, but the bathroom should be your haven. There's nothing that feels better than unwinding with a bath and some scented candles. The right bathroom setup can help you feel more at ease on a busy workday morning or as you get ready for bed.
Bathrooms can be one of the more expensive home renovations you can make, so choose your targets carefully. If you want to turn your bathroom into a more relaxing space, take your inspiration from the spa by adding natural textures, getting a stunning and spacious bathtub, and updating your fixtures. 
Make your home a place you love. With a few simple interventions in key rooms, you can reinvigorate your home and fall in love with it all over again. If you are unsure of how to decorate your area, consider hiring an Interior Designer for a consult.
Other Posts You Might Enjoy
How to Create a Custom Design Bedroom
7 Tips for Bedroom Interior Ideas from The Best Hotels
Creating the Perfect Home Office
Share This Story, Choose Your Platform!