Halloween is on the weekend this year, so it's going to be great fun. So, if you have friends over or stay in, it's time to prepare the front door Halloween decor. Even if no one is coming over, it still sends cheerful and welcoming vibes to all passersby. It's like sending a greeting from a distance.
As with most decor decisions, there's overwhelming selections from which to choose. So, here are few inspirations that might be what you need to start in on your Halloween decor for the front door.
3 Inspirations of Halloween Decor for the Front Door
Cheerful Dried Flower Arrangements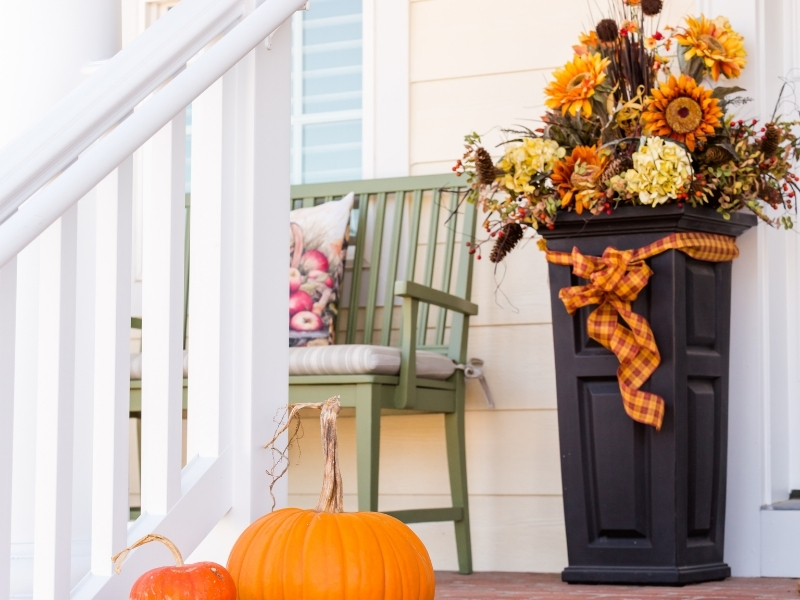 If you have a nice front porch with an already homey setting such as this, then, all you need to do is add some seasonal touches. It doesn't have to be "scary" to be inviting to your Halloween guests. It can also be bright, textured, and earthy with the dried flowers and a big gingham bow in the colors of the season.
Faux Silver Gates for a Slightly Glam Look
So cute that a silver antiqued faux gate brings a touch of "enter my castle" along with a touch of "vintage glam." It brightens up the porch just a notch and is made absolutely cheerful with the pumpkins and flowers leading up to the gate. Then, the cute "Beware – Keep Out" tape crosses the door leading up to a wonderful Fall wreath.
Minimal Preparation for Maximum Effect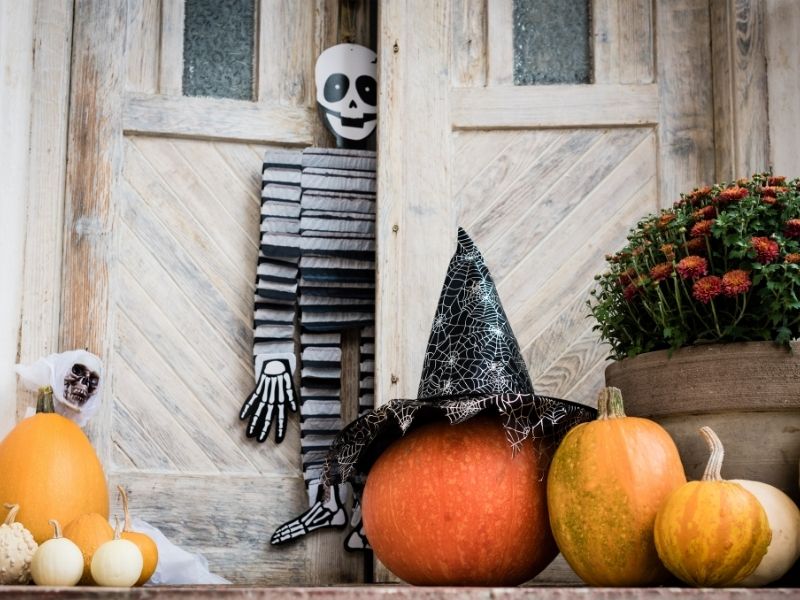 If you don't have a lot of time to spend on your front door Halloween decor, it's OK to keep it simple. A quick trip to buy an assortment of gourdes, then a stop at the decor store for a few items and you're set. Of course, it also helps if you have a big beautiful pot of chrysanthemums to set out with the rest.
Here's to your Halloween Decor for the Front Door!
We hope these inspirations give you great ideas for your front door for this Halloween season. If you have some more suggestions, we'd love to hear from you in the comments below. Also look below for links to more articles about all things design for your home or business.
Images Courtesy of Canva.
Lighting the Way for Your Spooky Guests on Halloween
Fun Halloween Drinks For Your Next Party
Unique & Healthy Halloween Party Ideas
Share This Story, Choose Your Platform!