Autumn is upon us in the Northern Hemisphere and there are orange pumpkins everywhere we look. Even the white pumpkin displays are becoming more common as they continue to rise in popularity among home decorators.
Never-the-less, if you want to entertain with pumpkins, it takes inspiration to design with organic elements for the most beautiful and creative entertaining. Keep reading for three quick and easy ideas to point you in the right direction for your own DIY entertaining pumpkin decor projects.
Entertaining with Pumpkins
Yummy Pumpkin Martinis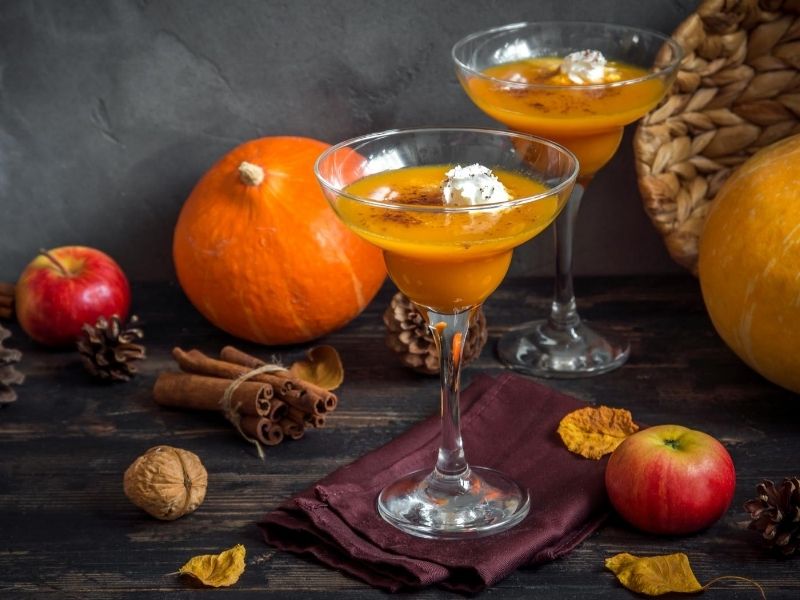 Are you expecting guests? This pumpkin martini recipe starts with vanilla vodka as a set up for the sweetly smooth foundation of the cream and pumpkin liqueurs. For topping variations, either trim the rim with licorice sprinkles or plop a dollop of whipped cream on top. But don't forget the cinnamon stick to swirl around for a heavenly infusion that bursts with each sip.
Ingredients
2 ounces vanilla vodka
1/2 ounce cream liqueur
1/2 ounce pumpkin liqueur
Optional: 1 teaspoon whipped cream
Garnish: licorice sprinkles; cinnamon sticks

Calories: 229
Saturated Fat 4g: 18%
Cholesterol 16mg: 5%
Total Fat 6g: 8%
Tip o' the Hat to: TheSpruceEats Pumpkin Martini Recipe
White Pumpkin on a Plate Tablescape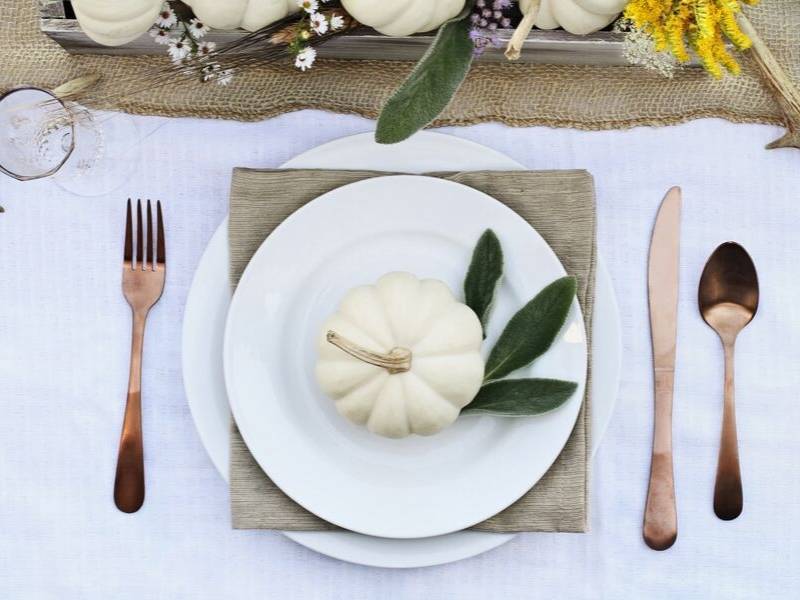 This seasonal tablescape employs smooth bright whites together with rustic textures. Love the layers beginning with the dinner plate beneath the silky grey linen napkin beneath the white dessert plate beneath the plain white pumpkin with dark green leaf garnish. Put this on top of a bright white linen table covering along with the burnished flatware and rustic centerpiece for ultra-fun contrast.
Huge Bunches of Color on the Front Porch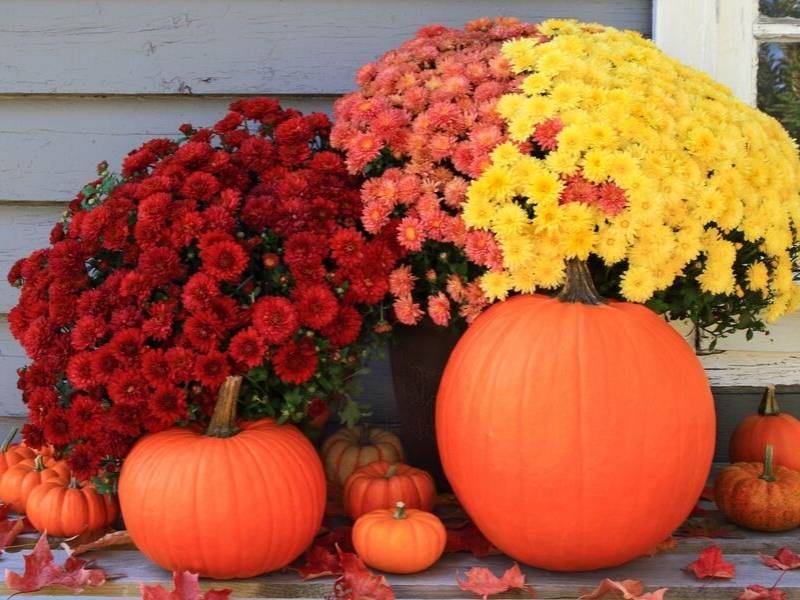 Nothing brightens up entry to your home more than huge bunches of Autumn colors on the front porch. But even if you don't have a front porch, use space right along your sidewalk to set up your arrangement. Chrysanthemums in a wide array of seasonal colors look so smashing with the orange pumpkins!
Let us know in the comments below how you like to decorate with pumpkins during the Autumn season. We wish you the most colorful season ever as you decorate your beautiful home to bring Autumn alive for you, your family, and guests.
All Images Courtesy of Canva.
Other Posts You Might Enjoy:
Sprucing Up Your Home's Exterior for Fall
Design Through the Front Door • Your Autumn Entryway
Autumn 2018 Hot Color Trends to Warm Your Home
Share This Story, Choose Your Platform!