Crafters know what makes a good craft room and that is an organized space, but what is equally important is designing a space that inspires. Arts and crafts start with an inspiration so whatever inspires you to create you want to make sure it is implemented in your craft room. Let us explore the elements that make up the perfect craft room.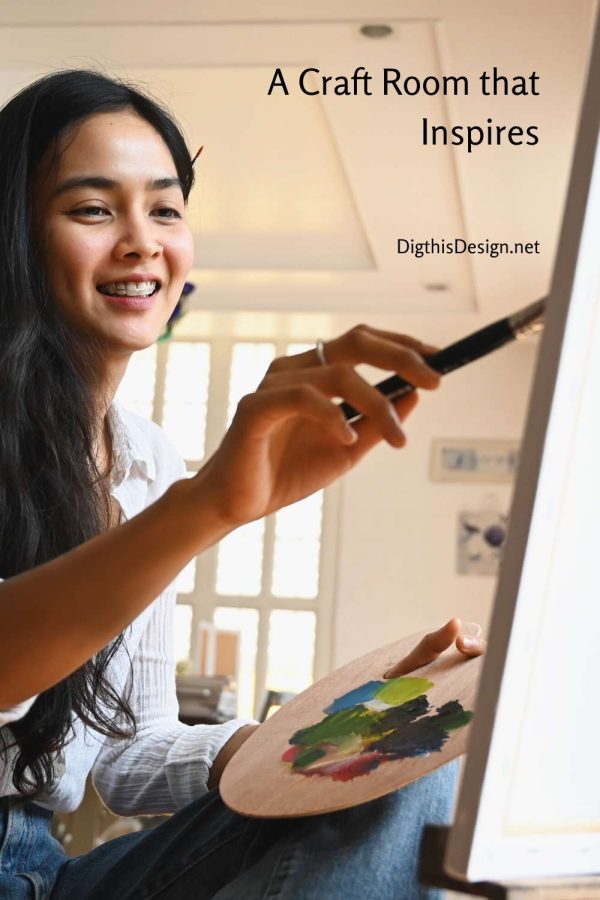 Craft Room Organization
Most crafters enjoy a variety of different types of crafts and usually continue to expand their talents. You want to make sure you don't design a craft room that puts you in a box. You want one that will be able to change to fit your craft at the moment. There are some things that every craft room needs.
work surface – You might want to consider an island for your work surface. The island can have additional storage built into it. Think about the best work surface to work on which might even be a combination of two different countertop materials.
shelving – Plenty of shelving is a must for any craft room and having open shelving makes it more accessible without having to open and close doors.
drawers – Drawers are great for organizing. Just having a lot of drawers will not help organize you. You want to think about what will go in the drawers and use drawer organizers to make them efficient.
good lighting – Everyone who knows me as a designer knows I am a freak about good lighting. A craft room is where you will be performing many tasks and you want to make sure you have thought about your lighting and planned the right lighting into your craft room design.
A Craft Room That Inspires
We all have our own way of receiving inspiration and you need to tap into that. Some of us need a quiet space while others might need music. These are questions you need to answer in order to have what you need to be inspired. If music is on that list you want to make sure you have planned speakers into your craft room plan.
The Color choice is known for creating a mood and I recommend thinking about the color palette you choose. Make sure your favorite hues are planned in the design or perhaps the walls and cabinets are neutral, offering up the perfect background to pop your favorite color for the season. By going neutral in the background you can change the accent colors to fit your mood.
Built For Durability
Make sure your craft room can take a beating. Most crafts need tools and you want to make sure your work surfaces mesh well with the work being done on them. Most of us do crafts because it de-stresses us and you do not want to become stressed out over damaging one of your surfaces in your new craft room.
Check these awesome Cricut Explore Air 2 bundle deals.
Other posts you might enjoy:
Craft Room Designs That Inspire
Inspiring Craft and Sewing Rooms
Easy Ways To Organize Your Kids Bedrooms With Their Help
Share This Story, Choose Your Platform!