Your bedroom is the ultimate area of relaxation in your home, so designing a calming space is very important. Sometimes though, it's a part of the house that gets the least attention. So, if you want to come home to less stress and worry, decorate your bedroom to make it more inviting.
We invite you to continue reading to learn about designing a calming space to make your bedroom a more relaxing place to unwind for a peaceful rest.
Designing a Calming Space

•

Bedroom Decor Tips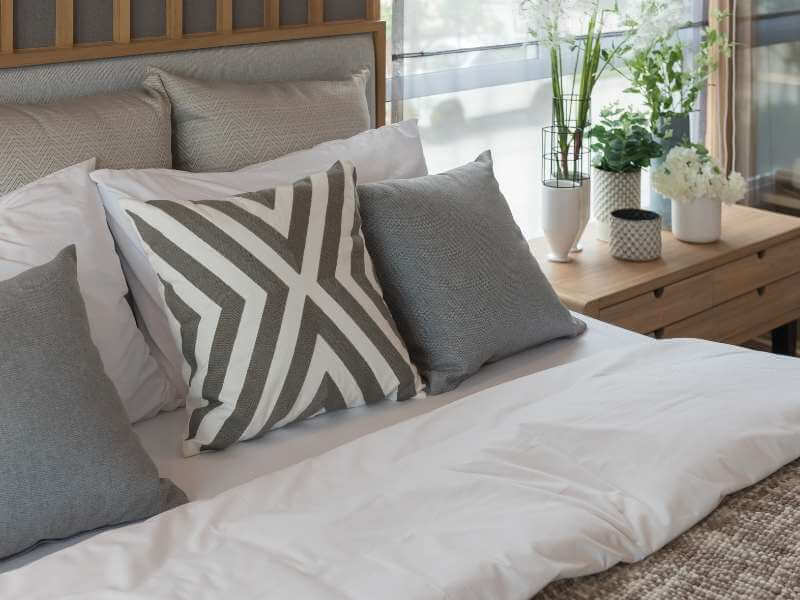 Invest in a Great Bed
A bedroom is incomplete without a quality bed. Of course, you must have the right sized mattress for a comfortable sleeping area. Regardless of whether you want a cozy bed, a modern look, or an elegant headboard, make sure to choose a high-quality mattress. Look for one that provides you with the right body support, comfort, and protection. You'll be certain to find one at Amerisleep retail store in Houston.
For an inviting look, a good starting point is an upholstered bed with neutral or light fabric. However, if you're not an avid fan of an upholstered bed, you can choose an open base or merely a simple frame. Both of these require minimal space so, it's a good way of designing a calming space.
Create Your Pampering Space
Many people want to design a spa ambiance in their bedroom. If you're one of them, you'll love to set a perfect place to access essential things to keep you calm and stress-free easily. It's relaxing to apply lotion, lip balm, moisturizer, or essential oil to your face and aching body after a shower.
Here are some tips and tricks on how to create a pampering spot in your bedroom:
A vintage vanity cabinet with mirror and drawers to store your beauty and pampering items makes a perfect pampering space. The retro feel will bring you to the past when life was simpler and easier.
You can add a table lamp, place a picture frame with your family photo, or set a space for your evening cup of tea or glass of milk.
You can place a side table or nightstand table for easy-to-grab essentials. In that way, you can reach them even if you're in bed.
Make your bedroom cozier with a vase of fresh flowers or an indoor plant.
Keep Your Bedroom Open and Spacious
Eliminate clutter from your bedroom. Keep away scattered clothes, folders, bags, and shoes. By maintaining the cleanliness and order in your bedroom, it'll help set your mood for relaxation and sleep. Keeping your bedroom open and spacious can be accomplished by incorporating lighter woods.
For instance, Mid-century pieces have clean lines. Also, these furniture items have tapered legs. If you have enough space, invest in a dresser that's big enough to hold everything. It makes a stylish display surface for your personal items. Keep your bedding, furnishings, and accents to a neutral or a light palette.
Make Your Small Room Look Bigger
You can accomplish this illusion by placing a round mirror above your bed. It'll reflect more light into your small bedroom, thus giving your space the illusion of looking larger or more spacious. You can also implement open shelving instead of a nightstand, which takes up only a little space. It extends vertically and avoids appearing too bulky.
Balance the Look with Colors
A totally white bedroom is incredibly cozy but you don't want to stay in a hospital-like ambiance. So, why not use color psychology to strike a perfect balance? Break up white bedding and walls by choosing decorative pillows, accents, rugs, and artwork.
Pick a color theme for a continuous palette. It becomes your ultimate guide. Keeping to one color will help minimize a cluttered look. Also, it creates a clean overall look for your bedroom. Shades of blue provide a soothing and serene ambiance. On the other hand, shades of green produce a calming effect.
Include a Touch of Nature
Hang a wall painting of a stunning island view, sunset, the beach, or a beautiful flower. You can also change your plain colored curtains to fine floral prints or circular patterns to mimic free-flowing water. These design elements provide calming effects in a bedroom.
Pulling it Together
Make your bedroom more calming by incorporating elements of nature or anything that calms your senses. There's no definite rule when choosing decors to make your bedroom a more inviting and comfortable place to rest and sleep. Choose a high-quality mattress, create your pampering area, balance the colors in your bedroom, and make your room more spacious to achieve these goals. Are you ready to try these out?
All Images Courtesy of Canva.
Other Posts You Might Enjoy:
3 Suggestions for a Summer Cool White Bedroom
4 Tips to Improve the Sleep Quality of Your Bedroom
3 Tufted Headboard Designs for Your Luxurious Bedroom
Share This Story, Choose Your Platform!