A white bedroom might just be what you need for summer cool sleeping. In our previous post, you can see other rooms in the house with examples of white interiors. However, in this article, we bring you three heart-warming examples of how a cool white bedroom might fit into your home's interior design.
The rule of thumb with summer cool white designs is that white absorbs less heat and as you add more color to white, it absorbs more until you reach the other end of the spectrum with solid back which absorbs and retains the most heat. So decorating in white doesn't always mean bright white because there are more shades of white than you might imagine. Below you will find three vastly different designs but all based on white in different variations on the color spectrum.
Design a Summer Cool White Bedroom • 3 Inspirations
White with Greenery and Rustic Textures
This room may seem very bright at first glance but that tones down a bit with the beautiful gallons of greenery on the headboard and on either side of the end of the bed. The rustic wood base of the bed jazzes up nicely with the colorful cushions and the happy flora print spread. The graceful white bed curtains are tied together with rustic jute cords for a fitting finish to this bright white bedroom with lovely earth emulating textures throughout.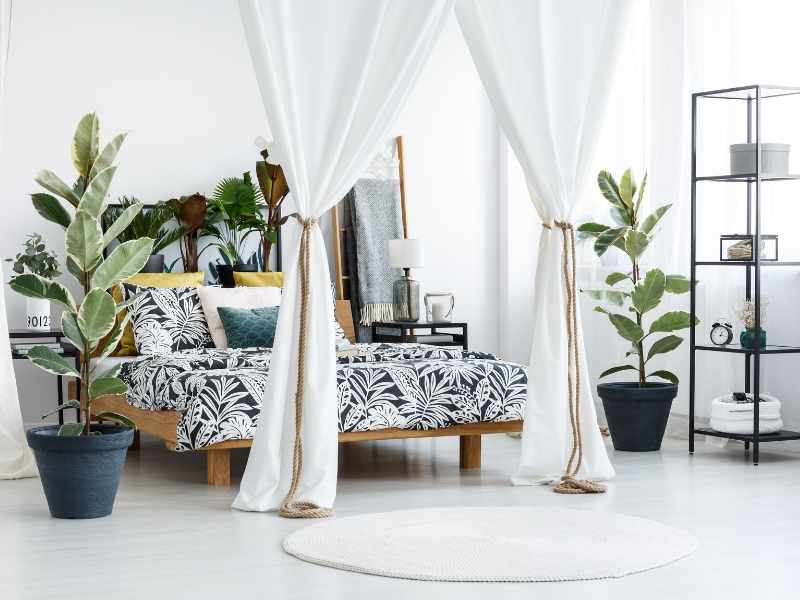 Tan-White with Rattan, Wood, and Soft Textures
The large rattan pendant lamp seems to balance perfectly with the modern art on the light tannish-white wall. It also blends perfectly with the light-wood tones found throughout this modern-rustic white bedroom. Moreover, there is just the right amount of earthy colors of orange, gold, tan, and brown popping up throughout this design for a warm and welcoming effect.
The natural cross-section of the tree as a meditation table with white candles is so unique as are many of the delightful decorative items in this room. Moreover, the air in this room will always be fresh and clean with the placement of green plants on the nightstand and shelf.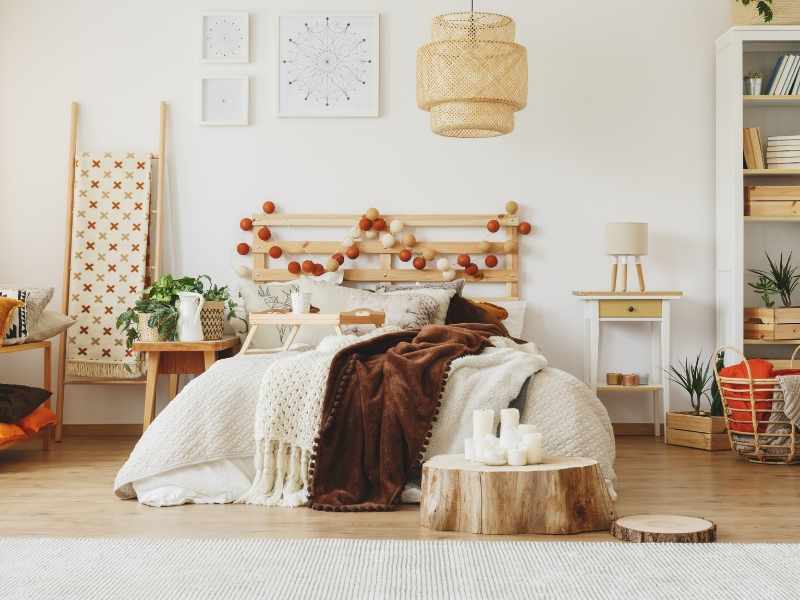 Silvery-White with Black, and Green Touches
Nothing says elegance more than the pure simplicity of design and this octagon white bedroom exudes with it. First, the white string pendant light blends gracefully with the white window frames set against a silvery-white wall. Then, the eclectic nightstands are simply charming against the bright white and black striped cushions and spread while beneath it all is a silvery-white round carpet atop a classic light oak floor. Also, you can easily see how the 'rule of 3' for groupings plays out in this design for graceful balance throughout.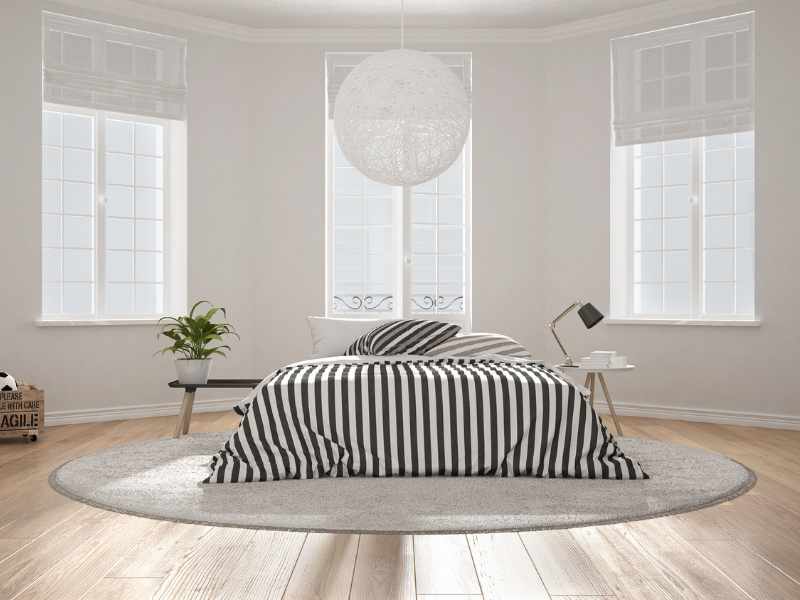 Hopefully, you find inspiration with these examples to move forward with a white bedroom in a design that is perfect for you. We've also included other summer design ideas below but be sure to leave us your suggestions in the comments for a summer cool white bedroom. Here's wishing you nights of cool summer slumber this season.
All Images Courtesy of Canva.
Other Posts You Might Enjoy:
4 Interior Designs in Summer White with Pops of Color
6 Ways to Keep Your House Cool This Summer
4 Tips to Create the Perfect Summer Entertainment Garden
Share This Story, Choose Your Platform!