Choosing the right blinds for your home is more than just finding a style that looks good. You also want to make sure that your blinds fit nicely into your windows, are effective in blocking or reducing light, and are child or pet-friendly.
Stores like Adek Blinds & Curtains offer a wide variety of blinds where looking at the popular styles is a great place to start. Once you've gained some knowledge of the types of blinds, then you'll be able to decide which are the best blinds for your home.
Your Expert Guide to Finding the Best Blinds for Your Home
⎆ Venetian Blinds
If you're looking for a stylish option, then Venetian blinds could be a great staple in your home. These blinds are slatted, horizontal pieces of wood, metal, or plastic, that connect with a cord.
These blinds allow you to have complete control over how much light is let into your house. You can choose to have the slats open or you can close them by rotating the slats. Or, simply pull the cord to lift them together and up.
⎆ Roller Blinds
Roller blinds consist of one sheet of material that covers the window. They are a simple, inexpensive method for keeping the light out of your home. The pull-cord mechanism enables the blinds to roll up to let light into the home. However, unlike other blinds, you have limited options to control the light and your privacy.
Roller blinds are great for use in kitchen or bathrooms, as many come with a protective coating which helps to keep them in good condition in moisture-heavy rooms.
⎆ Vertical Blinds
Vertical blinds similar to Venetian blinds, in that the slats can either be rotated or pulled together using the cord. Again, this means that you have full control over your privacy and how much light is let into the room.
These blinds are most similar to curtains and great for use in rooms needs lots of light, such as conservatories.
⎆ Pleated Blinds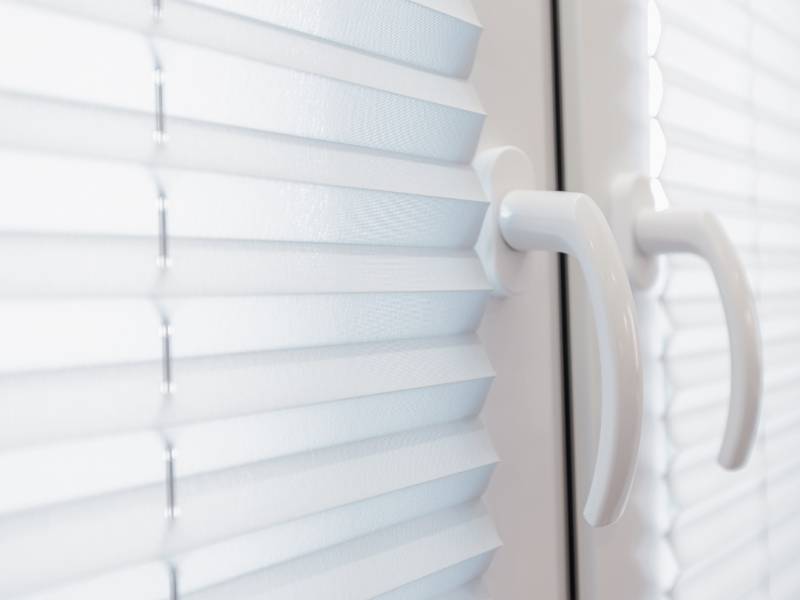 Pleated blinds have some great perks. In fact, not only are they child and pet safe, but they are also thermally efficient. They work by providing ventilation in the hotter months and insulation during the colder periods. The design of these blinds allows them to be drawn up or pulled down as a filter for the sunlight. Of course, doing so protects your furniture and prevents bugs from entering.
⎆ Smart Blinds
If you want to really impress your friends and guests, smart blinds are the way to go. Just like smart TVs, smart doorbells, light bulbs, and even blinds are controllable by an app on your phone. You can also program them to adjust by themselves throughout the day. This is a great tactic for giving the impression that somebody is home when you're on vacation.
Do you have suggestions to add? We'd love to hear from you in the comments below. Also below, you will find more informative posts about ALL things DESIGN for your home or business.
Images Courtesy of Canva.
Other Posts You Might Enjoy:
Top 8 Reasons To Install Vertical Blinds In Your Home
How to Select the Best Vertical Blinds for Your Interiors
5 Styles of Window Blinds for Your Home or Business
Share This Story, Choose Your Platform!