Do you still use curtains in your home? Are you tired of washing or replacing them regularly? What if you find a less expensive yet elegant alternative to cover your windows? If this sounds good to you, then, perhaps it's time to consider vertical blinds. Made up of synthetic polyester fabric, they're durable, resistant, and convenient to use.
This style checks all the boxes if you want a modern, stunning, and cost-effective window treatment. Moreover, they let minimum or maximum sunlight pass through and come in different shapes and sizes making it easy to blend with your interior decor.
To learn more, we invite you to continue reading for eight reasons to decorate and shade your windows with vertical blinds.
Vertical Blinds to Decorate Your Home & Shade Your Windows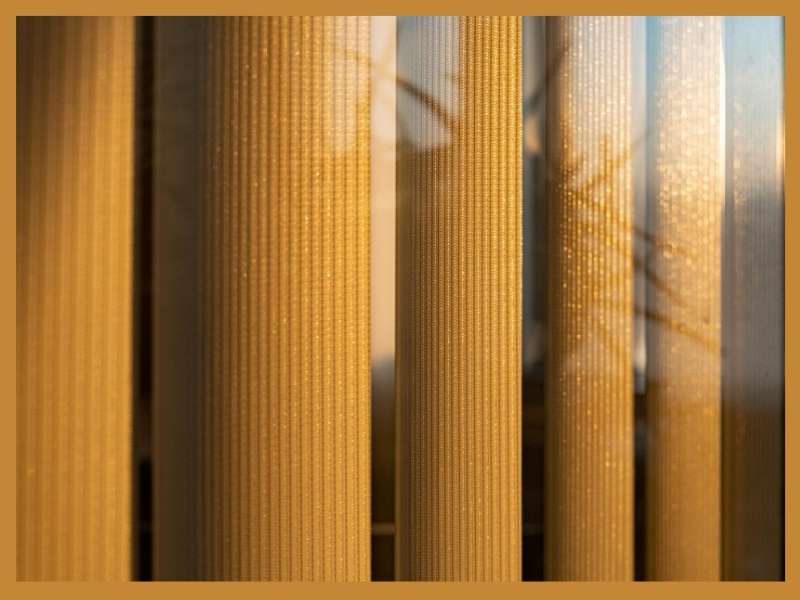 ⎆ Control Light & Shade
Blinds are one of the most effective ways to control the light and shade inside your home. With window blinds, you can either cover the entire window or do it partially. It all depends on how much light you want in the room.
They're perfect for purpose-specific rooms such as movie theaters, bedrooms, dark rooms, or any other room that requires a specific amount of light.
If you recently purchased new furniture, your window coverings must protect them from external sunlight and ultraviolet rays. In fact, the vertical blinds help you block excessive sunlight in these places. They also enable your sofas, chairs, and tables to maintain the color and condition of their upholstery. You can find vertical blinds that will do this job and more from Westral Blinds and enjoy them for many years to come.
⎆ Minimal Maintenance
Unlike heavy curtains, blinds require minimum maintenance. If you want to keep them dust-free, you only need to wipe them with a damp cloth. Moreover, when you're washing your curtains, you need something else to cover the windows until your dry cleaners return them. But you don't have to worry about that with vertical blinds.
Moreover, with your job and house chores, you probably don't have the time to wash and dry your curtain or temporary window coverings. On the other hand, blinds only require minimal effort. They also fit well with all possible interior decoration.
With minimum effort, vertical blinds don't take much of your time. Therefore, as they're detachable, they don't require separate fitting structures and hooks to bind them together. All that combines to make cleaning and maintaining the blinds are much easier than the curtains.
⎆ Highly Durable
Vertical blinds are made up of various durable materials such as plastic or wood. They can last up to a decade with the right maintenance, unlike curtains, which usually need replacing after a few years.
Cleaning curtains is a huge job, especially if you need to wash them. But with vertical blinds, you easily detach the fabric or any other material, and clean them with your method of choice. So, you probably don't have to worry about how to clean vertical blinds.
⎆ Helps Maintain Privacy
Unlike curtains, vertical blinds cover your windows in entirety. Therefore, it improves the privacy of your home. Passerby or strangers can easily sneak through inside with curtains. However, with blinds, it's not possible. Some blinds even allow you to moderate how much do you like to remain visible from the outside.
⎆ Cost-Effective
Vertical blinds are cost-effective for both short and long-term purposes. If we compare vertical blinds with other window coverings such as roller blinds, shades, or conventional curtains, they outperform others for both affordability and versatility. In fact, what makes them much more affordable is their compatibility with other window coverings.
For instance, your vertical blinds can go along with drapes, long curtains, color themes, and multiple interior decor themes.
⎆ Available in a Wide Variety
Vertical blinds come in a wide variety of colors, themes, shapes, and sizes. Moreover, there are some great contrasts of shades, unlike curtains where you practically need to match every bit of furniture and fittings.
For instance, if your bedroom has a wooden floor and wooden furniture, try a dark themed window covering. But curtains come in limited shapes and sizes. Blinds, on the other hand, can be wooden, faux wood if you want to spend more, plastic, aluminum, or the ones that suit your budget.
⎆ Multiple Safety Features
Vertical blinds do not compromise on safety features. Additionally, some of them come in with child safety mechanisms. So, if you have infants or toddlers around, you don't have to worry about tripping over or sliding into curtain fabrics.
Vertical blinds are adequately placed and can be quickly elevated while children play around.
Key Takeaway
Whether you want faux wood or aluminum, vertical blinds fulfill your interior decor requirements. They are readily available online and don't require much deliberation like curtains or similar window coverings. So, find yourself the perfect vertical covers and make your life easier.
If you have any suggestions or questions, please enter then in the comments below. You will also find other links below to lead you to fantastic articles about all things design.
Images Courtesy of Canva.
What Is the Best Roofing Material for Homes? 4 Common Options
How Much Value Does a New Roof Add?
Things You Need to Know Before Installing a New Floor
Share This Story, Choose Your Platform!