When you first start gardening, you often research plants that grow easily in your area. You also want to think about plants that require minimal maintenance. That's what most homeowners think about when they first start out with their gardening. Just the basics! Of course, that's a great place to start. But, how do you go about making your garden more interesting?
If you want something more unique, there are other options. For instance, you might consider unusual vegetables or flowers. Or, try configuring your garden into a work of art. There's even the possibility of growing vegetables on a wall for a modern and unique green wall.
For a more interesting garden in your back yard, we invite you to continue reading to learn about some unique possibilities.
3 Easy Tips for a More Interesting Garden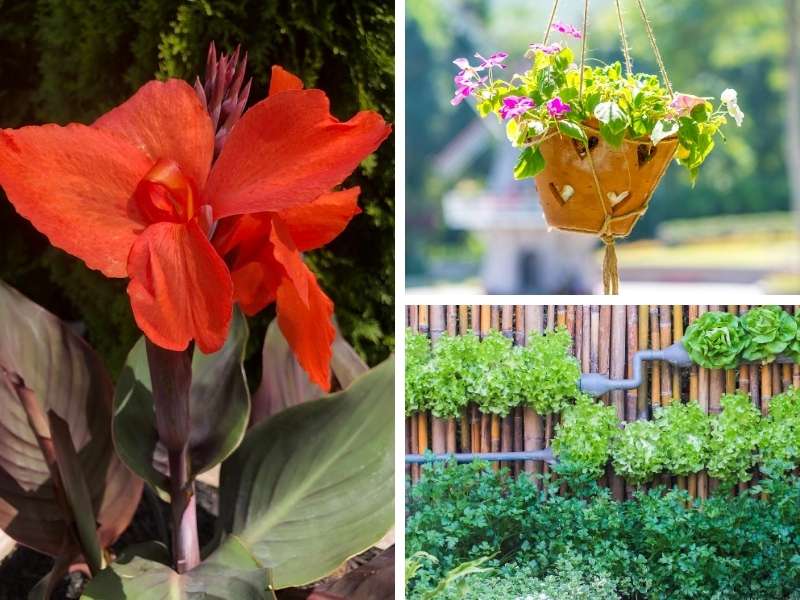 1 ✿ The Right Flowers & Plants
Pentas, Coreopsis, and Blue Salvia are all flowers commonly seen in Florida. But, if you want to add a few interesting flowers to your garden try planting some Canna Lilies. In fact, these amazing bright pink and yellow flowers are native to the Sunshine State. But, be aware that they do require some extra attention. However, they add stunning color to your garden, making it well worth your time.
The lovely white flowers that bloom on a Balloon Milkweed plant not only beautify a garden but attract butterflies. You need plenty of direct sunlight to grow these plants well.
2 ❣ Add Some Artwork to Your Garden
Not all lawn decorations are as garish as lawn jockeys and totem poles. There are actually tasteful and imaginative pieces of lawn art that give your passersby a sense of your personality and style.
Metal bird sculptures add a touch of class to a garden and they come in many different designs. A Garden Cairn is nothing more than a stack of rocks, but it appears to be defying gravity and that makes for an interesting conversation piece.
Hanging baskets are a tasteful addition to a Florida garden especially if you fill them with flowers and spider plants. To please your senses, both brass and wicker baskets look natural in a garden setting.
Solar flowers are a new craze among some gardeners. They are simply artificial flowers that are powered by the sun. They are a whimsical and colorful addition to a garden. Wind chimes come in a variety of styles and there are some with beautiful designs. It is, however, better to get heavy wind chimes that only chime during actual winds instead of clanking every time there is a light breeze.
3 ⌘ Add a Green Wall
Vertical gardens are a perfect option for a gardener who does not have a large backyard. Also known as green walls, these gardens are vertical structures that are blanketed with flowers and vegetables.
You can plant flowers that attract bees and butterflies. What's more, you can also grow food on a green wall. In fact, people often grow kale, beans, and potatoes on vertical gardens.
The plants in these gardens are irrigated by an intricate system of pipes that administer nutrients through sprockets. You must water the plants by hand or use an automatic watering system.
A green wall installation on the inside or outside of your home improves air quality by drawing impurities out if the air. It also increases oxygen and even works as insulation against noise.
Select the right plants for your garden to attract many different varieties of birds. Also, an addition of a bird feeder will fill your garden with even more birds.
Moreover, a distinctive garden with regular maintenance adds value to your property. A little imagination goes a long way in making your property and your garden uniquely your own.
Article Sources:
https://homeguides.sfgate.com/make-gardensize-stone-cairn-75278.html
If you have any questions or suggestions to add, we'd love to hear from you in the comments below. You will also find more exciting information below for all things design.
Images Courtesy of Canva.
How to Protect Your Home From a Bed Bud Infestation
7 Common Air Conditioner Problems Homeowners Face
The First Sign of Bed Bugs: Early Warnings to Look Out For
The Child-Proof Kitchen – 5 Kitchen Upgrades All New Parents Should Consider
Share This Story, Choose Your Platform!