Natural elements provide a peaceful and soothing atmosphere to which your mind and body can relax and rejuvenate. Adding natural elements to your home can help to provide a tranquil atmosphere. In this post, we take a look at the impact natural elements have on the mind and body, plus seven ways you can bring natural elements into your home.
Add Natural Elements to Your Home with These 7 Ideas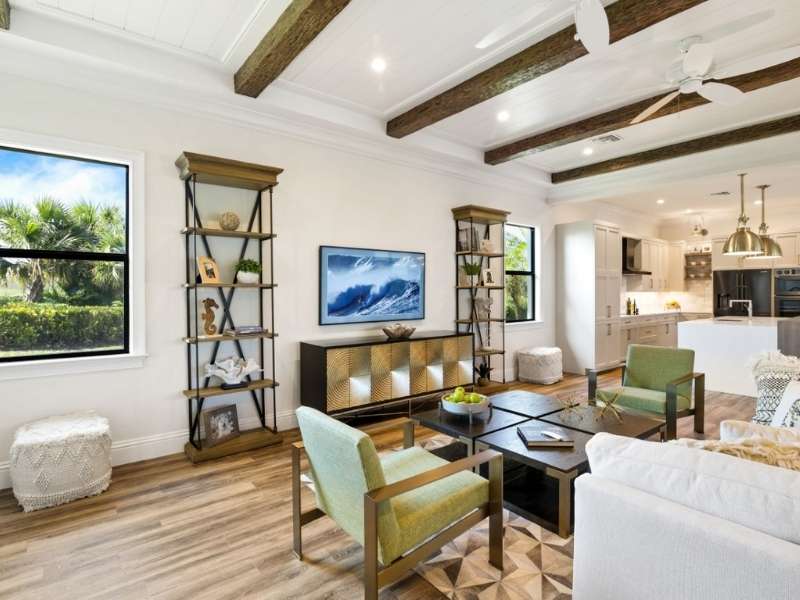 ⎆ The Amazing Benefits of Incorporating Natural Elements
Incorporating nature elements into your home can help to increase creativity and productivity levels. Additionally, colors have the ability to evoke various emotional responses. While black is typically viewed as being professional, white evokes a feeling of trust. The same can be said about the dominant colors in nature. Blue has the ability to evoke a feeling of peace and calm. Meanwhile, the color green evokes a feeling of tranquility. Here are seven ways to add natural elements to your home.
1. Barn Door Made From Natural Wood
One of the ways you can add some rustic appeal to your home décor theme is to choose a flat track barn door hardware that's been made with natural elements. Wood is extremely durable and beautiful. This is why most homeowners prefer to buy wood-based furniture. A barn door with wood can operate as the perfect canvas for you to personally apply your finishing touches such as weathering and gel stains.
2. Water Feature for Sparkling Natural Elements
What's more relaxing than the sound of water flow? Many people can attest to the fact that the simple act of listening to water flow is one of the most relaxing things in the world. If you like the idea of being able to listen to the sounds of running water when you're home, consider getting a slate water wall. A slate water wall can be best described as being an indoor waterfall. However, slate water walls tend to come with an exorbitant price tag. One of the more cost-effective things you can do is to add a fountain feature to your bathroom or tabletop.
3. Weekly Flower Deliveries
We can all benefit from getting a bouquet of flowers, but you don't have to wait on being gifted with flowers to enjoy them. You can subscribe to a flower delivery company that can make weekly deliveries to your home. Flowers can serve as an instant mood booster that helps you to connect with nature. Additionally, seasonal selections can help to ensure that your home décor centerpieces are always up to date, regardless of the holiday or weather.
4. Nature Wall Mural
Nature wall murals give you the opportunity to develop an eye-catching feature into the walls of your home. Nature-themed wall murals come in various categories such as mountains, wildlife, ocean scenery, and forests.
5. Stone Treatment
Who says stones were specifically made for pathways? You can add pebbles and rock to interior portions of your home in a wide variety of different ways. One of the easiest ways you can do this is to use a decorative bowl or opaque vase to arrange different types of stones. For a more profound décor project, you could use stone backsplashes for your bathroom and kitchen. A quality backsplash can help to instantly improve the aesthetic value of your home.
6. Let the Light In
In some cases, you don't even have to spend money to bring natural elements into your home. One of the ways you can make your home a more natural environment is to open the windows and let some light in. While it may be true that window coverings are important when it comes to rooms like the bathroom and bedroom, you should open up the curtains and let the light in during the day. Additionally, letting more light into your home ultimately opens up the opportunity for you to add indoor plants as a part of your nature-themed décor. Plants can definitely help to improve the appeal and air quality of your home.
7. Aquarium
Nothing says nature more than a tank filled with sea creatures. The simple act of observing fishes in an aquarium is enough to make some people go to the beach. Besides being an excellent home décor item to compliment another nature-themed décor in your home, the act of looking at the aquarium can be de-stressing. Additionally, according to data that was gathered by a prominent study, the simple act of looking at a fish tank can lead to a seven percent reduction in blood pressure levels.
In conclusion.
Use these tips to get your home in great shape for Spring and Summer with natural elements! Let us know in the comments below how you use these tips and how they turn out for you. Also below, you will find links that take you to more fantastic articles about ALL things DESIGN for your home or business.
Images Courtesy of Canva.
Other Posts You Might Enjoy:
5 Modern Ways to Bring Natural Elements into Your Home
10 Plants that Naturally Keep Pests Out of Your Garden
Earth Tones that Bring Natural Comfort to Your Home
Share This Story, Choose Your Platform!