In today's day and age, smart home technology and smart homes are the new big thing. Making our homes a little bit smarter and much more convenient, the market for smart home products is growing rapidly. From learning thermostats to interactive smart speakers, security systems, and beyond, smart home technology is upping the ante – and your home's IQ.
So, where do you start building your smart home? Simple – figure out your needs and go from there. Let's start with the basics.
How to Customize Your Smart Home Technology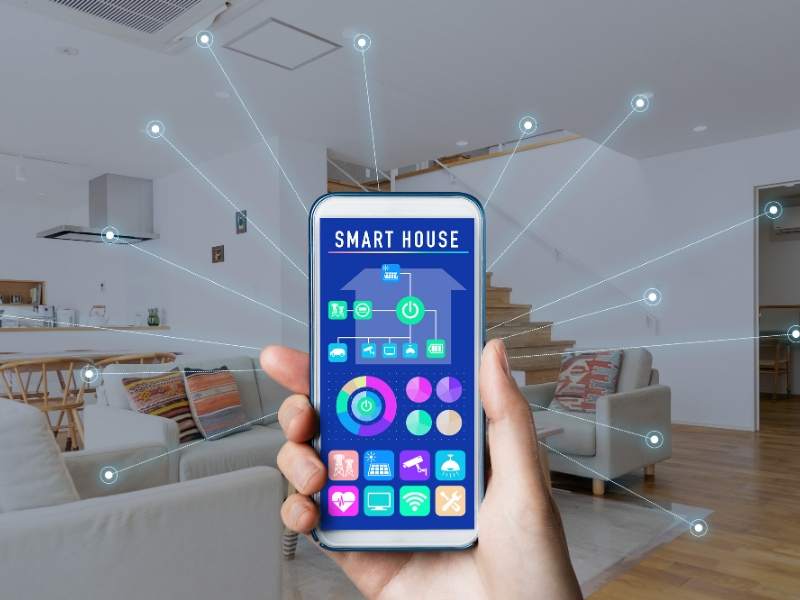 Smart Lights
Smart lights can lower your energy bill because they're all LEDs, which consume considerably less electricity than their incandescent or fluorescent counterparts.
Our top pick: Phillips Hue White A19 Starter Kit (4 Pack) – It includes a bridge to connect your lights to your router, four bulbs whose color and brightness can be controlled, and can sync with music or pre-set on and off at specific times.
Smart Speakers
This is probably the most commonly-known and widely-accepted smart home tech on the market today. You'll get great audio capabilities controlled from the palm of your hand, plus the ability to have an interactive voice assistant at the drop of a hat.
Our top pick: Amazon Echo paved the path as the first smart speaker, and it opened the market for other devices to be introduced into the home with ease. It connects to the Alexa Voice Service to play music, answer questions, make calls, send and receive messages, provide weather, news, and more – instantly.
Smart Locks
Smart locks do so much more than just unlock and lock your doors. They can let you grant temporary access, or even show you who's using your door. Does it get better than that?
Our top pick: The Kwikset SmartCode™ 916 Touchscreen Electronic Deadbolt might seem like it's for beginners, but it offers some of the best safety measures, as well. Easy to install, this smart tech lets you assign up to 30 user codes, makes it possible to use traditional keys, works as a stand-alone deadbolt, has a built-in alarm, and more.
Smart Thermostats
Gone are the days of tricky dial thermostats. Enter smart thermostats, which make it easier to control your home's temperature while on the go – and help you save energy all the while.
Our top pick: The Nest Learning Thermostat offers a sleek design, sharp display, and easy-to-use controls. This smart (literally) gadget starts learning your patterns and building your schedule to automatically adapt to your preferences.
With smart technology, the sky is the limit (or is it?) To start building your own smart home, identify your needs and wants, take them online or to your local home goods store, and start creating a friendlier, more interactive home today.
Images Courtesy of Canva.
Other posts you might enjoy:
Get Your Geek on with Smart Home Technology
Smart Home Technology You Need in Your Home Design
4 Smart Home Security Systems to Check Out
Reducing Energy Costs the "Smart" Way with Smart Home Technology
Share This Story, Choose Your Platform!