According to Marjorie Jolles, a women's studies professor at Roosevelt University, pantsuits are an essential tool for American women operating in spaces historically dominated by men.  "[Pantsuits] hide [a woman's] femininity—and by that I mean their femaleness—because it is a serious liability," she says. Well, Marjorie women have invaded the corporate world and are not at all complying with the old way of doing things. Pantsuits are trending again but this time, it's a different message, showing the confident woman of today. No longer are they meant to cover up a ladies femininity, in fact, they rock it and all the while showing the power look never better.
Pantsuits Have No Limitations in Style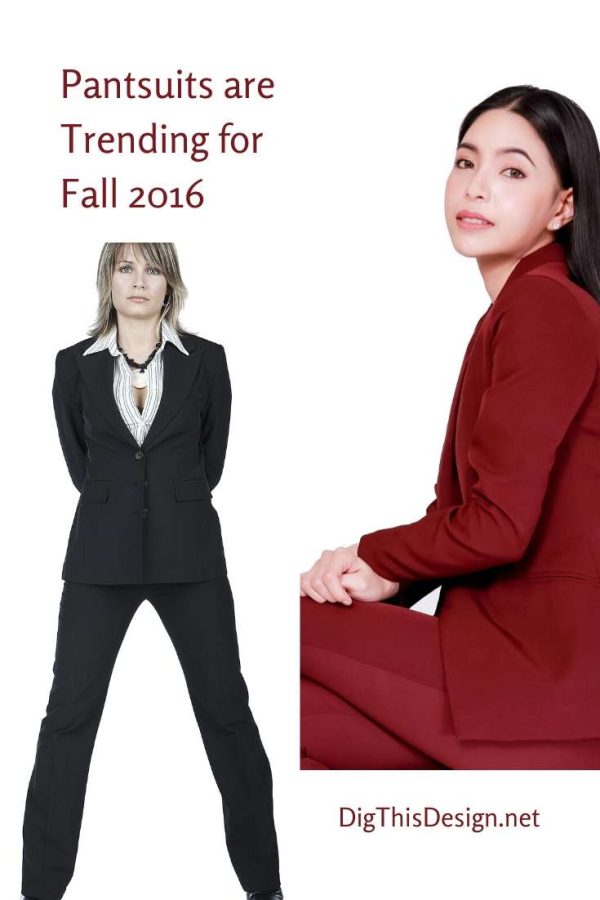 I personally have always loved the pantsuit but for me, I feel comfortable in a tailored cut. As a petite framed gal, too much bulk makes me look 4 x 4 and I promise you that's not a good look. The great thing about pantsuits today is that any style goes, giving you many choices to choose the right one for you.
The Casual Look
The cropped leg is a more casual look which is perfect for those not in a corporate position. Being in the design industry this stylish look would be perfect for me and also work well in a warmer climate like Florida where I work.
Show Off Your Shoes
Anytime I can show off my shoes makes me a happy girl and the skinny pant legs work well for that. It has just enough masculinity to show the confidence you want to project and still keep your femininity. A black pantsuit is a versatile ensemble every gal should have. It's a star for the corporate gig and then by adding the right accessories it can shine for the evening. Just by changing your tailored shirt to a cami will give it a whole new sexy vibe!
The After Hour Pantsuit
The after hour pantsuit is my favorite style of all. Bare-chested and showing just enough to make all heads turn as you enter a room. If you are not comfortable with your neckline dropping to your mid-belly that can be altered by the double breasted style raising the opening to mid-chest. It really is what you are comfortable with not what other people are comfortable with…right ladies?
Images Courtesy of Canva.
Other posts you might enjoy:
Fall Fashion Trends for Over 50
Expand Your Wardrobe – A How-To Guide
The Cowgirl Style is Big for 2017
Share This Story, Choose Your Platform!