Once primarily used for safety reasons in activities such as running and biking, neon colors in clothing have exploded onto the market this year in a virtual cross-section of sports. From college playoff football jerseys to hockey uniforms to tennis outfits—and even athletic shoes and equipment—the increasing number of athletes sporting this bold style has been as striking as the clothing itself. Whether or not neon sports clothing is around to stay for the long haul is up for debate, but production has certainly been hot in 2015.
Not only have neon colors been dominating the sports world, it has also expanded onto the fashion scene.
Neon Colors Dominate Sport Uniforms and Fashion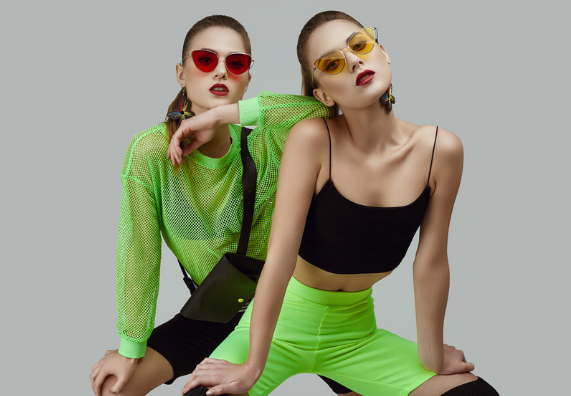 What's the Attraction?
Simply put, neon gets noticed. It is eye-popping and attracts attention immediately. As such, it serves as a natural marketing tool to highlight brands, teams and individuals. Companies and franchises have certainly taken advantage of this factor this year as exemplified by recent uniforms worn in the NFL and NCAA football playoffs, among other high-profile events. Moreover, today's advanced fabric and dye technologies have produced brighter and more varied hues, which maintain the dramatic features of this color spectrum yet soften the dizzying effect on the eyes.
Neon colors in clothes have become a dynamic and influential trend in fashion design, captivating enthusiasts and dominating runways worldwide. The popularity of neon hues can be attributed to their ability to make a bold and striking statement.
These vibrant colors, inspired by the retro aesthetic of the '80s and '90s, inject a sense of energy and playfulness into fashion, creating visually captivating looks that demand attention. Neon colors also offer a unique versatility, allowing designers to experiment with unconventional color combinations and push creative boundaries.
In an era where self-expression and individuality are highly valued, neon-colored clothing provides a powerful means for individuals to stand out and showcase their bold personalities. Additionally, the resurgence of neon in fashion reflects a broader cultural fascination with nostalgia, seamlessly blending the past with contemporary style to create a visually exciting and trendsetting aesthetic.
Young, Fluorescent, & Fashionable
Sports clothing is generally marketed to the twenty-something set, and recent market research has shown that the younger generation prefers neon clothing. The phenomenon is certainly trending right now among young people, which is why this style has proliferated exponentially. Neon elements have even made their way into sporty and formal high-end clothing manufactured by major designers. Whether used as an accent on a particular garment or for the entire outfit itself, neon's popularity right now in the fashion world is undeniable.
Tennis shoes are quite the rage and have become collectibles. Walk into any tennis shoe store and you will see neon colors galore.
Will Neon Colors it Fade Away?
Opinions are mixed among the fashion-savvy as to whether neon colors in clothing is merely a trend or whether it is here to stay. Neon colors in clothing, although not necessarily mainstream sports clothing, were popular in the 1980s when aerobics and Jazzercise were at their height.
Like these fitness classes, neon clothing waned in popularity, and its use was relegated back to safety garb. Marketing experts know all too well that the public is fickle and that trends are inherently hard to predict, but it seems like this trend may be here to stay!
Conclusion
To conclude if neon colors in fashion and sports are here to stay, I think so. I think we are all drawn to bright and bold fashion statements in sports or fashion. Having neon colors in our clothing options helps all of us to create our individuality.
Other posts you might enjoy:
Teen Fashion Trends and Social Media
Fall Fashion Trends For Over 50
Images Courtesy of Canva.
Share This Story, Choose Your Platform!