This post is written by me on behalf of Jacob Bromwell. This post is sponsored by Jacob Bromwell while the content and opinions expressed below are that of Dig This Design.
The history of flasks stretches way back to the Paleolithic Age when humans drank from snakeskin pouches filled with fermented grape juice. However, in modern times, the flask continues to grow in popularity with both gentlemen and ladies who prefer to keep their liquor discreet. Thankfully, it also transitioned from a snakeskin filled with fermented juice to an object of style and fashion. Amazingly, Jacob Bromwell has manufactured flasks for almost 200 years!
The flasks we use in our modern world rose in popularity in our not so distant past when 24-hour liquor stores were unheard of in a world where travelers, adventurers, and soldiers went nowhere without their flask tucked away in their coats.
Today, my husband Lee and his good friend Joe are out fishing, loving the sun, and enjoying each other's company. But, not without their rugged yet sophisticated Jacob Bromwell copper flasks!
Jacob Bromwell • Representing a Gold Standard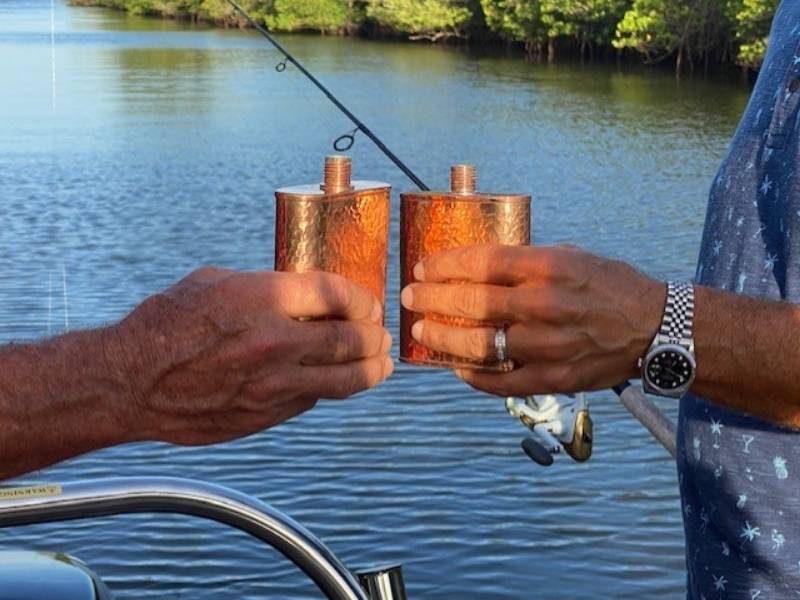 Do you know that Jacob Bromwell represents a 200 year old gold standard in bakeware, heritage products, and kitchenware? In fact, many prominent publications such as Country Living, Esquire, Uncrate, and the Wall Street Journal, regularly feature Jacob Bromwell products.
The Freedom Flask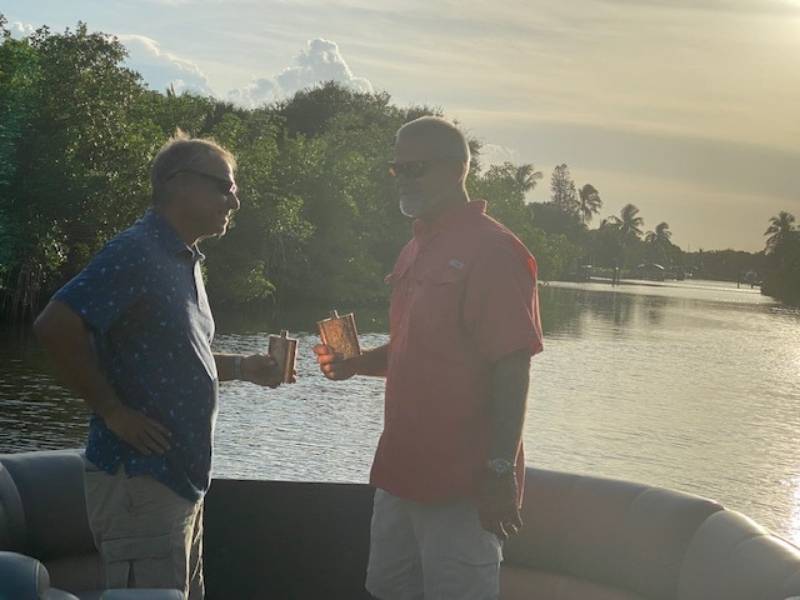 ⎆ The Original Luxury Copper Flask
True to their tradition, the Freedom Flask is crafted in copper by no less than five artisans. To produce this masterpiece, the artisans use a 200 year old manufacturing process that is, amazingly, still done by hand.
Holding 13 fluid ounces, this flask is hand-hammered by artisans to true perfection in a kidney shape design. The copper screw top gives you a guarantee of a 100% leak-free flask with every use.
⎆ An Investment for a Lifetime
One of the outstanding features of this flask is that it is an investment. Because of the level of artisanship that goes into each flask, you may expect a lifetime of use. Not to mention, the value of copper as a commodity.
⎆ Copper Gets Better With Age
One of the advantages of copper is that it never rusts and is naturally corrosion resistant. But, one of the nicest visual things about copper is that it beautifully oxidizes over time. However, it's also easily restorable to its original shine at any time by simply polishing it up.
⎆ Perfectly Imperfect Copper Flask
Again, this flask is made entirely by hand by no less than five artisans. Therefore, as a result of the handmade process, imperfections may appear. But, that only serves to prove its authenticity. In fact, the tiny cosmetic imperfections add to the sophistication and charm of this flask.
⎆ 100% Lifetime Guarantee
Not so surprisingly, many families consider their Jacob Bromwell flasks a family heirloom and pass them down for generations. Furthermore, Jacob Bromwell has so much confidence in this flask that it comes with a 100% Lifetime Guarantee.
If you have any questions, we'd love to hear from you in the comments. Below, you will also find other links to helpful articles about all things design for your home or business.
Images Courtesy of Canva.
Style To Watch From The First Ever New York Fashion Week Menswear Show
6 Ways to Look Sharp in a Square or Rectangular Watch
4 Styles of Shoes that are Classy and Comfortable
Share This Story, Choose Your Platform!