Tired of shoving your old clothes in the back of the closet? Well, here are the top eleven affordable ways you can bring those old clothes back to life!
It's frustrating when you have a pile of old clothes sitting in your closet. We know how it feels because we've been through the same thing. However, you actually can use DIY methods to revamp them!
11 Recycle and Upcycle Hacks to Bring Old Clothes Back to Life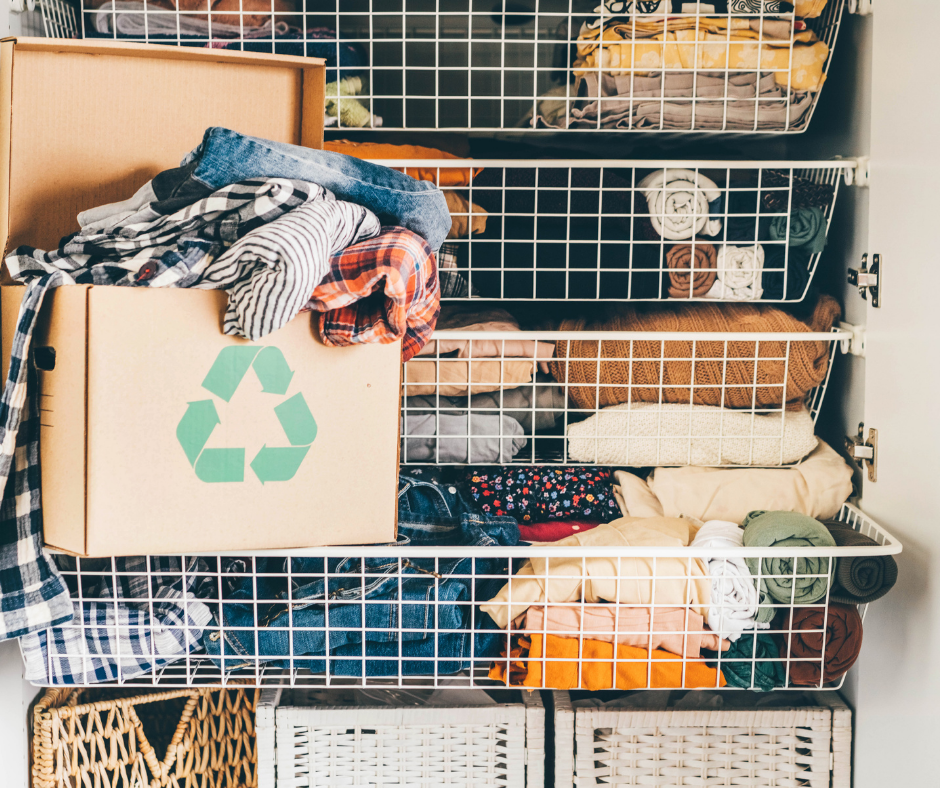 You can give your shoes a complete makeover with glitter or paint. For your clothes, you can make the zipper more fluid with hairspray. Also, your faded clothes can retain their colors if you use vinegar while washing. Even static clings can be removed easily with metal hangers.
Well, these were only the starters. If you want to make all your clothes brand-new, you just can't ignore the rest.
So follow these eleven recycle and upcycle hacks to bring old clothes back to life. 
Bringing Back the Color of Faded Clothes
Most clothes start to lose their color after several washes. You might think they can't be redeemed anymore, but you'd be surprised to hear there's a quick and easy way! 
Using vinegar or regular salt can bring back that old vibrant look. Also, it is one of the ways to remove mold from clothing.
Just add two or three tablespoons of vinegar to your laundry detergent and wash it thoroughly. Give it a good dry and see the colors come back to life!
While on the topic of recycling, similar to your clothes, your bedroom can probably use some revamping, too, right? There are many ways to transform your bedroom space so that you can relax more. You can definitely use some of that!
Preventing Itching and Damage to Sweaters
Sweaters are obviously heavy-maintenance clothes, and extra care for them is necessary. If you want to stop the itchiness, try giving the sweater a nice bath, then put it in the freezer for a few hours. Remember to dry it well afterward.
Stopping the sweater from being damaged by moths is quite easy too! Just put it in a plastic bag and leave it inside your freezer. Even after months, you'll get a nice and mold-free sweater.
Using a plastic hanger can make the clothes cling to your body. To make sure that does not happen, use a steel hanger or clothespin. The metal contact directs the electricity away from your clothes and keeps them cling-free. 
You may have ignored your old clothes because they've developed a musty smell. But you can easily remove it with an alcohol solution. Take a 1:2 ratio of alcohol and water and apply it to your clothes. The odor will fade away after just a few sprays!
You won't have to deal with smelly clothes anymore. They will feel like you've just brought them from the dry cleaner!
Converting It into an Art Piece
You don't have to go out and buy new clothes to replace the old ones! Turn them into modern-day pieces of art with just a few materials. Cover the stains with paints, patch the holes with vibrant materials, and you're done!
Your old clothes will look like the newest trend. Another extra tip for you. There are plenty of ways to save money on clothes! Following them would be quite helpful for you.
This is a fun way to bring your old clothes back to life. Take all of your sweaters, tees, and other clothes and stitch them together. Yes, making a blanket can be quite time-consuming. But the end result will definitely put a smile on your face!
Transforming the Trainers
Similar to the revival of your old clothes, your shoes can benefit too! So why should your clothes only get to enjoy the Lazarus treatment?
Your shoes may have normal wear and tear and a rugged look. But you can give them an all-new look with glitter and fabric glue. Use any color you want and paint your shoes with all your love.
Additionally, you could style up with 
sneaker laces
. Opt for premium cotton ones for a more polished look.
Taking out Deodorant Stains
Often your old clothes will start to show deodorant stains if they sit for a long time. It's quite unpleasant to see the stained lines on your favorite old clothes. However, they are quite easy to remove and get a fresh look back.
Use any regular wet wipes and gently wipe the area where the stain is visible. Do it for a while, and all the deodorant spots should start to vanish!
This is a very common problem with old jeans and pants. But a quick fix can easily remove the unzipping problem! Use nail polish or hairspray on the zipper, and it should glide through smoothly.
Whether it's your T-shirts or sweaters, you can make anything into a cushion cover. Yes! It's just that easy to make your cushion covers if you want to. 
However, using sweaters is kind of difficult. You'll need some iron fusible material to make sure it stays firm and stretch-free. Let me tell you one thing. Making cushion covers can be really fun and creative! So try it out.
Turning a Baggy Tee into a Sassy Dress
Found a baggy T-shirt that you never wear anymore? No worries because your tee can become a beautiful dress if you want. Be careful about the size and style. First, create a design, and then draw a pattern so that you can cut it accordingly.
This DIY upcycling method will surely make you happy. So, feel free to go all creative with your baggy tees!
Just like your clothes, there are ways to decorate your boring blank walls too! That will surely make your home more lively and uplifting.
Conclusion
Recycling and upcycling old clothes and other objects are a great way to reduce waste and come up with interesting styles, whether it's for wearing or for decoration. 
If you have collected a pile of clothes that you no longer wear, it's time to make use of these eleven recycling and upcycling hacks to bring old clothes back to life.
Give the creative streak in you a try and look at what you can recreate from old clothes!
Other Posts You May Enjoy:
TOTE BAG MARKETING – IS IT WORTH IT?
GREEN HOME IDEAS: HOW TO CHOOSE THE BEST ECO-FRIENDLY ITEMS FOR YOUR HOME
7 PRACTICAL TIPS FOR BUILDING AN ECO-FRIENDLY HOME
HOW INFRASTRUCTURE IS BECOMING MORE ENVIRONMENTALLY FRIENDLY
Share This Story, Choose Your Platform!