In Tennessee, Chattanooga's real estate market is booming as home buyers and rental real estate agents increasingly show an interest in the area. In fact, homes in the city sometimes sell within hours of listing. So, as demand for housing grows faster than the supply, Chattanooga is now a seller's market.
Therefore, sound property investments in this area might yield immediate and long-term benefits for rental home buyers. Here are some reasons why Chattanooga's real estate market is a real estate investment magnet.
Chattanooga's Booming Real Estate Market Attraction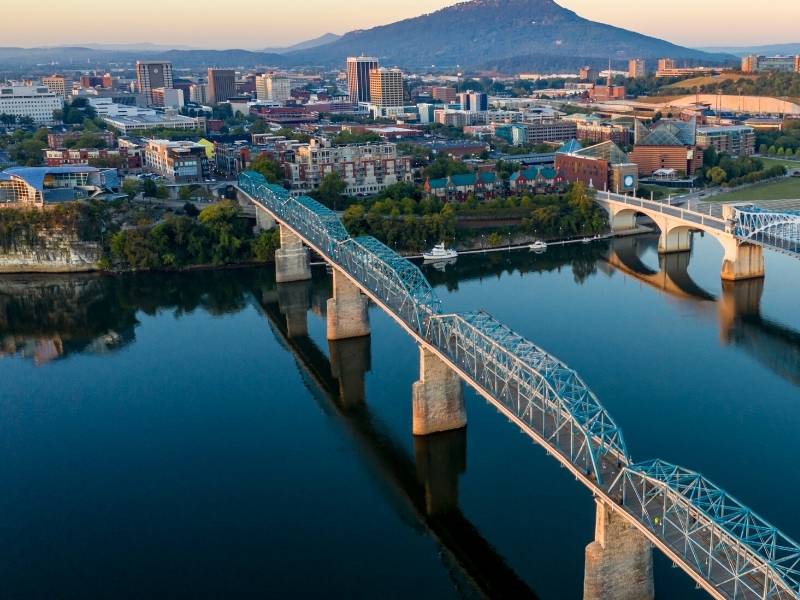 1. Landlord-friendly regulations.
Many people come to Chattanooga to invest money in rental property because of Tennessee's landlord-friendly laws and regulations. In fact, owning and renting out a property in Tennessee has less red tape than it does in other states.
Bonus! Click through to this property management Chattanooga for established companies and hiring property management experts like those at Evernest, Keyrenter, and Rack Point Real Estate. These property management companies take the stress out of rental property ownership because they know the legal requirements and also act as a liaison between landlords and tenants.
Next, whether it is screening tenants, collecting rent, or evictions, property managers at Chattanooga Property Management ensure that landlords get their rental income without worrying about the day-to-day requirements of rental property ownership. Among the greatest strengths of property management companies is the rigorous screening practices to ensure you get tenants with a good rental history before either party signs an agreement.
2. Nice tax benefits.
One of the primary reasons Chattanooga's real estate market is so attractive is that Tennessee is phasing out income taxes. States that have done this increase property taxes to compensate for lower revenue. However, the Tennessee government is not going to follow this trend.  
Due to these regulations, rental property buyers do not need to worry about high sales taxes as they would in other states. Additionally, by freezing senior taxes, Tennessee's administration makes the state and the city of Chattanooga, an enticing prospect for retirees. Many prefer to rent property to safeguard their retirement savings. According to Colliers International, seniors are also ideal tenants as they tend to stay longer and are less likely to cause property damage.
Compared with other states, Tennessee already has lower property tax rates. Of course, rental property investors want to find investments in cities where they earn a great income with no income tax, minimal property taxes, and tax write-offs for most of their rental property ownership expenses.
3. Student accommodation needs.
Chattanooga is also something of an educational hub in Tennessee. Interestingly, it is home to the University of Tennessee at Chattanooga, Chattanooga Community College, Tennessee Temple University, and the Southern Adventist University.
Rental property owners know that where colleges are, there is demand for student rentals. Few universities have sufficient housing for all their out-of-town students. So, rental home owners withing the schools' immediate areas have an influx of applications when the school year starts.
Student accommodation needs vary according to their budgets. Some prefer rental apartments, while others are happy to move into a house with fellow students. Students do pose a rental risk as they do not stay long-term and have a higher risk of property damage. Nevertheless, it's easy for landlords to find new tenants.
4. Exponential jobs growth.
The demand for rental accommodation in Chattanooga comes from its employment market. Among the area's largest employers is the United States military, with Fort Arnold located less than an hour away. Many military employees stay in Chattanooga and commute to the base. Members of the military are known to be renters as they could be transferred without notice, making buying property a risky investment.
Chattanooga also has a stable industrial sector, including automotive manufacturing at Volkswagen of America, food and beverage production, and advanced manufacturing. As most blue-collar workers cannot afford to buy homes, they opt to rent them instead.
Chattanooga is also home to a burgeoning startup market. Entrepreneurs and innovators have found a home in the city, which has been touted as the next Silicon Valley.
5. Easy healthy living.
Chattanooga might be a city, but it still has a small-town feel to it, which many residents find attractive. Many outdoor activities, such as hiking and biking make Chattanooga a desirable place to stay for active people.
As many people have begun working remotely since COVID-19, more might start seeking homes in cities like Chattanooga where they can maintain a healthy work-life balance. The beautiful scenery and landscapes around Chattanooga make it easy to escape into the great outdoors.
Chattanooga's small-town feel is something parents identify with and want to offer their children. So, an influx of young families is underway and expected to continue. Also interesting is that the city's schools are implementing STEM programs to prepare students for jobs in the tech industry. 
In conclusion.
Chattanooga's real estate market is an excellent consideration if you want to invest in rental properties. However, for this type of investment you must continue to do your research into find the best deal for you. If you have any questions or suggestions, please leave them in the comments below. Also below are links to take you to more interesting articles about ALL things DESIGN for your home or business.
Images Courtesy of Canva.
Other Posts You Might Enjoy:
3 Ways to Add Reversible Design to Your Rental Home
A Guide to the Innovative Coworking Spaces of Hong Kong
Tenant-Landlord; 4 Things to Not Do as a Tenant
Becoming a Landlord – How to Avoid the Pitfalls of Managing Rentals
Share This Story, Choose Your Platform!