Thank goodness the trees are budding and the flowers are blooming; winter is gone! What a great time to dress up the backyard and invite your fine-feathered friends for a Ladies' Springtime Brunch.
Mother Nature will do most of the décor on your back patio, or under an awning. Pick a color theme for tablecloths, napkins, and place mats. Hang curling ribbon from the tree branches and tie bows wherever possible. Place candles and small, low fresh-flower arrangements on each table. Keep the food simple, the drinks plentiful, and the conversation will take care of itself!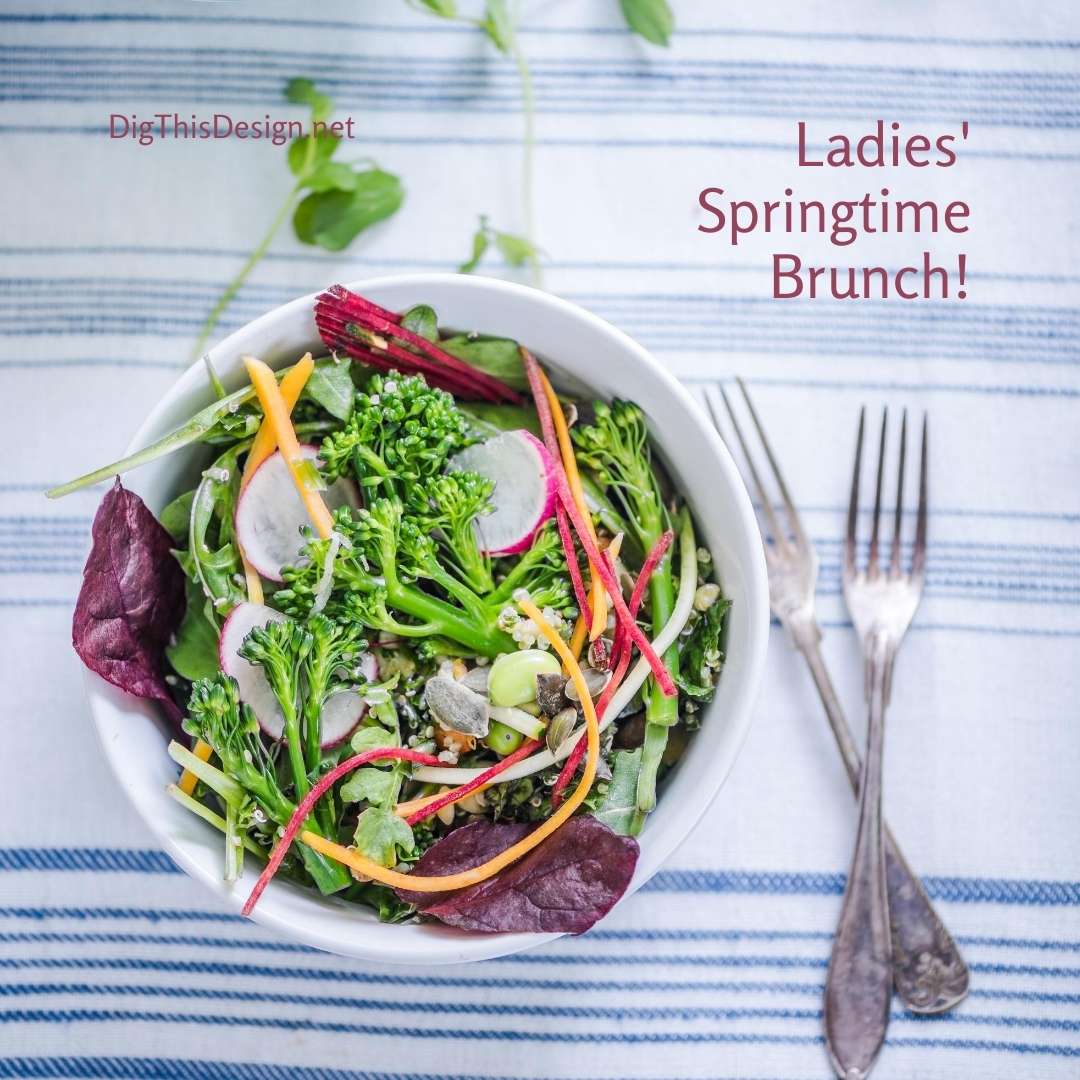 For the food table, make a huge arrangement of fresh flowers, casually arranged. It's easy to save money by placing them in the vase artfully yourself. Just cut off 2-3" of the stem and place each separately in the water. Vary the length of stems, putting the longest stems in last, to stand tall in the center.
Arrange eating utensils, napkins and plates together, next to the main dish, such as a quiche.
Place celery and carrot sticks upright in tall glasses, crackers, pita chips, tortilla wedges and other small tidbits in baskets or cute bowls around this colorful, tasty salsa.
No need to fuss over dessert, with this easy-to-prepare fresh fruit pizza.
Pizza for dessert? Try this Fruit Pizza Recipe.
The drink table needs more napkins, straws, stirrers and a plate full of garnishes. For the bloody mary's, offer celery sticks with leaves on, and thin, long cocktail crackers.
Quench your thirst with this Bloody Mary Recipe.
For a tasty surprise, offer sparkling cider and pear cocktails. Plastic cocktail "glasses" are pretty inexpensive nowadays. A pretty dish of peach slices, maraschino cherries or watermelon balls on party toothpicks will give delight to each serving. This can be served from a punch bowl with a few edible flowers floating on the surface.
This Pear and Sparkling Cider Cocktail Recipe will be a hit at your brunch.
A trivia game or "ice breaker" game can be played for entertainment. Or if this is a group with a purpose, let the meeting begin–but only after everyone's filled their glass again. After a half hour or so, pass around a small platter of shortbread cookies, alternated with chocolate truffles, for extra ooh's and aah's. Your gal-pals will love you for your generosity in hosting this Ladies' Spring Brunch.
Written by: Ruby Moseley, FizzNiche Staff Writer
Images Courtesy of Canva.
Share This Story, Choose Your Platform!