St. Patrick's Day meals are filled with comfort food for the soul. Warm soups and stews bring us out of the chill and into a celebration with family and friends. Try one of the following Irish recipes for your St. Patrick's Day dinner.
Hearty St. Patty's Day Veg-All Soup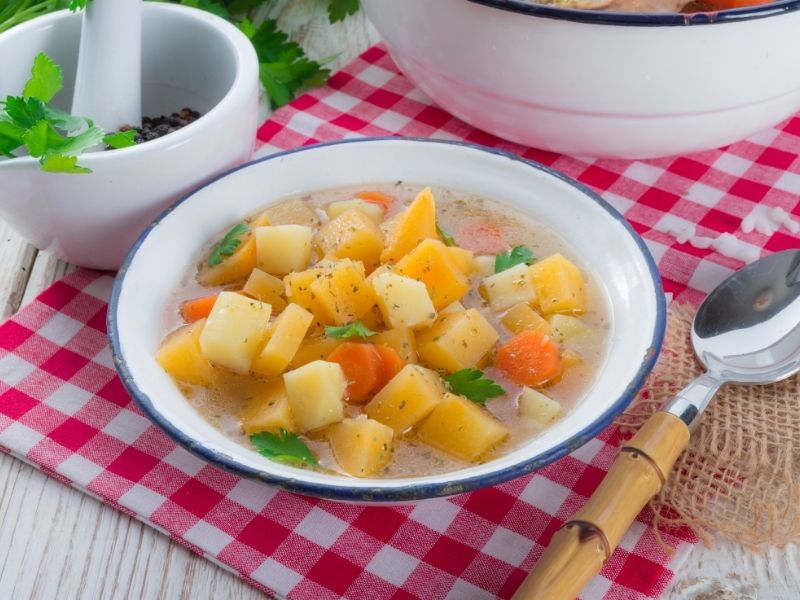 INGREDIENTS
1 tsp. Olive oil
1/2 cup Onion, diced
1 cup Cabbage, chopped
6 cups Chicken broth
1 cup Ham, cut in 1/2-inch dices
1 cup Parsnips, cut into 1/2-inch dices
1/2 cup Sunshine Rutabagas, cut in 1/2-inch dice
1 15 oz. can Veg-All Original Mixed Vegetables, drained
DIRECTIONS
In a medium-size heavy-bottomed pot, heat the oil over medium heat and saute the onions until transparent. Add the cabbage and stir briefly, then add the broth and bring it to a boil. Add the ham, parsnips, and rutabagas, and return the liquid to a boil. Reduce heat to a simmer and cook 15 minutes.
Add the Veg-All, and simmer another 5 minutes. Serve very hot with crusty bread.
Recipe provided by Allens, Inc
Scots Irish Stew
INGREDIENTS
3 pounds stew beef or lamb cut into one-inch cubes
1/4 cup extra virgin olive oil
1 head garlic – mince all the cloves in the head
2-3 large onions chopped
6 cups beef stock (you can prepare from beef cubes with water)
1 cup dark ale
1 can tomato paste (a cup of tomato ketchup can substitute)
4 large tomatoes chopped
1 tablespoon sugar
2 bay leaves
1 teaspoon basil
1 tablespoon thyme
1 tablespoon Worcestershire sauce (soy sauce can substitute)
3-1/2 pounds red potatoes
1/2 stick butter
3 cups peeled carrots cut in medallions
Salt and pepper to taste
One-piece cinnamon bark
Parsley and coriander leaves for garnish
DIRECTIONS
1. Heat olive oil in a very large pot over medium heat. Sauté meat until brown, then add garlic and onion. Continue to move the meat in the pot with new ingredients over heat for another seven minutes, then sprinkle with sugar.
2. Add beef stock, ale, tomato ingredients, spices, and Worcestershire or soy sauce, and bring to a boil. Reduce the heat to low, and simmer for another two hours, stirring every 15-20 minutes.
3. In a deep skillet saute the potatoes and carrots in butter or olive oil, whichever you prefer. Add to the stew pot after it has simmered for two hours. Add the cinnamon bark or stick and simmer on the lowest heat for another 40 minutes.
4. Remove the bark and bay leaves. Garnish with parsley, coriander, or a combination of both.
Serve this Scots Irish stew with garlic bread, crusty Italian bread with creamery butter, or traditional Irish soda bread. A glass of red wine or mug of Guinness goes very well with this easy to prepare Irish dinner.
Yields: 8 servings
Recipe provided by Marisa Santillo, BnBFinder.com, The Irish Inn Bed and Breakfast
Images Courtesy of Canva.
Share This Story, Choose Your Platform!