Back to school is fast approaching as siblings get on each other's last nerve and Mom's everywhere have begun pulling out their hair.  So, in anticipation for getting back on schedule and a feel of normalcy, here are a few back to school celebrations  to help us see the light at the end of the tunnel.
Back to School Wishes
Send your little dumplings off to school with these cute well-wishes!  To avoid the sugar high and crash, maybe cut back on the candy to just one or two packets.
Back to School Apparel
Learn how to make this adorable tee for your child's first day back to school.  It's easy and super cute!
Back to School Backpacks
Every year we go through the headache tradition of picking out a new backpack.  I'm 100% certain this was started because at the end of the previous school year there were numerous school supplies falling out of the holes in the bottoms of my children's packs.  Alleviate some of the back to school mayhem by purchasing a quality backpack that will last year after year.  In the long run, your wallet will thank you.
Back to School Lunches
This website has some really creative and healthy lunch ideas for your children.  Using a separated container allows you to include items in your child's lunch in a handy and the important food-can't-touch kinda way.
Back to School Memories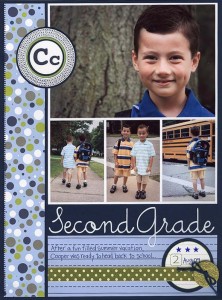 In case you're like me and just don't have it quite enough together to actually remember to take these memory-making shots with your camera, here's a little reminder.  All I can say is thank goodness for smart phones!