The holidays are fast approaching, and even though October has just started, many people are already preparing for the upcoming holidays. The holidays are the most anticipated event every year. It brings friends and family together. Unfortunately, it can also bring holiday season stress and anxiety.
Tips to Help Manage Holiday Season Stress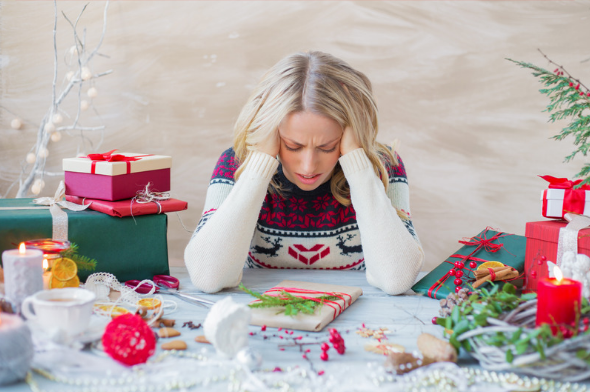 If you typically feel this way during the holiday season, then here are some things that you can do to manage them for the upcoming holidays. 
Plan to Help Avoid Holiday Season Stress
It's still quite early to fill up your schedule, but it's efficient if you want to plan your schedule nicely. Some events don't align perfectly between your family, friends, and co-workers.
If you plan, you can line up your schedule nicely. For example, are you planning to celebrate Christmas with your family? Try to put it in the same week as Christmas Day. Are you planning to have a Christmas party with your friends? Why not put it a week before Christmas? Are you planning to buy new furniture for the holiday season, like small buffets, for your spare rooms, and tables for the kitchen? Buy them as early as possible. 
Planning is vital because frantically running around all month will not help your mental health.
Have Realistic Expectations
If you are in charge during the holiday season, you want everything to go perfectly. However, this can affect our mental health, especially when things go out of control. This can make us frustrated, anxious, and even irritated.
Expectations are acceptable but adhering too much to them for yourself is not suitable for your mental health. So what can you do? Accept imperfections. Let's be realistic here, not everything will not go as planned. But, that's okay. By being in this mindset during the holidays, your stress and anxiety will be reduced significantly.
Reach Out About Your Holiday Season Stress
You might be afraid you'll ruin the mood, but it doesn't mean your mental health problems will disappear just because it's the holidays. For some of us, the holidays are some of the saddest times of the year. 
It's not the same for all people, of course. If you're one of them, you should remember that reaching out is always okay. If you're feeling alone and lonely, always reach out to your family and friends. Or remember to schedule an appointment with your mental health professional in advance. 
Tackle Holiday Season Stress by Taking a Walk
If you're dealing with too much stress and anxiety during the holiday season, one of the things that you can do is take a break. With all the hustle and bustle of the holiday season, you'll inevitably be overwhelmed with everything you have to do. It's good to take a walk to clear your mind.
Not only is walking a good exercise, but with the sun directly shining on you, you'll feel much more energized since your brain will produce more serotonin. Furthermore, because of the rhythm and repetitiveness of your movement, you'll feel a tranquilizing effect that can help you think more clearly and significantly reduce your stress and anxiety.
Make Small Adjustments Where You Can
The holiday is jam-packed with tons of preparations you have to make. Why don't you make minor adjustments to help you relax more during this busy season? For example, you can take time away from using your smartphone to focus more on work. Also, you can pledge to make time for yourself during the weekends of the month.
You can also make your tasks more enjoyable, like listening to relaxing music when cooking meals for the family. Or try bringing someone you enjoy hanging out with when buying groceries, etc. With these minor adjustments, you will be more relaxed during your busy times and enjoy the holidays more.
Final Words
By doing some of these tips you can help eliminate any stress or anxiety and enjoy the holiday season more with your family and friends.
Other Posts You Might Enjoy
Low-Cost Ways to Spruce Up Your Home for the Holidays
5 Top Tips to Organize Your Kitchen for the Holidays
Share This Story, Choose Your Platform!