The holidays are full of festivities and cheer, but inevitably; the festivities end. When that happens, it's easy to slide right into the post-holiday blues. In fact, there is a vast amount of research on the subject. So, there are ways to smoothly transition into the New Year and avoid the downside.
The big factor in post-holiday blues is a simple psychological problem known as the contrast effect, where the brain has to adjust between radically different experiences. The amped-up expectations of the holiday period giving way to the less exciting post-vacation weeks are a classic contrast effect. What Causes Post-Holiday Blues — And How To Combat Them
Many people avoid them by planning projects that start after the new year or they might write out an ever-effective gratitude list. You can also write out your New Year Resolutions, which is very effective in avoiding the post-holiday blues.
Every little bit helps, but let's consider how to lessen at least some of the post-holiday letdown through our seasonal decor and a few other simple tools.
If post-holiday blues grab you, continue reading to learn ways to transition into the new year smoothly and avoid the post-holiday blues.
4 Steps to Transition Into The New Year
Smoothly and Avoid The Post-Holiday Blues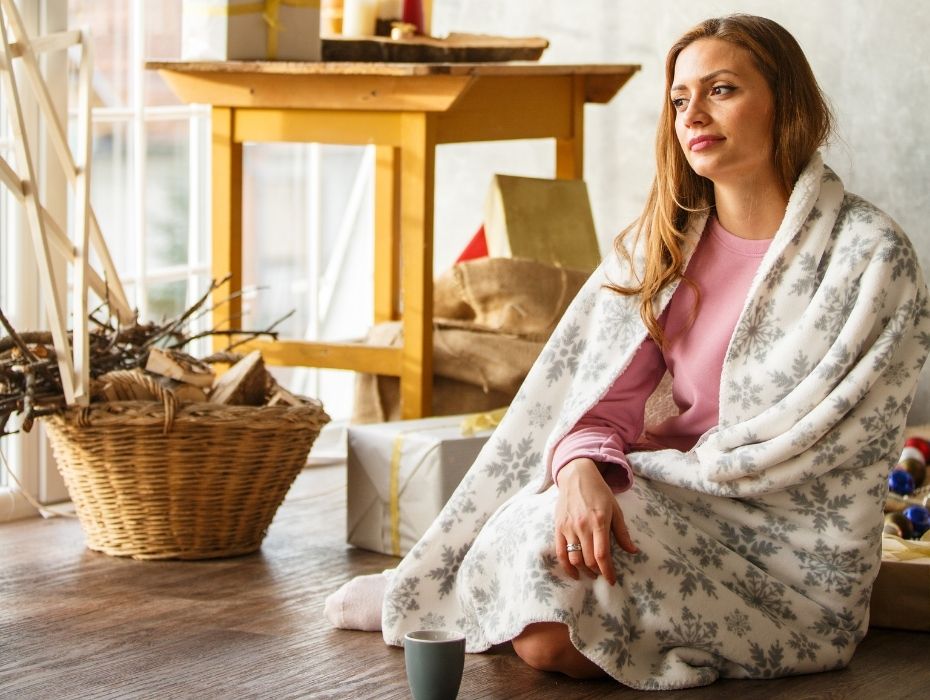 Is it possible that everyone gets the post-holiday blues in one form or another. For instance, you might miss your family members after they go home or you might miss the bright and colorful lights.
Then again, you might be down and out from the stress and anxiety of too much action and not enough sleep. If that happens to you, be sure to make getting caught up on your sleep a priority.
Perhaps the visual transition from your everyday home to a joyous decor that brims with cheer and then back to the norm again is the culprit that brings on post-holiday blues for you.
Along with blessings from my home to yours for a wonderful new year, here are some ideas to keep that transition smoother.
① Self-Care helps you slide right through the post-holiday blues.
Remember to take the time to meditate to help keep your emotions on an even keel. Your self-care is of great importance during the season of cooler weather with fewer hours of sunshine.
All the tips in this article point to self-care, but meditation or quiet times of mindfulness are at the top of the list. Of course, it's up to you to choose the type of meditation you prefer. You also need to find a location that's comfortable and quiet.
Also, it's important to stick to even the most minimum routine of meditation or whatever you have in your tool kit for de-stressing and relaxing.
It might be your perfect cup of peppermint before the rest of the house wakes up. Or, it might be your morning yoga and meditation routine. Some love to go for an early morning walk to start their day out right.
Whatever helps you stay in balance is what you must continue doing – even during holiday entertaining!
② Use natural decor to lessen post-holiday blues.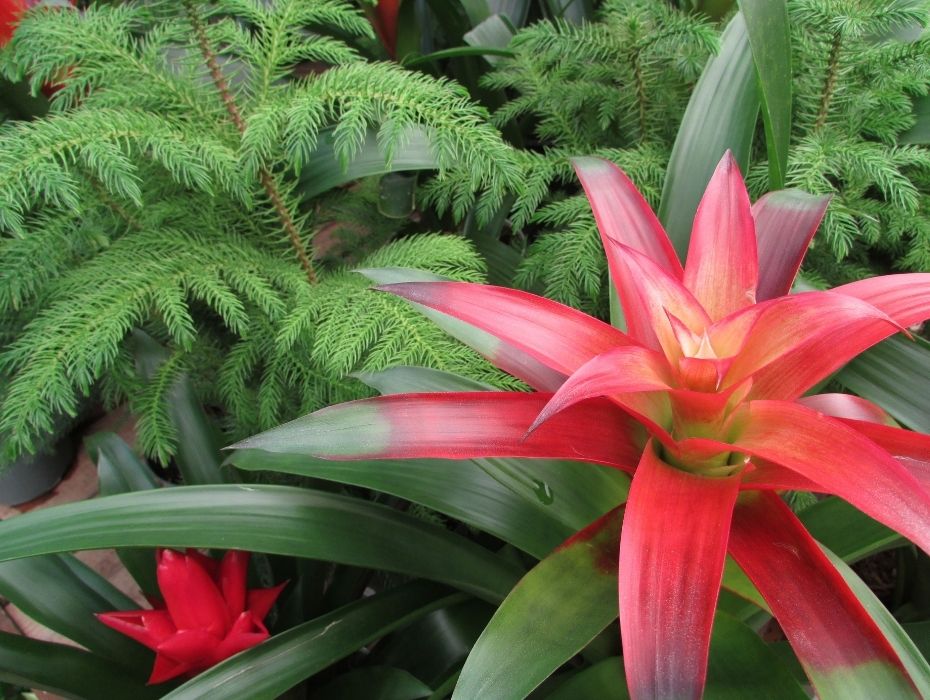 A Christmas tree is usually a big focal point in a holiday room. So, when you remove the tree, there's usually nothing left in its place. That's a recipe for disappointment to our senses on an intrinsic level.
So, why not consider instead a live holiday tree growing in its own pot? One such example is the popular Norfolk Island Pine. You may purchase these trees from almost any home store and take one home today.
Normally, you find Norfolk Island Pine sold in a smaller size which makes it perfect for tables. If it's not big enough to be your main focal point tree, dress it up anyway because this tree remains year-round to help ease your post-holiday blues.
With the proper care, Norfolk Pines grow inside your home and do rather well with the right conditions. So, before you know it, you might find it large enough to be your primary holiday tree.
However, if you live with a dog or cat, keep in mind that the Norfolk Pine is a toxic plant, so plan your room designs accordingly. Or, you might opt for a non-toxic living plant.
③ Non-toxic alternatives for living plants in your home.
There are actually lots of plants with color and ambiance that lend a cheerful hand to help you ease your post-holiday blues. Below, you will find a list of non-toxic houseplants that are safe for use around pets and children.
African Violet, (Saintpaulia)
Baby Rubber Plant, (Peperomia Obtusifolia)
Bird's Nest Fern, (Asplenium Nidus)
Chinese Money Plant, (pilea peperomioides)
Christmas Cactus, (Schlumbergera)
Mini Orchid, (Phalaenopsis Orchid)
Spider Plant, (Chlorophytum Colosum)
Trailing Jade, (peperomia rotundifolia)
Parlor Palm, (Chamaedorea Elegans)
Wax Plant, (Hoya carnosa)
④ Turn to the essence of memories to ease the blues.
Fill your room with the natural scents of the season and keep those scents going long after the holidays are past. Imagine the essence of pine cones or cinnamon as it floats through the air.
That's a lovely effect many of us enjoy during the holidays, but why not keep the essence of the holidays lingering in the air year-round with essential oils or candles? The amazing effect of the right scents is that they lift your spirits no matter the time of year.
Bring out the candles, incense, and diffusers after the holidays, if you haven't already done so. Also, add unique touches of decor to them throughout the year. Then, continue using this warm and inviting element in your room year-round.
In conclusion:
If you have questions or suggestions, we always love to hear from you in the comments below. Also below are links to more fantastic articles about ALL things DESIGN for your home or business.
Images courtesy of Canva.
Other Posts You Might Enjoy:
How To Apply Minimalism To Your Christmas Party
Three Simple Ways to Prepare Your Home for Christmas
Decluttering Your House after Christmas
Share This Story, Choose Your Platform!