Dig This Design is my muse to explore all the artistic things that I love and one of them is the world of art. Today's post is an interview with the amazing sculptor Steven Dolbin, whose art brings a physical presence into a space that is mesmerizing.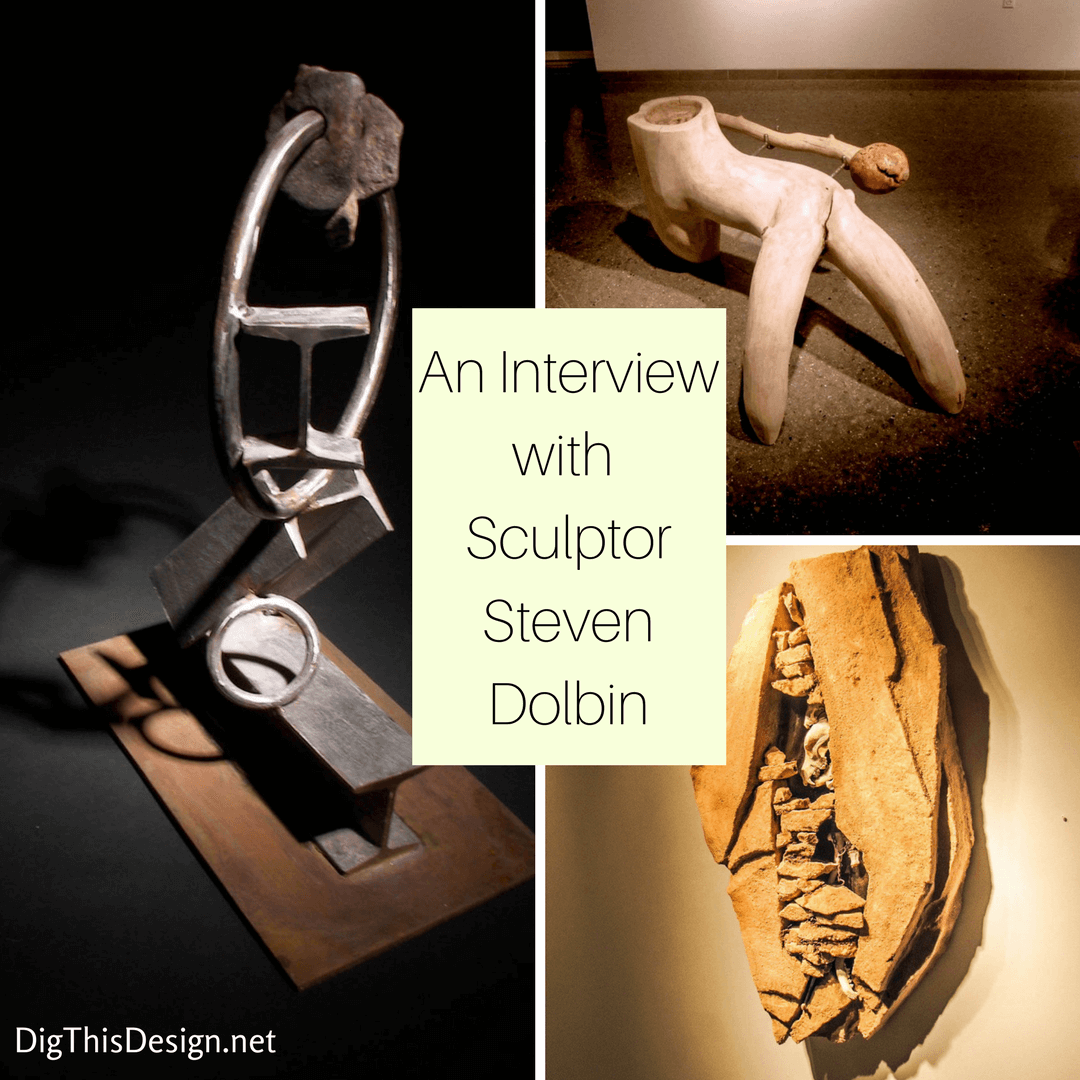 Sculptor Steven Dolbin
In reading your biography it seems your life has been immersed in the study and now the teaching of art, have you always had this ambition and knew what you wanted to do early on in your life?
SD: My father was a Teacher and coach, my mother was a nurse and art lover. My father eventually became a college administrator and I essentially grew up on a college campus. I had Dyslexia and ADHD as a child so I often had a very difficult time in school. Although I struggled, I was very verbal and creative. My life was changed by the intervention of a great tutor Mrs. Roddick, she worked with me to read and write while in grade school. Suddenly my academic ability caught up with my imagination! I always wanted to be an artist. I believe because I was surrounded by teachers, professors, coaches, nurses and those who valued education, I might have been influenced to be a teacher. I have always drawn and painted. Three other very important elements influenced my life and artistic journey. When I was five I was in a very bad accident and had to heal and learn to walk again. After a year of recovery and countless hours of rehabilitation, I rebuilt my broken body. This experience made me very determined to succeed in anything I try. It also showed me that one can transform one's self physically. I became a very good athlete excelling in football, wrestling and track. I know that my physicality drew me to sculpture! The last experience that convinced me to never doubt my path was the death of a friend and fellow athlete from cancer at 18. I realized we are given only one life and I made sure I was to spend mine following my passion, Art and teaching.
You seem to work with steel and natural materials as your medium, are there other mediums that you work with and if so what are they?
SD: My early training was as a Figure Sculptor, at that time, I worked in clay, plaster, bronze and fiberglass resins. Most of the work for which I have gained critical attention is made of concrete and are what I call "Contemporary Fossils". (Relic of Memory)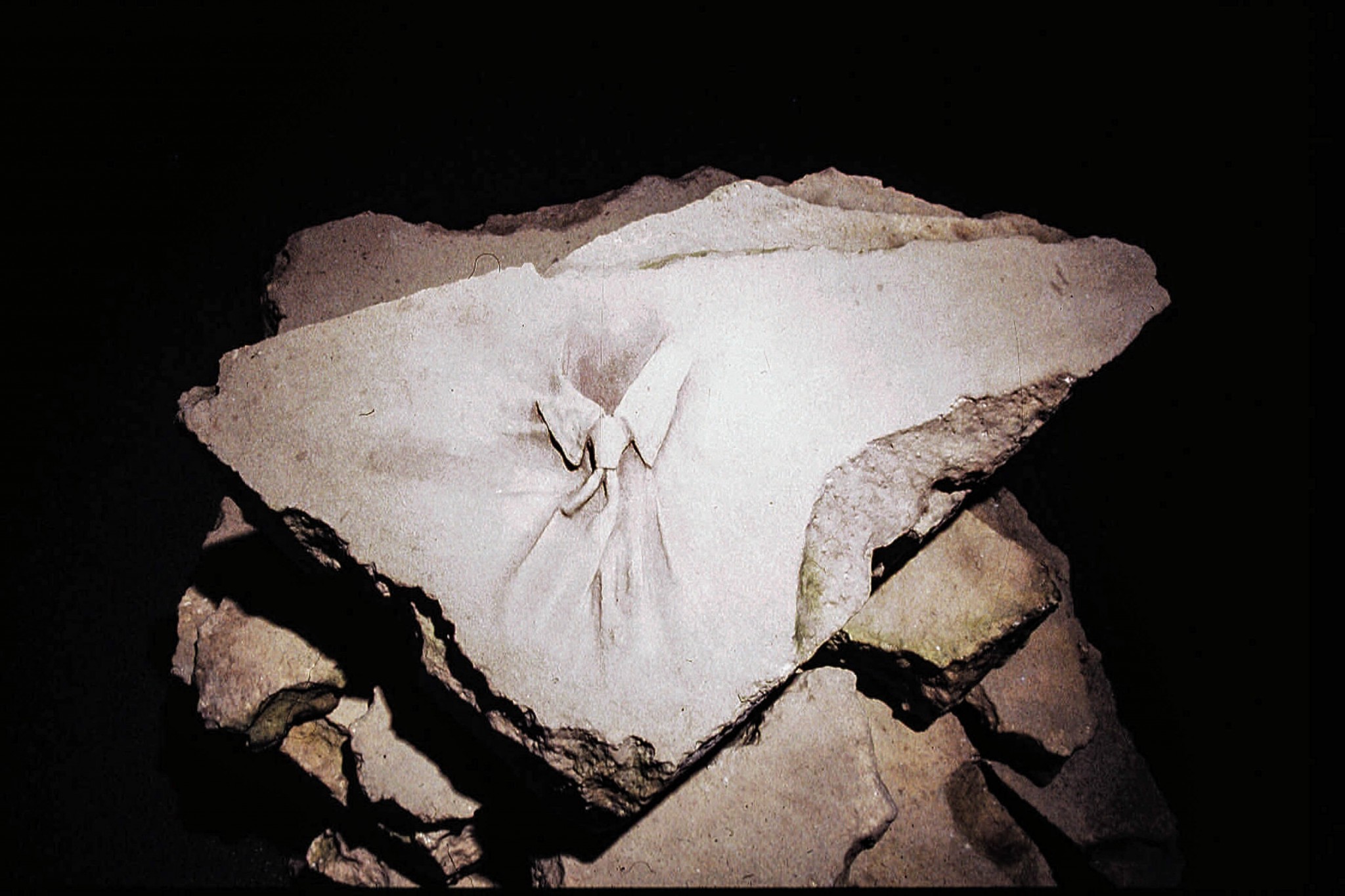 Relic of Memory
What is your favorite medium to work with?
SD: I love many different mediums. I love the adaptability and toughness of regular steel. I love the amazing pristine look and complete strength of stainless steel. I love the geologic timelessness of stone. Of course, I love wood, especially existing found organic wood forms! I often start a wooden piece by isolating or defining that form or perhaps adding elements. I studied wood sculpture and furniture design under the great Japanese /American artist Toshio Odate.
The "River Spirit" piece, can you share your story on this grand sculpture?
SD: "River Spirit" is a commission that has become a quest. In 2002 a wonderful patron who I had successfully worked on other projects commissioned me to create a massive sculpture for the city of Harrisburg, Pa., to be sited along the great Susquehanna river. My concept was to speak sculpturally about the Native American heritage of the River and region. After completing almost three-quarters of the work the patron became ill and died of cancer. The legal ramifications of this are too complex to explain here but the result was that I had a beautiful sculpture of monumental scale too close to being finished that I could not bear to scrap it but NO financial support to finish it. So what do you do? A 3 year fully funded project turned into a 15-year personal struggle. The only thing to do is devote whatever dollar and hour I can possibly spare to complete the project. So please be aware that any and all fine art I do, any works I sell, All the proceeds go directly to finishing this gigantic sculptural work to honor our Native American brothers and sisters! FYI I have many other large commissions that have worked out perfectly! lol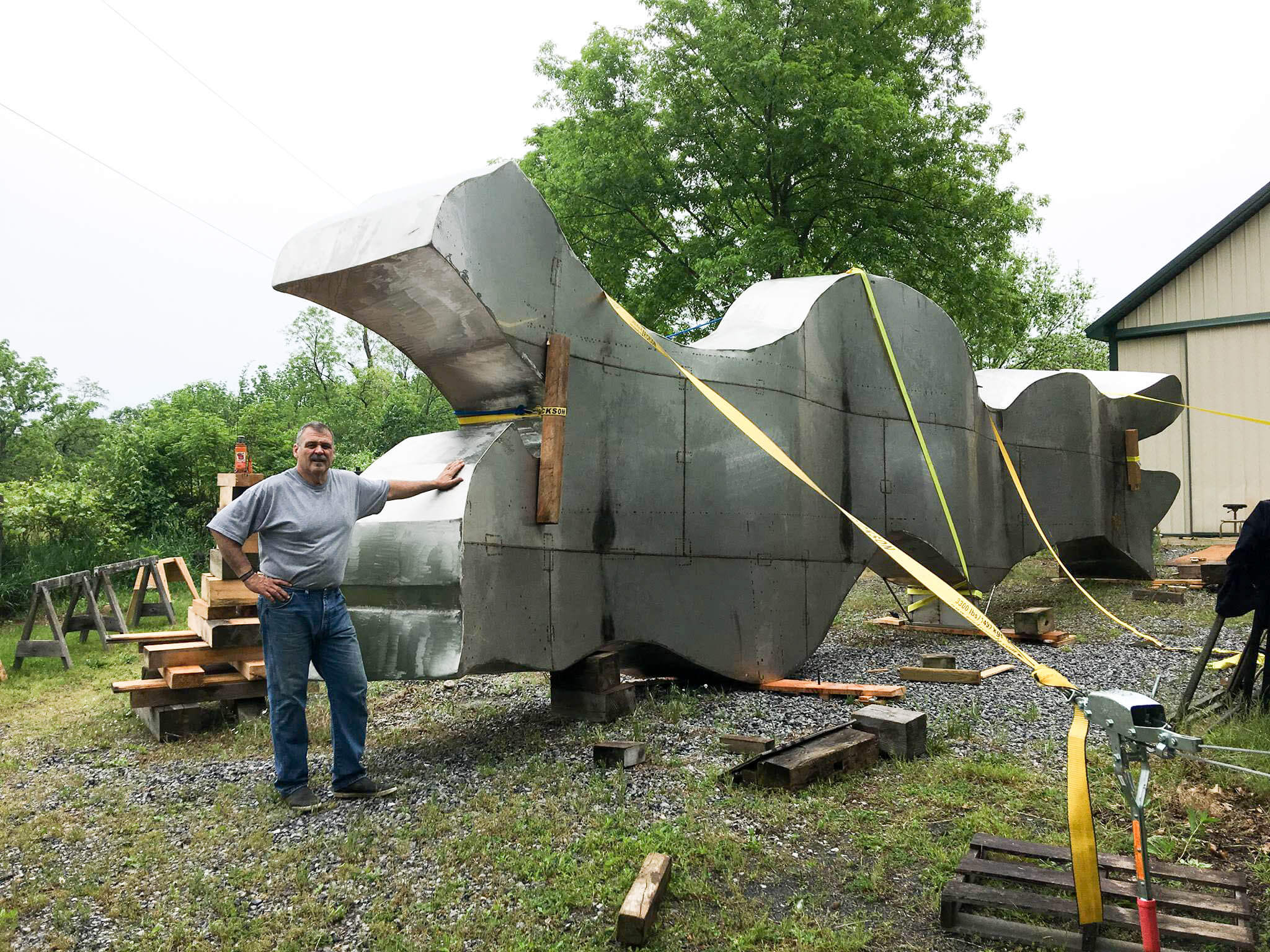 River Spirit
Your use of aged steel and wood is beautiful, what inspires you on this series of sculptures?
SD: I love working with materials that have been exposed to the elements. They are themselves a work of art.
Tell me about the name of the "Speaking Tube".
SD: In many cultures, spiritual leaders use a device to amplify their voices or seem to have the voice of a god speak. These devices whether a tube of wood or a passage in stone or a secret crevice in a cave, they all exist to channel and amplify the unseen speaker's voice. I have another piece named "False Oracle that has a speaking tube built into it.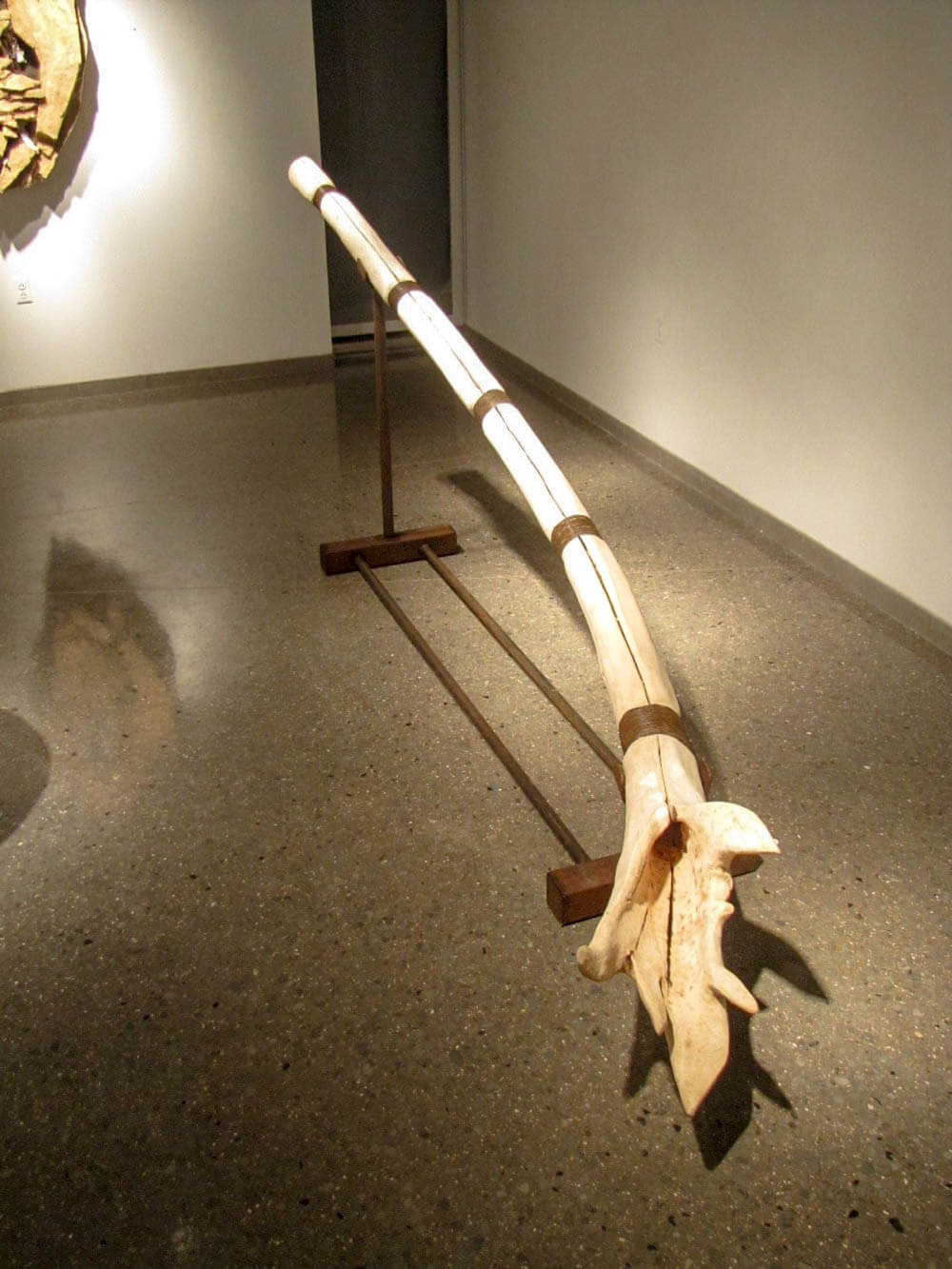 Some of your sculptures are of defined objects like the "Tripod Mortar" and the "Burl Rattle", what makes you select the subject, is the natural shape, kind of like looking at the formation of clouds?
SD: Yes, in my wood pieces I look for and harvest exceptional natural forms. I am trying to find forms that suggest that they could be used for a purpose by humans in a ceremonial or spiritual way.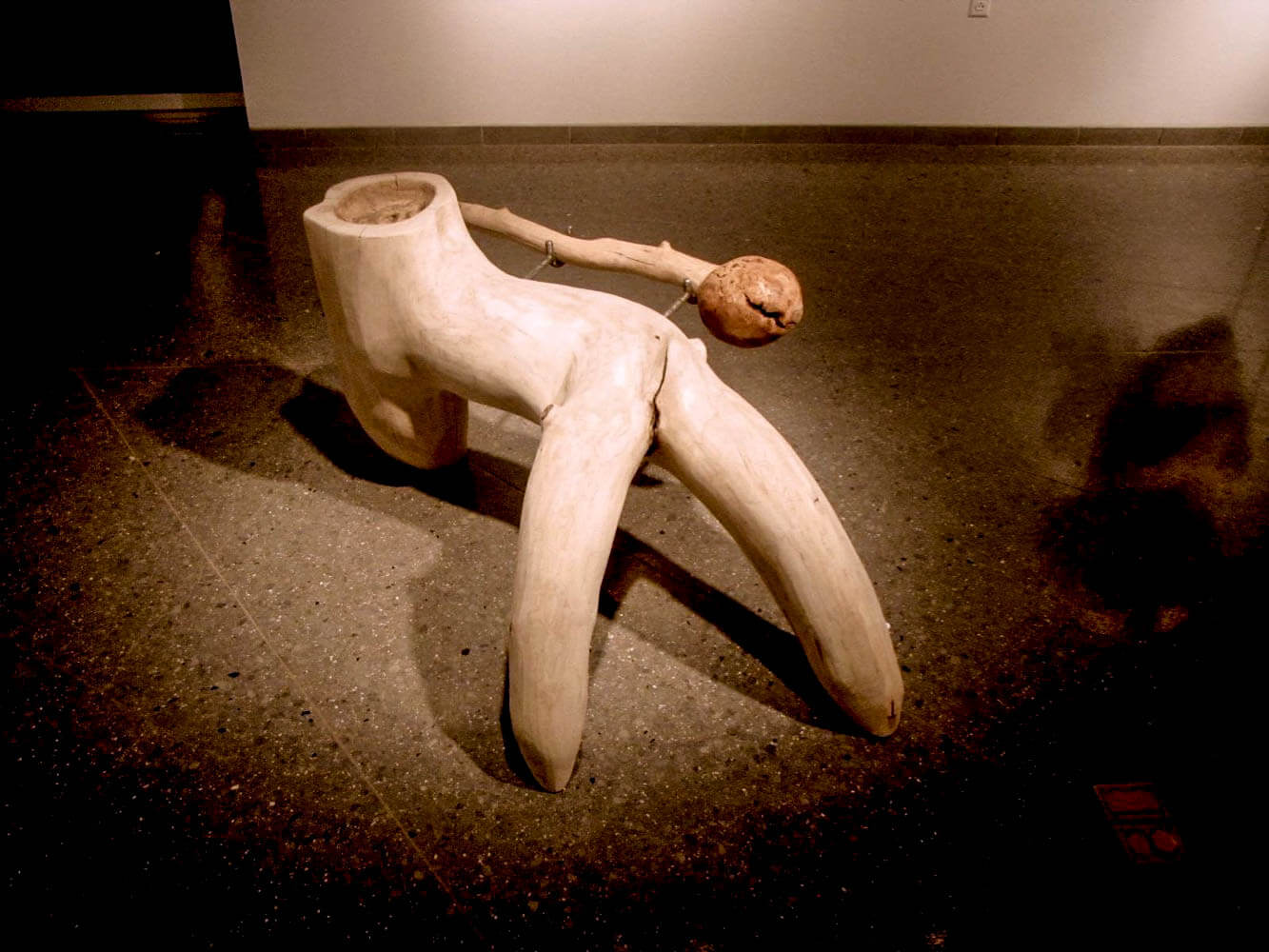 Tripos Mortar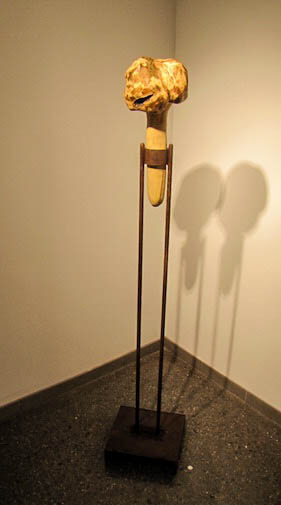 Burl Rattle
The stone sculpture the "Niche" is lovely, I have the urge of trickling water down it, just a personal thought. I 'd love to know your thoughts about this piece.
SD: I did a three-piece Tryptic that spoke about the life journey. The first was "Seep: Place of Water" the second was "Illumination: Place of fire" and third "Niche: Place of Spirits". It symbolizes the concept of the afterlife. All were inspired by my research expeditions to the American southwest.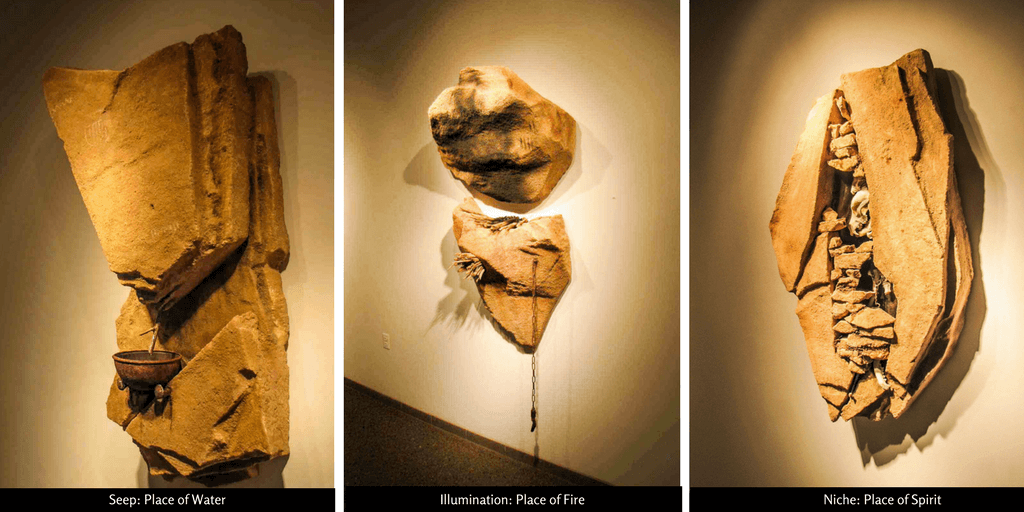 Do you go through a period of working with a particular medium and then switch to a different one or is it determined at any given moment in time?
SD: I try to always have at least three bodies of work in different material going at the same time. I find it keeps me very productive with no creative blocks. If I feel stuck on one medium I switch back and forth always moving forward and informing my investigations. I must mention that I love materials that Fight Back! I love the struggle. Like a relationship, it is far better to have both elements in the relationship have a strong existence. Like having two great dancers dancing together the performance is better. I like to not have total control; I like to sometimes yield to my partner the materials.
As an interior designer, I am digging your furniture pieces. Do you sell your artisan furniture and where?
SD: I have recently been focusing on creating furniture works. I want people to physically interact (live with) these pieces. I am very interested in the relationship from viewing and touching to actually using and living with pieces. I am currently creating custom pieces available directly from me or through interested interior designers. I have a Facebook Gallery Page (Shopify Store) or collectors can email me directly.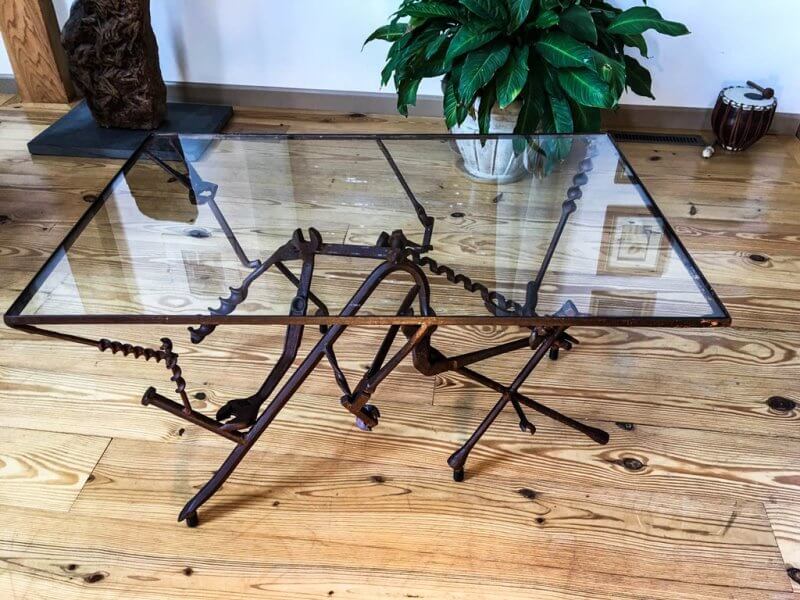 Custom Table
I like to look at the name of an art piece and try to figure out the story. Your sculpture calendar has me a bit perplexed. I start at the strong rectangle base and work up identifying i-beams, circle, oval, and lost on the center object and the top feature, please explain the calendar to me, I am dying to know, lol.
SD: Sorry about the bad photo LOL! There are 3 stones that may be very hard to see that can be arranged in different configurations in conjunction with the highest circle. They can be slid around the galvanized steel ring to imply a calculation or a recording of time. The concept of humans recording their journey is something I tend to work into many pieces. All my work regardless of what material is about meditation and contemplation.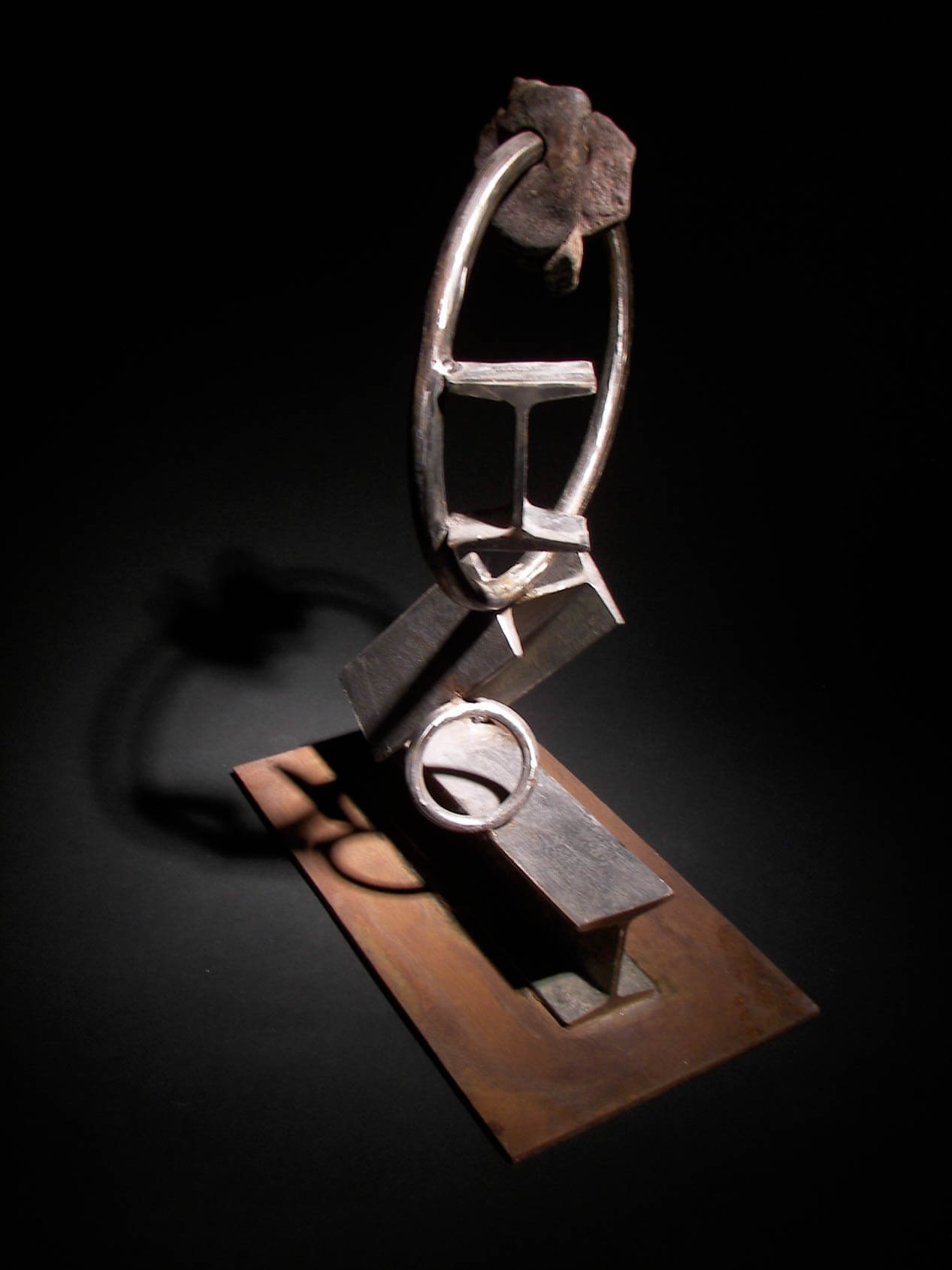 Calendar
Personal Words From Sculptor Steven Dolbin
The Genesis of My Personal Work
In the making of my work, I seek to understand my life experience and creative compulsion. I have found much insight from my exploration of humanity's bond with the land. The breadth of my work deals with the spiritual dialogue humans once had with the physical landscape and the more economic/resource oriented relationship that has come to dominate the present. Through my work of the past two decades, I have tried to reveal some of the more enigmatic properties that exist in our kinship with our environment. I strive to connect my viewers with universal and intuitive feelings that are often dismissed. I try to accomplish this with works that recall ancient monuments and relics, yet are directly tied to the technology that has changed our planet's surface and helped to form our present culture. Material gleaned from our present-day surroundings has played an important role in my work. The incorporation of mortal, synthetic, and natural materials into my work has proven essential to my expression. For me, these elements not only reflect our intrusion into geologic time but also hearken to our present urban existence.
Other posts you might enjoy:
Stickwork Garden Sculptures, by Artist Patrick Dougherty on Exhibit at Mckee Botanical Garen
Keeping it Real with Artist Jane Maroni
An Interview; High Heeled Art by Mark Schwartz
Share This Story, Choose Your Platform!