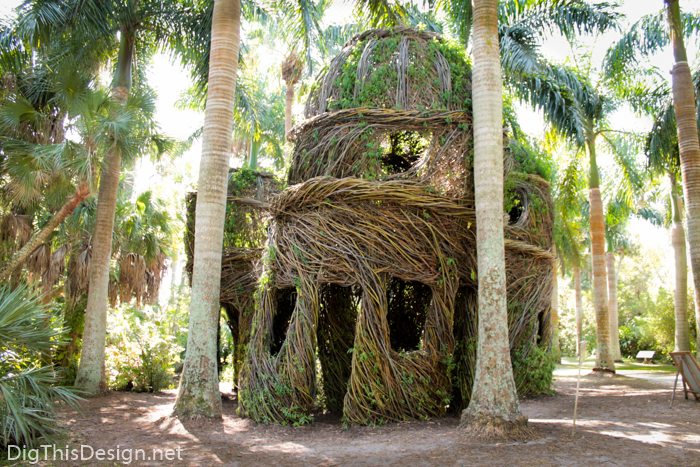 During the Spring of 2016, residents and visitors of the Treasure Coast can view the work of artist Patrick Dougherty at Mckee Botanical Garden. Dougherty's medium of choice are living saplings. Using primitive building techniques, he bends them to his will to create organic forms that viewers can interact with by experiencing from all angles. He has installed three stickwork huts at McKee to stand proudly amongst the Royal Palm garden. Thanks to the rainy weather that the local area experienced in January when they were installed, the saplings were able to establish well and are now producing plenty of foliage. This gesture is the finishing touch on Dougherty's work, his sculptures are showing themselves as a living and integrated part of the garden.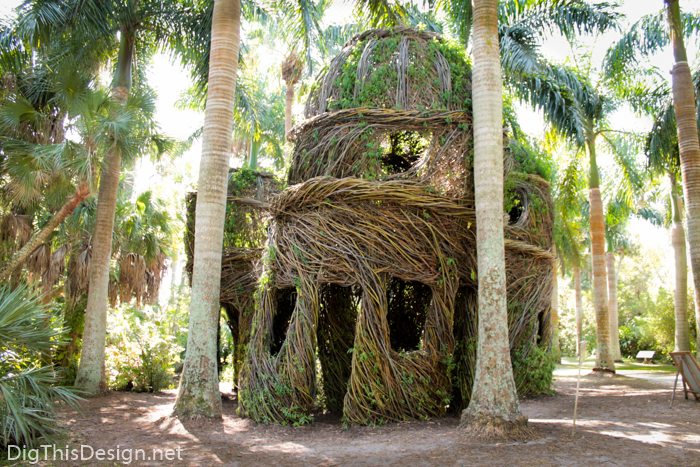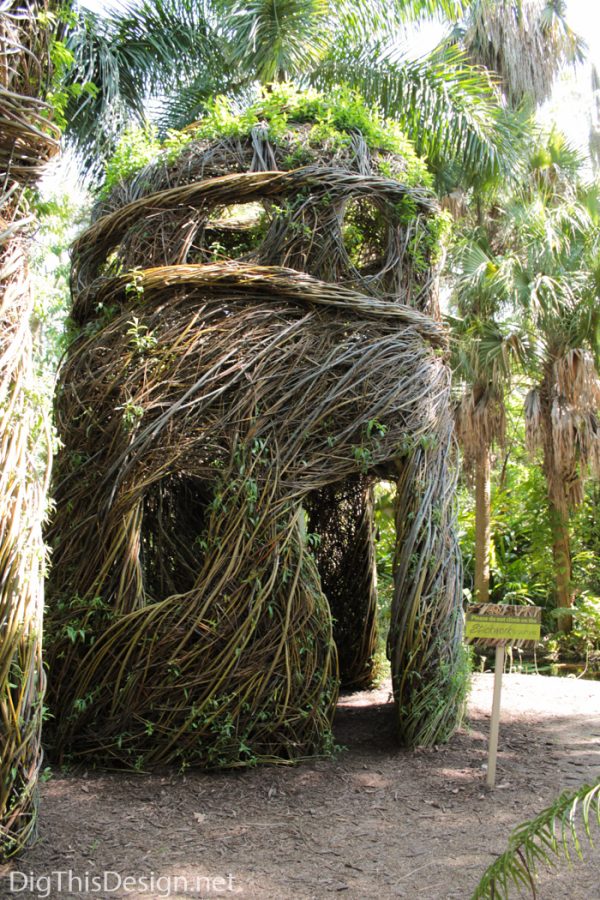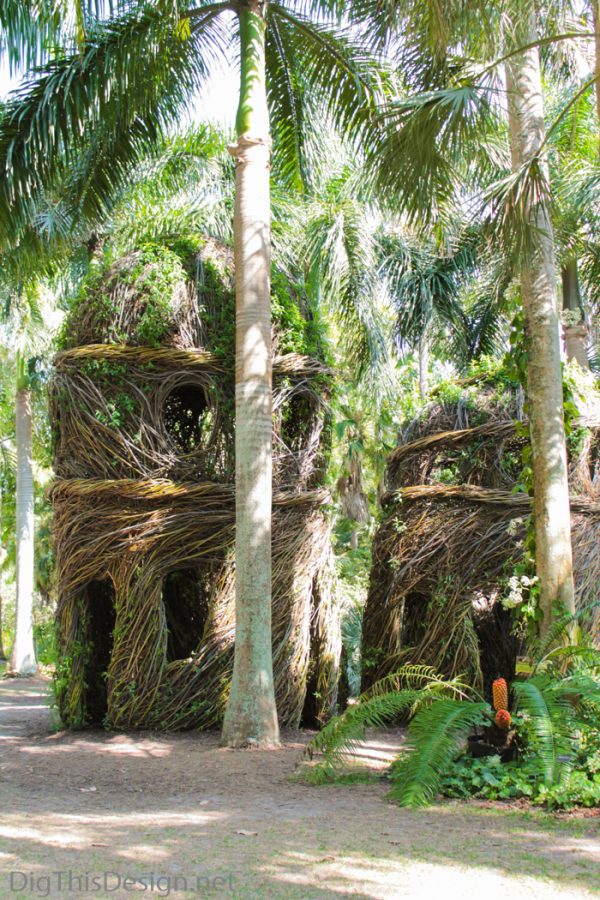 As you approach the exhibit titled "The Royals", you'll notice the three stickwork huts are huddled together as if part of a mythical garden tribe. Arabian Nights was channeled for inspiration on this project to create a sense of regal fantasy. They use the neighboring palms for a touch of support in their triangle formation. Their rounded forms immediately communicate a welcoming friendliness and the spiraling pattern draws you to look inside. By combining his carpentry skills with his love of nature, Dougherty has perfected a method for working with saplings that allow some of them to continue living afterward. For this project, Willow saplings were used from Fredonia, New York. According to the artist, his living sculptures should last about a year before deteriorating.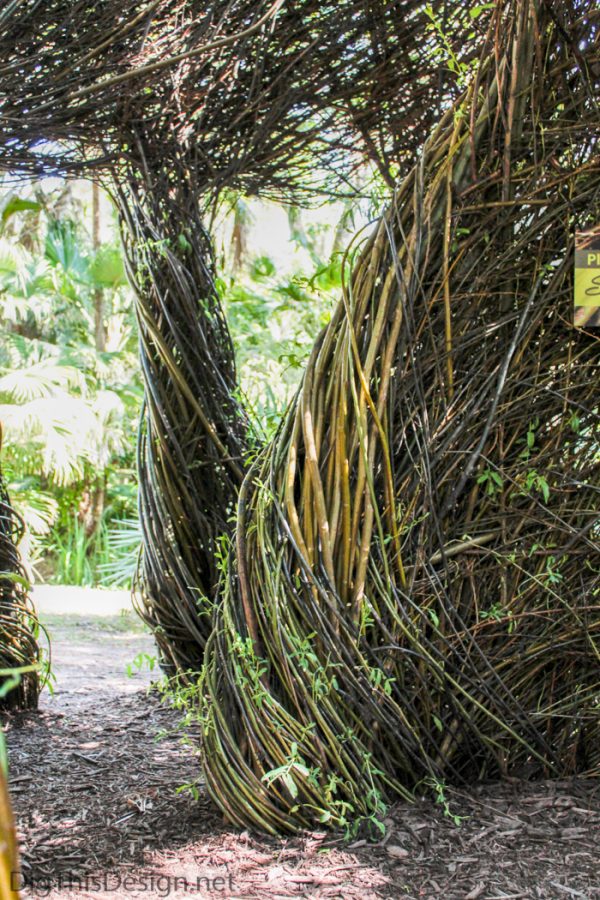 I got the chance to interview Patrick about this project.
What was your inspiration for this installation?
PD: I was lucky enough to be given the Royal Palm grove as a sculpture site and my first thought was to build something regal for the royals. This thinking led me to architectural follies and their place in historic gardens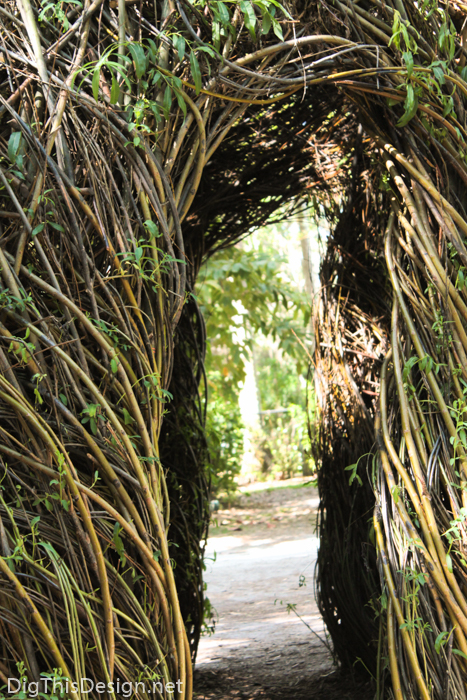 Are they meant to represent a specific thing?
PD: Saplings have a built-in place, in the back of all our minds. As children we all go through a building phase, maybe living the shadow life of our hunting and gathering past. For kids, sticks are an imaginative object and just a single stick can be a weapon, a tool, or a piece of a wall. I always think that a good sculpture is one that provides some kind of starting point for the viewer and something made of sticks definitely resonates. Viewers might think birds nest, an indigenous tribe, a favorite tree or a first kiss in the woods. For me, it's a kind of scribble where sticks become lines with which to draw. I think it's my job to make objects which enliven the imagination and beckon passersby to step over and take a look.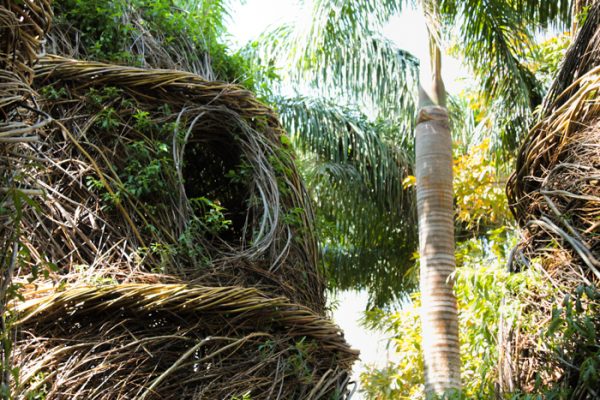 Did Florida weather help with this installation?
PD: Contrast cold weather in NC where I live and laying on the grass during our lunch break at the Mckee Botanical gardens. I began to understand the migration of folks to Florida during the winter. Hopefully, the devil-may-care visitors, giddy on good weather, will flood the botanical gardens and enjoy the sapling sculpture.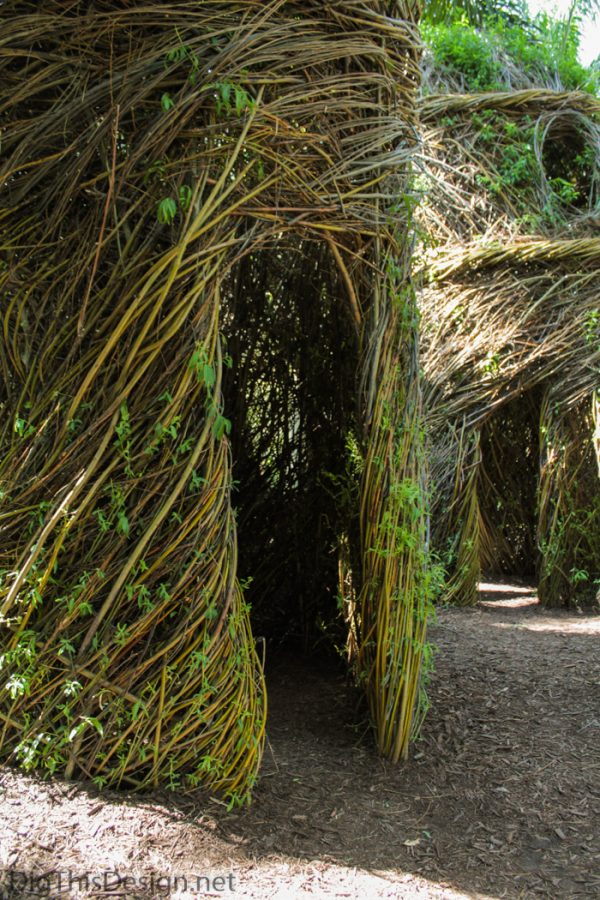 Does every region offer benefits/challenges during installation?
PD: Everywhere I work is a bit different. The sponsoring organization who host the work vary, the volunteers change and the local material can present new challenges. I arrive at each new site, eager and ready to problem solve. I focus on the opportunities each site holds and enjoy the moments of imminent possibility.
While inside one of these stickworks, one doesn't necessarily feel claustrophobic. Instead, it can be closer associated to receiving a hug from nature or feeling a sense of safety from being inside a shelter. It also helps that Dougherty installed plenty of doorways, windows, and skylights throughout the three sculptures. Perhaps there is a positive subconsciously primitive response to being inside simple shelters in nature.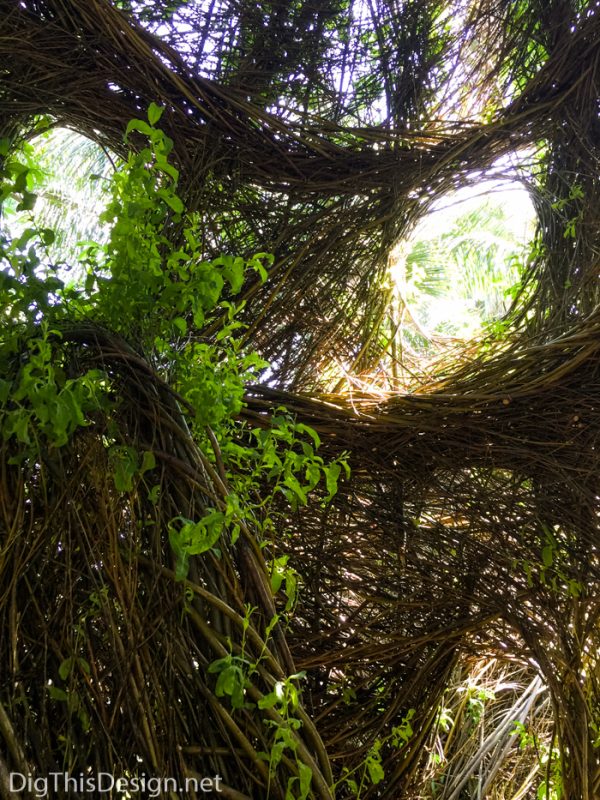 https://digthisdesign.net/wp-content/uploads/2016/03/20160317-IMG_6968.jpg
467
700
Stephanie Davis
http://development.digthisdesign.net/wp-content/uploads/2016/11/OLD_DigThisDesign_logo.jpg
Stephanie Davis
2016-03-25 03:28:14
2020-06-23 11:39:45
Stickwork Garden Sculptures, By Artist Patrick Dougherty on Exhibit at McKee Botanical Garden