I recently had the pleasure of meeting an amazing artist through Facebook, Jane Maroni. When I visited her wall I saw that she was calling herself a designer at Jane Maroni Organic Designs and piqued my curiosity. I then found myself on her website and knew I had to interview her about what inspires her to create such amazing pieces.
Meet Jane and Chris Maroni
A Candid Interview with Jane Maroni
Jane, I know you are a multi-medium artist and I get that as a creator because most of us do not do well in a box. Can you tell me what are all of your mediums and which one is your favorite?
JM: That's a difficult question because I see art in everything, and then the designs start processing in my head. I look at everything as eye candy… food, clothing, jewelry, furniture, nature, and architecture; I love it all and find it all inspiring. In the past, I've worked mainly in glass, but I enjoy working most with natural materials that Mother Nature no longer needs.
I love what you just said, "materials that Mother Nature no longer needs." Repurposing materials is a practice we should all try to do. As an interior designer, I like to bring what I see outside inside the home, be it through expanding windows, colors, or textures, which brings me to my next question. What makes you select the materials that you select in your air sculptures?
JM: I find the natural materials on the beaches along the Pacific coast of Mexico. I do not randomly pick up driftwood, shells, coconuts, etc., but rather, I carefully select each item that goes into our work.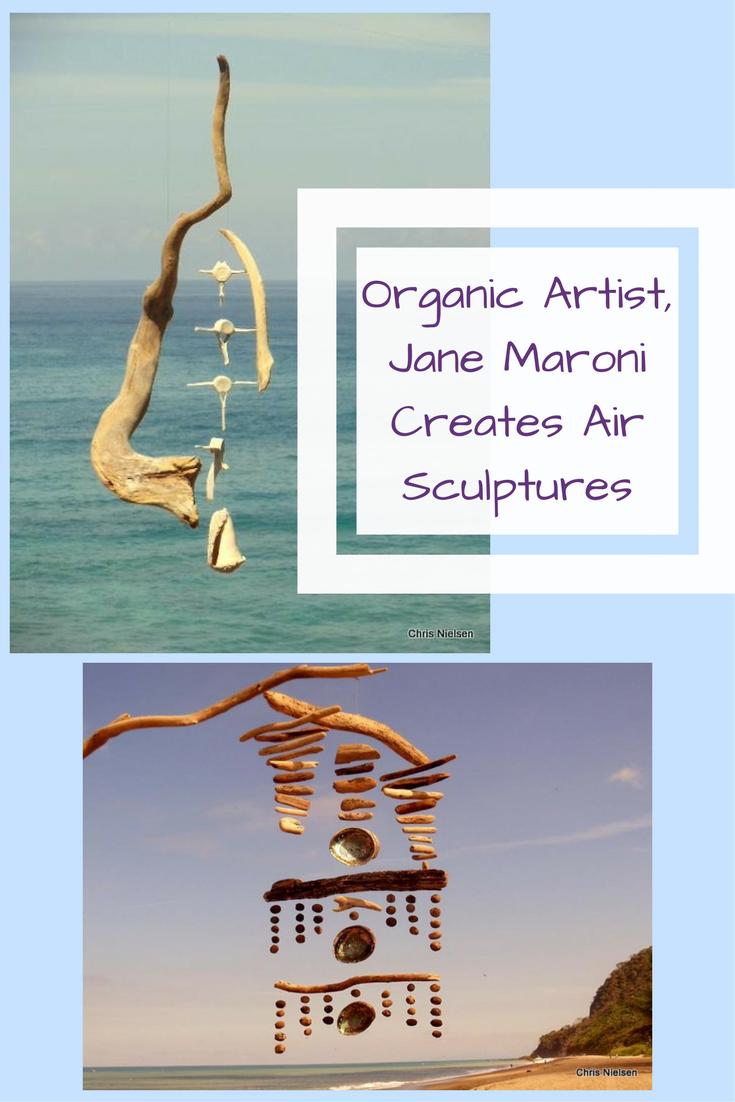 Your air sculptures bring out one of my philosophies in life, balance. Can you elaborate on how balance plays into your work?
JM: I get asked this question a lot and the simple answer is, I am in constant pursuit of finding balance in my own life, yet it often seems to elude me. Although the designs are mine, my husband Chris does the actual building and engineering of every piece. He sees and understands my visions and brings them to life. Once the piece is completed and hung, I enjoy watching it dance with just a whisper of air. It is my own visual meditation if you will. And depending on the day, that may be the closest I come to finding life's balance.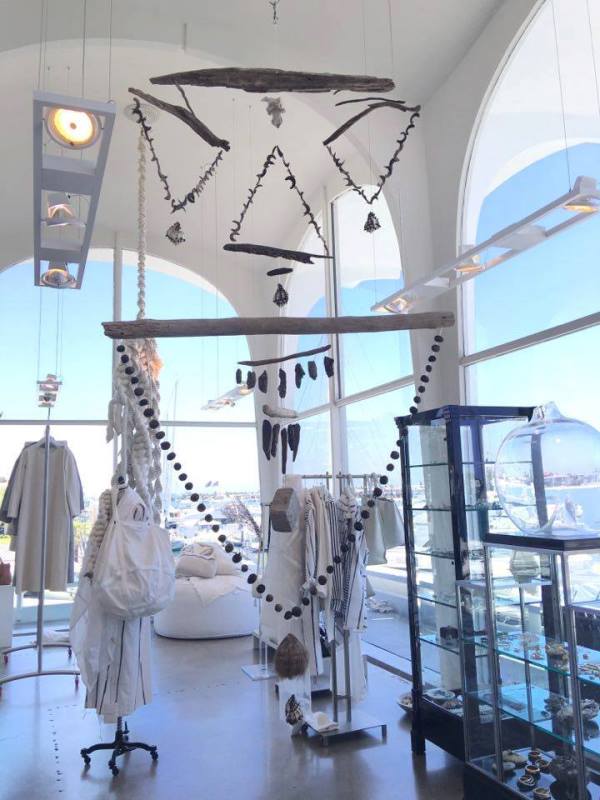 Does the commissioned place, where your art will be displayed play into your design?
JM: Where my pieces will hang or who acquires them never comes into play when designing a piece. Only on commission pieces do I factor in where they will hang.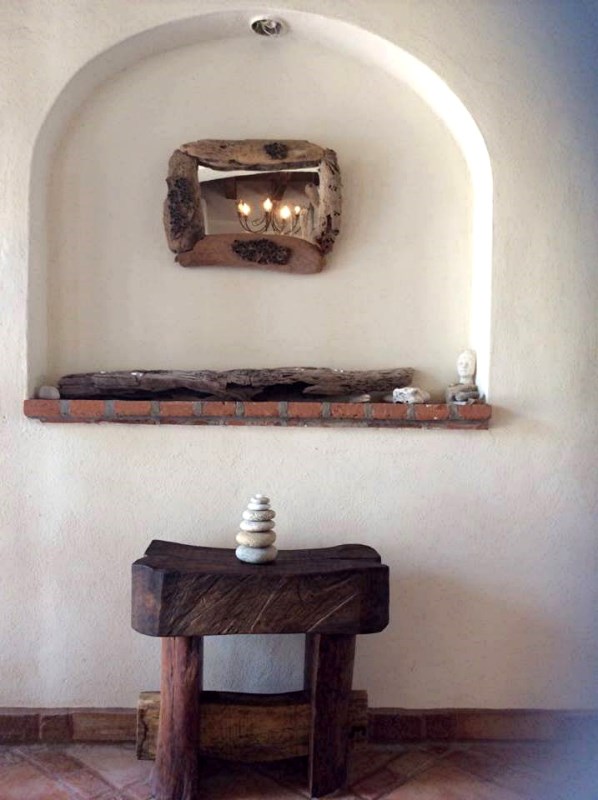 Organic Furniture designs are trending. Please tell me what inspires you when designing organic furniture?
JM: Organic furniture may be trendy now, but when I started designing furniture almost 10 years ago, it was a new concept to many. Now it is a multi-million dollar industry. My inspiration for the furniture is bringing the outside inside. Organic furniture is also user-friendly, and practical.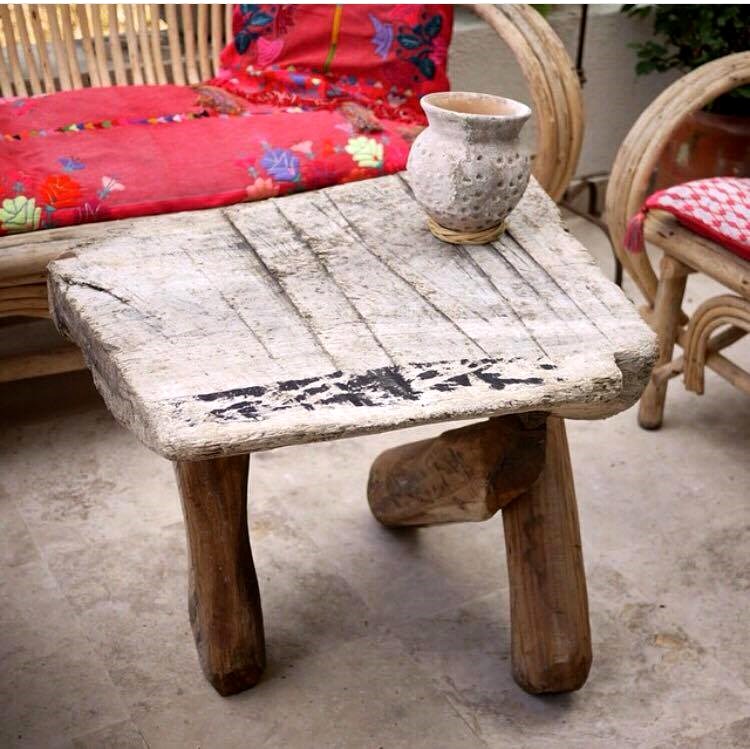 What is your favorite material to work with when creating your furniture pieces?
JM: Washed up teak pieces from old sunken boats excite me and so does old Mahogany driftwood, which tends to get a beautiful silvery/white finish on the outside and vibrant redwood underneath.
I understand you will be launching your jewelry designs in the fall, can you give us a sneak peek?
JM: Yes. I am very excited to launch my first limited collection of one-of-a-kind organic jewelry. Unfortunately, these unique designs will have to remain under wraps for now, but I can tell you that the collection will consist of only 30 pieces and each will be embellished with pure silver. Our existing clients will get a sneak preview in advance, and then we'll send out a press release and public invitation when we're ready to launch
I am always searching for artists to interview that create authentically personal art and Jane Maroni is one such artist. I hope you enjoyed my artist spotlight today and hope that you will visit her site for more of her amazing work.
Other posts you might enjoy:
Artist Adam Cook Rocks Acrylic Color
Coloring with Lisa Jill Allison – Artist
Artist – Steven Manolis, "Happy Birthday America Series"
A Tribute to Lisa Bufano – A performance Artist Despite Disabilities
Share This Story, Choose Your Platform!