There's no better way to put your personal stamp on a home than by add abstract art. A painting adds style to your walls and provides a nice pop of color to accent your existing designs. The contrast of a bright painting in a room with a muted design scheme is a particularly striking option.
One popular art style for home paintings is the abstract art movement. If you're looking for a new piece for your home, commissioning an abstract floral work allows you to get just the right painting to match your artistic preferences.
Abstract Art • Why We Love It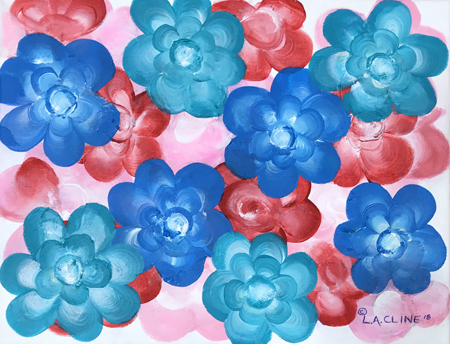 What Is Abstract Art?
The abstract movement involves creating abstractions from direct representation. Therefore, they have either no strictly identifiable elements, or elements which show a clear inspiration. Interestingly, they are not intended to be realistic in appearance.
For example, this abstract flowers image is easily recognizable as a painting of flowers. However, the petals themselves are not styled to as accurate as possible. Instead, abstract art leaves the artists a great deal of creative expression. On occasion, it features abstractions so extreme that there is a broad range of interpretations by those viewing it.
How Does Abstraction Occur?
Unsurprisingly for an art form about subverting reality, there is no one true way to create abstract art. Most artists often employ more than one type of abstraction in a single piece of art. The two most common ways that abstraction is used when painting flowers are in shape and coloring.
Many styles of abstract art, including cubism and curvilinear paintings, take the shapes we commonly associate with the subject of the art and alter them to create a more surreal look. While you still identify the flower as a flower, it is also clearly altered from reality. Other pieces of abstract art pass for realism by changing the color palette. This possible because of the unusually bright and high variance of colors.
Commissioning an Abstract Floral Piece
Finding the right abstract flower paintings for your home is easier when you commission new pieces. With a commissioned work you speak to the artist and discuss what you want in order to get a final piece which best matches your style. Custom work allows you to get a painting which is truly yours.
If you're redesigning a new room or want to add art to your current style, consider a custom commission. Check out some existing abstract flower art to see what you love, find a talented artist and get your painting!
Other Posts You Might Enjoy:
4 Design & Decor Styles for Flat Screen TVs
5 Economical & Easy Ways to Elevate Your Home Décor
6 Inspiring Glass Countertops for Your Kitchen or Bathroom
Share This Story, Choose Your Platform!