Entering the world of interior design is not merely a pursuit of aesthetic excellence; it's an intricate dance of displaying your prowess and experiences in a manner that captivates potential clientele. A robust, meticulously curated portfolio can illuminate your capabilities and set you apart from a sea of designers. Let's embark on a detailed journey to ensure your portfolio truly captures your essence as a designer.
How to Build Your Interior Design Portfolio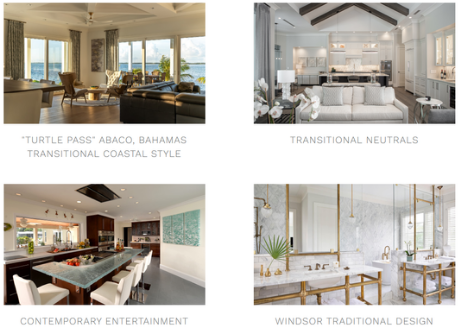 Do Your Market Research
The initial, crucial step towards curating an impeccable portfolio is discerning who you aim to impress. Is your focus predominantly residential homeowners, or commercial spaces? Perhaps you are working in a niche path such as boutique hotels or historic property renovations. This decision forms the bedrock of your portfolio's direction.
Dive deeper than surface knowledge. Truly comprehend the likes and dislikes of your potential clients. Understanding trending color palettes, textures, and materials in that market space, will align with your clientele and show your commitment to that design niche.
Start with Personal Projects
In the nascent stages of your design journey, it's natural to possess a limited repertoire of client projects. Don't let this deter you. Channel your skills into designing spaces around you. Perhaps your own living space or a close friend's room. These spaces can be a playground for stylistic experiments, intricate color combinations, and finetuning your distinct design ethos. Far from being mere filler, personal projects bear testament to your passion. They silently convey the notion that if you can invest such energy into non-commercial ventures, the dedication towards actual client projects would be unparalleled.
Document Your Process
The allure of interior design lies as much in the journey as the final outcome. Move away from the traditional practice of only showcasing finished projects. Begin documenting the intricate process. Before and after snapshots, preliminary sketches, mood boards, and a step-by-step breakdown of your design rationale can be enticing. By allowing potential clients a glimpse into the intricacies, you're offering a transparent view of your expertise. It speaks volumes about your systematic approach, the creative challenges you've overcome, and the depth of thought behind every choice.
Engage in Collaborative Ventures
Establishing a presence in interior design is not just about solitary brilliance; it's about building synergies. Collaborate with other creative souls: photographers who capture spaces magically, local artisans who bring unique touches, furniture designers who craft masterpieces, or architects who redefine skylines. Such collaborations infuse your portfolio with a rich tapestry of varied skills, giving it depth and broad appeal. Beyond the immediate benefits, collaborations are long-term investments. They foster relationships, often leading to client referrals and a holistic professional network in the world of design.
Use Quality Photographs and Images
How you present your projects can make a world of difference, and it all hinges on the quality of the photographs and images you use. In essence, even an immaculately designed space can lose its charm if not captured correctly. Engage with professional photographers who specialize in interior spaces. Their expertise can ensure that lighting, angles, and perspectives amplify the beauty of your designs. High-resolution images that highlight intricate details, textures, and the interplay of light and shadow can breathe life into your portfolio. Think of these images as the lens through which potential clients experience your work. 
Complement photographs with detailed floor plans or 3D visualizations. Make sure that all images you use are properly formatted for the various platforms you'll use them on. This includes ensuring they are kept at the right size that allows your website portfolio to load quickly. PDF compression tools can be useful for ensuring the right size for your images, without sacrificing quality. 
Stay Updated and Relevant
Creativity is fluid, and ever-evolving. Interior design is no exception. Styles that were once the pinnacle of chic might now appear dated. Thus, the periodic rejuvenation of your portfolio is not just recommended; it's imperative. Be a voracious learner. Keep a finger on the pulse of global design shifts, increasing sustainability demands, and technological leaps in design software. Infuse these dynamic elements into your creations, ensuring your portfolio remains an up-to-date testament to your adaptability and forward-thinking approach.
Prioritise Quality Over Quantity
The all-too-common notion that the size of one's portfolio is synonymous with the depth of one's expertise is a fallacy that needs debunking. A brimming portfolio may seem impressive at first glance, but discerning eyes quickly discern the difference between quantity and quality. It's not the sheer number but the brilliance within each piece that speaks volumes about a designer's capability.
Instead of populating your portfolio with every project you've ever undertaken, a focused, curated approach has a greater impact. This method gives each of your designs the spotlight it deserves. Opting for a smaller, meticulously chosen collection ensures that potential clients encounter only your best works. These prime projects can capture your growth, versatility, innovation, and attention to detail, offering a panoramic view of your design ethos. 
Include Client Testimonials
Visuals, while powerful, are complemented perfectly by words—especially when they are words of praise from elated clients. Such testimonials infuse an additional layer of credibility into your designs. A stunning visual can capture the eye, but a heartfelt testimonial captures the heart and trust of potential clients. When a project concludes and you sense palpable satisfaction from your client, gently request them for a short endorsement. Strategically interspersed amongst your showcased works, they can weave a narrative that combines your design brilliance with the tangible joy you bring to clients.
Final Thoughts
The world of interior design, ever vibrant and dynamic, demands more than mere talent. It requires a showcase, a portfolio that doesn't just display works but tells vivid tales of the journey, challenges, and the heart behind each design. By meticulously understanding your audience, diversifying your showcased projects, and ensuring every piece exudes quality, you lay down a foundation for success. As you tread this path, let your portfolio not just be a gallery but a captivating narrative of your growth and commitment. Let it echo your passion and make an indelible mark on every beholder.
Other posts you might enjoy:
Growing Your Interior Design Business
Interior Design Business; Creating an Effective Website
Share This Story, Choose Your Platform!