With an estimated 4.9 billion users, social media has become an essential instrument for businesses to efficiently engage their intended audience and advertise their offerings. For interior designers, leveraging social media platforms can greatly enhance their visibility and attract potential clients.
In this post, we'll explore four effective social media marketing tips specifically tailored for interior designers. By implementing these strategies, you can elevate your online presence, engage with your audience, and ultimately grow your interior design business.
4 Must-Do Social Media Marketing Tips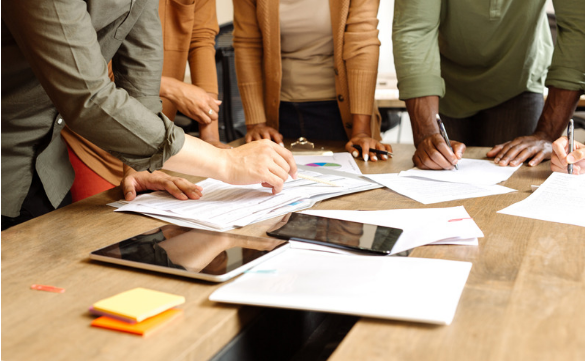 Choose the Right Social Media Platforms
Choosing the right social media platforms for your interior design business is essential, ensuring they resonate with your target audience and effectively display your portfolio of designs. Instagram, for instance, with its visually captivating nature, stands out as an exceptional platform for presenting stunning images of your completed projects. The platform's focus on visual appeal and narrative imagery enables you to create a memorable impact on your audience.
One notable benefit of choosing Instagram as your primary marketing platform is that you can collaborate with a reliable third party that offers the best Instagram growth services. They're able to help you expand your reach organically, attracting a larger audience and potential clients who appreciate your design expertise.
Another platform worth considering is Pinterest, which caters to users looking to discover and save inspiring design ideas. By curating eye-catching boards and sharing appealing visuals, you can position yourself as a go-to source of inspiration for users seeking interior design solutions. 
Additionally, Houzz, a dedicated platform for home design enthusiasts, offers a valuable opportunity to connect with homeowners actively seeking design inspiration and professionals in the industry. In addition, Facebook provides a platform for community engagement and networking within local communities, enabling you to establish meaningful connections and generate leads within your geographic area.
You can significantly enhance your online presence and reach a broader spectrum of potential clients by carefully choosing social media platforms that resonate with your target audience, and by presenting your design portfolio in a captivating way.
Create Engaging and Visual Content
In the visually-driven world of interior design, captivating and visually appealing content is essential for grabbing the attention of your audience. To showcase your skills and style effectively, share high-quality images of your completed projects. These images not only demonstrate your expertise but also allow potential clients to envision their own spaces transformed by your designs.
In addition to showcasing your finished work, providing behind-the-scenes glimpses into your design process can be highly engaging. By offering your audience an exclusive look into the creative journey, you establish a personal connection and allow them to experience the passion and dedication behind your designs.
Another effective approach is to showcase before-and-after transformations. These visual representations of your work can be incredibly impactful, illustrating the remarkable difference your design expertise can make. Potential clients are often drawn to the transformative power of interior design, and showcasing these transformations can inspire them to reach out to you for their projects.
Furthermore, sharing design tips and tutorials adds value to your audience and positions you as an authority in the industry. By providing valuable insights and practical advice, you not only engage your audience but also establish yourself as a trusted resource. This positions you as a go-to expert, which can lead to increased inquiries and referrals.
Implement Consistent Branding
Consistent branding across your social media platforms helps create a strong and recognizable identity for your interior design business. Start by developing a logo and visual identity that reflects your unique style and values. Establish a consistent color palette and typography that aligns with your branding.
Additionally, develop a distinct tone of voice and messaging that resonates with your target audience. By maintaining consistency in your branding elements, you build trust and recognition, making your business memorable and distinguishable.
Engage and Build Relationships
Active engagement plays a vital role in achieving success in social media marketing. Take the time to respond to comments and messages promptly, showing your audience that you value their feedback and inquiries. Actively participate in relevant discussions and use trending hashtags to expand your reach and visibility.
Collaborate with influencers and industry professionals to amplify your reach and tap into their established audience. Building long-term relationships with clients and followers fosters loyalty and can lead to referrals and repeat business.
Final Thoughts
Elevate your interior design business to new heights by embracing the power of social media marketing. Start by choosing the right platforms and creating visually captivating content, then implement consistent branding, and slowly build strong relationships with your audience.
By adhering to these guidelines, you can highlight your projects, engage with prospective customers, and stimulate expansion in the online environment. Maximize your online presence and propel your interior design business forward with effective social media strategies.
Other posts you might enjoy:
Growing Your Interior Design Business
Interior Design Business; Creating an Effective Website
Share This Story, Choose Your Platform!