If you're looking for the hottest kitchen design in Denver, you'll be sure to have quite a few options. But one timeless design that countless homeowners strive for is the unique and classic modern kitchen design.
But many homeowners may not even know exactly what this design looks like. Here, we're taking a closer look at modern kitchen styles and offering some tips to help you craft your very own modern kitchen. A modern kitchen is sleek, minimalist, and for many, a timeless aesthetic to utilize for a space that can truly be the heart of your home.
What Does a Modern Kitchen Design Look Like?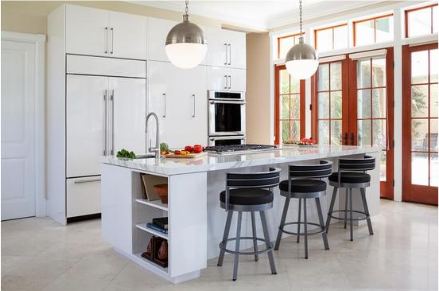 Design by Patricia Davis Brown Designs, LLC.
At first, the name might be a bit misleading. After all, when we say "modern," what exactly are we talking about? While we often think of "modern" as "current," this design truly originated around the early 20th century. A modern kitchen design focuses on simplifying a place in your home that can often be chaotic or a bit messy.
Generally, a modern kitchen design uses open space, a simple color palette, and minimalist features to create a clean, open and uncluttered space to create a fully functional space. With a more detailed look, a modern kitchen may include a lot of horizontal lines, industrial accent pieces, monochromatic color palettes, and simple hardware throughout. In many ways, a modern kitchen design is all about simplifying your space to keep it functional and aesthetically pleasing.
How to Create This Popular Style
Now that you know a bit more about modern kitchen design, it's time to put these ideas into action. If you're looking to craft your very own modern kitchen, there are many ways to implement this style in your home. Many homeowners are shocked to learn how just a few tweaks to your kitchen design can transform this space.
Looking to create your own modern kitchen? Try these tips:
· Add in marble countertops for a smooth finish
· Keep your color palette simple with 2-3 colors (or a classic black and white combo)
· Use open shelving to show off your stylish kitchen appliances
· Use stainless steel appliances
· Make space for natural lighting
· Open up your space with a vaulted ceiling
Conclusion – What Does a Modern Kitchen Look Like?
If you're preparing to remodel your kitchen or you're building your own home, you have a lot of options when it comes to the style and aesthetics of your kitchen. An interior design company can come up with your dream design. And for most homeowners, the kitchen is truly the heart of your home. No longer just a space for cooking, the kitchen can be a place for you and your family to gather, share stories and great meals, and most importantly, spend more quality time together.
By implementing a modern kitchen design in your home, you'll have a smooth, sleek, and timeless design that you'll be sure to love for years to come. A modern design is intended to serve as an effective backdrop, not over-the-top flashy or distracting, so you can enjoy your fully functional cooking space. Utilizing smooth open space, minimalist features, and simple color palettes can help you craft that modern kitchen design you've always wanted.
Other posts you might enjoy:
5 Ways to Uplift Your Kitchen Décor
Common Kitchen Renovation Mistakes to Avoid
How to Incorporate Vintage and Modern Home Décors
Share This Story, Choose Your Platform!