Having aesthetically pleasing Kitchen Décor is important in any home. Kitchens have become the heart of a home. It's where you prepare meals, host parties, and spend time with family and friends. So when decorating this space, it's important to ensure everything looks great.
5 Ways to Upgrade Your Kitchen Décor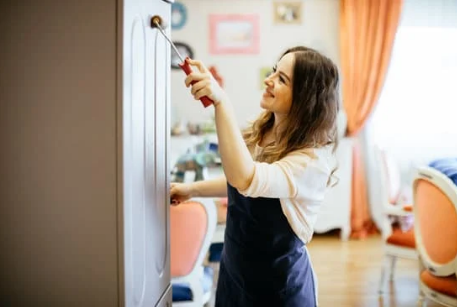 Here are five ways that you can uplift the décor of this important room.
Define Room Space with a Rug Runner
A runner rug can be an instant and affordable way to add a splash of color, texture, and warmth to your kitchen. Rugs are one of the most versatile ways to add personality to any space in the house. Runner rugs are particularly useful because they can be used as either a statement piece or simply as an extension of your flooring. 
Either way, they offer an easy way to define different zones in your kitchen—or even define separate rooms altogether. 
Upgrade Dining Table & Chairs
The dining table is the centerpiece of your kitchen, so it's important to choose one that works well with your other furniture. Consider a round table in wood or marble for a bright and airy space. If you're looking for something more traditional, try a rectangular table with simple lines. The chairs should match the style and material of your table but also be comfortable.
Add Texture to Kitchen Décor with a Backsplash
A backsplash is a great way to add color and texture to your kitchen, especially if it's an older home that hasn't been updated. Backsplashes are also easy to clean, durable, and can be made from materials like tile, glass, or metal. They can be used as the main focal point of your kitchen design or just as an accent piece around your sink area.
If you have ugly drywall behind your sink and cabinets with little space for a backsplash, consider using wallpaper instead. Wallpaper comes in all different colors and patterns, so it will instantly perk up that dull wall without having to spend a lot of money on something else first.
Consider Untraditional Kitchen Décor with a Black Sink
A black sink can be a great addition to any kitchen. It will instantly add contrast, style, and an unexpected touch that will give your décor some personality. Black will also hide stains, so if you have kids or messy cooks in your family, this is a great option.
Finding a black sink that matches your style and budget is also easy. You can go with traditional granite or stone for a more modern look, or choose something like stainless steel with an undermount bowl if you prefer something simple.
Paint Your Cabinets for a Personal Touch
If you're looking for a quick way to update your kitchen, painting your cabinets is the way to go. You can choose various colors, styles, and finishes depending on your look. Painting cabinets isn't difficult either; if you DIY, you only need the basic tools.
When you're painting your cabinets, it's important to make sure that you prep the surface first. You can do this by sanding down rough spots and cleaning off dirt or grime with vinegar and water. Once your cabinets are clean and smooth, you can paint.
Final Words on Kitchen Décor
With just a few simple touches, you can turn any space into a warm and welcoming area for friends and family.  Don't forget to share it with anyone who could use some new décor ideas.
Other Posts You Might Enjoy
How Granite Countertops Enhance Your Kitchen
4 Ways to Give Your Kitchen an Instant Makeover
The Ultimate Sous Shelf Review for Kitchens
Share This Story, Choose Your Platform!