Are you done with not having enough counter space in your kitchen? If you have a small outdoor kitchen like me and love to entertain guests you may struggle to find enough space. Let me introduce to you the Sous Shelf because it will solve all your problems. The Sous Shelf is a patented metal shelf that easily mounts under a kitchen cabinet and is completely out of sight when not in use. When folded down, it can hold up to 30 pounds so is great for a cooling rack, casserole storage or anything that needs to be neatly off the counter area.
The Ultimate Sous Shelf Review For Kitchens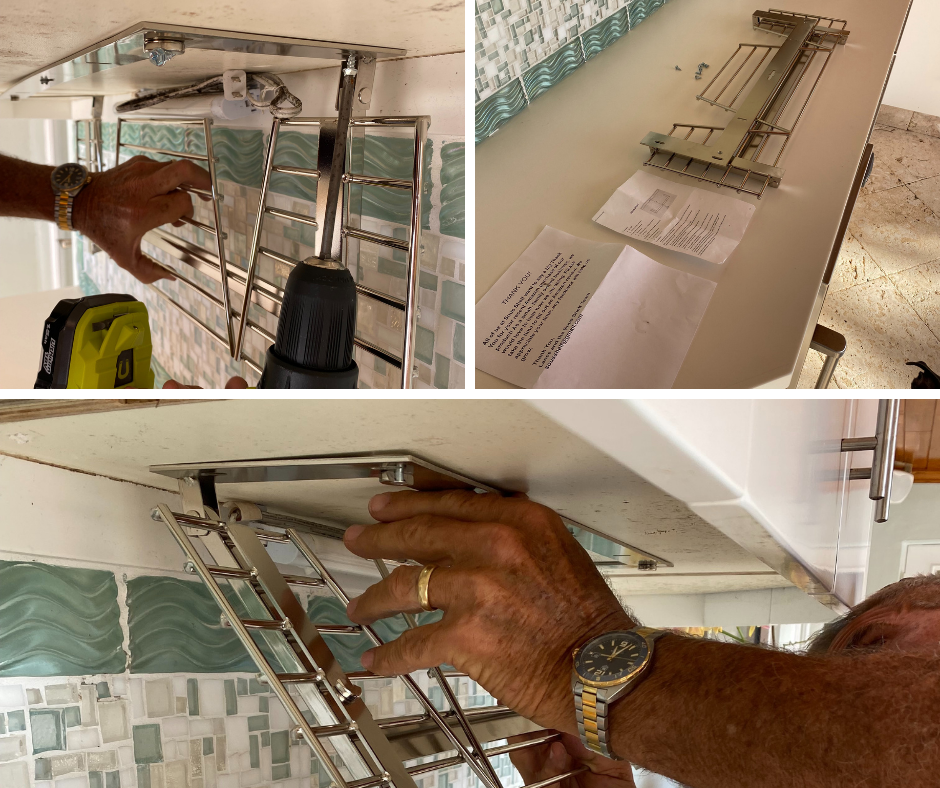 When it first arrived I was so excited to get my hands on it to see what it was like. Of course, I wondered if it would hold its ground during testing. I am going to break down my review to give you everything you need to know before you purchase the Sous Shelf.
What Is It?
The Sous Shelf is a convenient solution for freeing up counter space so you can continue to prep or even have a place to entertain. It had a strong and elegant chrome design so it won't even be an eyesore when in use. It is equipped with an under-cabinet drop-down design so when it is not in use you can simply fold it up underneath your recessed cabinetry. Don't worry about it falling either because small magnetics secure the product in place. Its made from heavy gauge steel with a weight limit of 40lb. The chrome shelf is 28″ wide and 10″ deep, which is perfect for a pot or casserole platter. You can easily place it up on the shelf while you continue to prep your food underneath.
Installation
The package itself comes with 6 screws, instruction guides, and a shelving unit. Just by the looks of it, I knew this would be an easy install. The basic tool you need is a power drill and everything else is in the box. Simple! Here is a list of installation steps that you can find at  https://sousshelf.com/ 
All in all, installation was easy and hands down one of the easiest products I have installed and used. This was all due to the instruction guide that was easy to read and understand. The best part about it is that the product is completely not in sight. It is underneath my recessed wall cabinets when not in use. But I wondered.. if installation could be this simple then how will it do when I add weight to the product? Well let me tell you I was pleasantly surprised.
Weight Test
The Sous Shelf has a weight limit of 40lb but I wanted to take it a step further during my test. I used an empty enameled cast iron pot at first and the shelf did its job. There was a little flex but that is completely normal. Then, I filled it with water during my test to make sure that the Sous Shelf could really withstand the weight. I was pleasantly surprised with my results and knew that I could use this all the time for entertaining guests. I truly feel comfortable put glassware on the shelf when serving guests.
See below to watch a full review on video.
Conclusion
After testing and putting it to use I truly love my Sous Shelf and use it quite often. You won't go wrong with it. If you feel as though you don't have use for it, Sous Shelf gives you satisfaction guarantee return for any reason in first 30 days. That's a month to find out if you like the product. Overall, I would give this product 5 stars and you can purchase the product for a low price of $79.95.
The post was made possible by Sous Shelf which sent me the product in order to give an unbiased opinion. All opinions are 100% mine and 100% positive!
#sponsored
Images courtesy of: Patricia Davis Brown Designs, LLC.
Share This Story, Choose Your Platform!