Nothing beats the peaceful atmosphere of a soft glow.  Looking to set the mood?  Take a look at these various ways to produce a romantic light that will take your breath away.
Floating Candles
Glue fake flowers to the bottom of glass vases, fill with water, then add a floating candle on top.  It creates the perfect romantic glow and can be adapted to coordinate with any color scheme.
Soft, Colorful Lanterns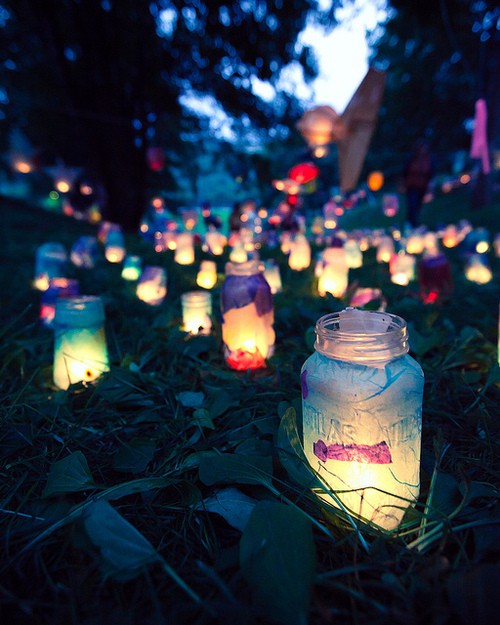 When stepping into a field of soft lit lanterns your breath is taken away by the elegant glow.  These mason jars covered with different colored tissue paper is a beautiful way to add mood lighting to your back-yard date night.
A Multitude of Dancing Flames
Sometimes more is actually…  more.  This multitude of candles has warmth flickering off every glass surface on the table.  It sets a dreamy atmosphere fit for a fairy tale.
The Perfect Setting
The best moments are when the perfect setting is stumbled upon.  All you need is an empty bench and a few Christmas lights.