Whether you are looking for homes for sale to purchase for a rental property or turn into a vacation rental, the interior design matters. Having the home staged beautifully will help rent it out faster or increase your vacation rental bookings.
You want to approach your interior design for a rental property differently than you would for your personal home. The following design tips will help you rent your property quick and increase your overall income for profitability:
Interior Design Tips for Your Vacation Rental Property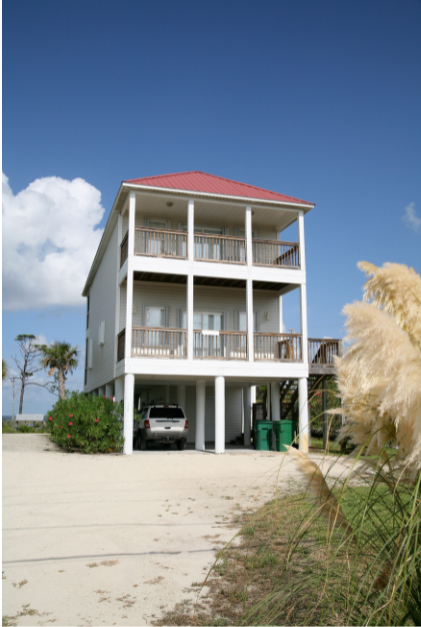 1. The Interior Design Must be Functional
Each room in your vacation rental needs to be functional and have a purpose. Your interior design play a big role in how your guest will use the home and be comfortable.
In your living area, you want to promote and design for conversation. This means people need comfortable seating and they need a place to put their drinks. Floating furniture groupings away from the walls is a great way to create a social gathering hub.
There should be a television and the furniture should be placed for easy viewing, like a sectional couch. Placing throw blankets and decorative pillows on the couch for cuddling while watching TV is the perfect way to cozy up the interior design of the room.
You want to make sure that every seat has access to a table, whether it's a coffee table or an end table,  so they can put their drink down. Placing interesting coffee table books not only looks beautiful but it also gives the renter readable material while on vacation. They're on vacation, and it's about relaxing and unwinding, so anything you can do to facilitate that is a good thing. 
In the bedrooms, it's all about comfort. You want to make sure that your bed is comfortable, but even more than that, make sure you put a nightstand on both sides. People are going to have books, phones, water glasses, and other items that they want within arm's reach. 
The next area to generally focus on is your lighting. Lighting creates a mood and ambiance and is also functional. Avoid lights that are too bright or harsh. Instead, use dimmable lights so that your guests can choose what's going to work for them depending on what they're doing at the time. Use a combination of floor lamps, table lamps, and overhead lighting. You can also warm up a space with sconces and twinkle lights. 
As you're designing for functionality, think about who your guests are most likely to be and how they're most likely to spend their time. 
2. Choosing Your Color Palette
When choosing a color palette for a vacation rental, you want to base it first on your rental. For example, if you have a beachside rental, you might opt for blue and turquoise as part of your palette. While you want to incorporate some color into a space, your palette should be neutral. Neutral color palettes feel calming, relaxing, and fresh, as well as broadly appealing. Colors that are too bold can be off-putting depending on someone's individual taste. 
You can add subtle pops of color that reflect the personality of the location where your rental is, or you can add visual interest with rich textures. 
3. Choosing Furniture for the interior design 
When you choose furniture for a vacation rental, there are a few things to keep in mind. First, don't go with just one furniture brand. You don't want your home to feel matchy-matchy. You want it to feel warm and curated. It might be easy to buy matching sets of furniture, but it's going to cause your home to feel unoriginal and sterile. You can repurpose objects you find, and that'll give your space some personality. 
Overall, don't furnish an entire room with all new pieces or all antiques. You want to mix them together. Mixing antique and vintage furniture with new pieces is going to help it feel more high-end. You should avoid furnishing a room with pieces that are all the same height. You want to have a balance of different heights and proportions.
4. Materials and Quality Matter in rental home interior design
When you're choosing high-touch items for a vacation rental, like coffee tables and dining room tables, you want the highest-quality materials and construction you can afford because it needs to be durable. In the long run, it will save by not having to replace it every year.
For pieces like armchairs and sofas, you need to think about fabrics that are high-performance and easy to clean. You might even opt for commercial-grade furniture if it's in line with your budget and aesthetic because it's designed for a lot of wear and tear. 
You want to try and choose items that are going to be easy to clean after every guest's stay. For example, rugs that are shag or high pile are harder to vacuum. Comforters can't be thrown into the washer easily whereas duvets can. If you have too many knick-knacks or unnecessary pieces of furniture, it creates opportunities for dust to gather, plus they have to be cleaned around and under.
5. Don't Forget the Walls
You want to make sure that your walls aren't bare. You can use local art, which can make your rental feel special and unique. You should try to rely primarily on large art, such as canvas pieces because those pull rooms together, and they photograph well. The placement of art is important as it needs to be scaled to fit the wall proportionately.
6. Comfort
When people are traveling, comfort is a top priority. With this in mind, pillows, linens, and mattresses are extremely important. Look for natural fibers like Egyptian cotton for your duvets, towels, and sheets. 
You can also add textiles in layers, which feel luxurious. Window treatments are part of comfort too. You want to make sure that your window treatments allow for plenty of natural light but can also be adjusted to control that light and for privacy. 
7. Avoid Clutter
Finally, your vacation rental shouldn't look like your personal home. You want a few thoughtful decorative touches, but don't go overboard with clutter. It will put too much of your personality into the space, which renters won't like. Your guests will feel like they're intruding on your space, plus it'll feel chaotic and stressful rather than soothing and relaxing. You want a neutral space while your guests are staying there that feels like their own. 
Other posts that you might enjoy:
Should You Invest in a Rental Property in Florida?
Boost Your Income from Your Vacation Property Rental
Reasons to Purchase Real Estate Property
7 Tips for Making Your Vacation Rental Property More Memorable
Share This Story, Choose Your Platform!