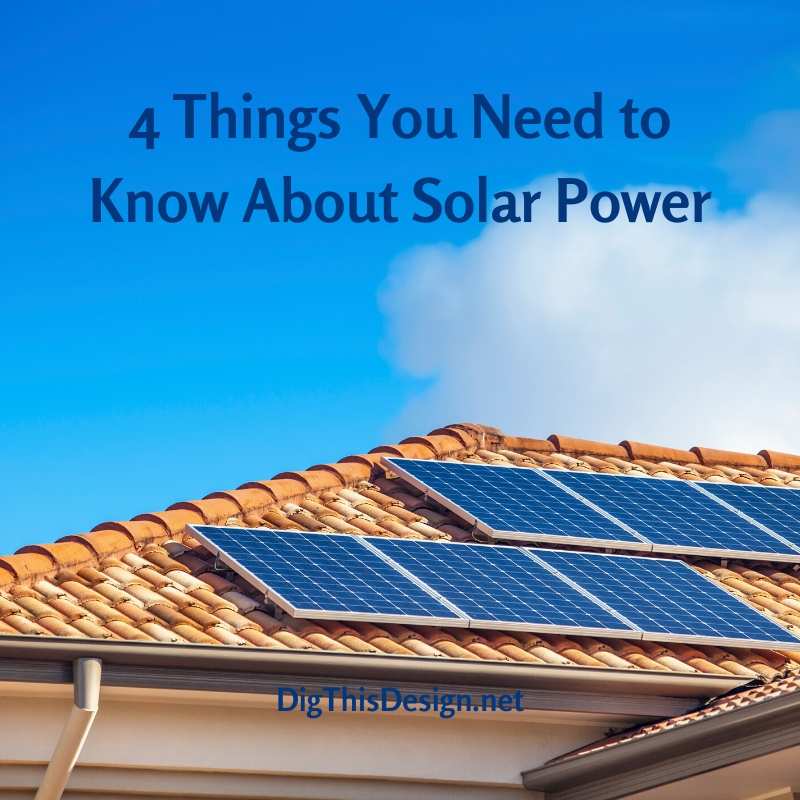 If you're looking to take part in green initiatives for your home, solar power is an obvious choice. It's a great way for homeowners to save money, reduce your carbon footprint, and make your home run more efficiently. However, there are a few design considerations you'll need to take into account before making the switch to solar power.
First and foremost, you need to talk to the professionals. For example, if you're moving to solar power from AGL in Sydney, it's essential to discuss all your options. Make certain you know the best types of panels for your home, the cost of installation, whether it's suitable for your property, and more. By taking the steps, in the beginning, you'll save yourself time and trouble down the road. We've made a list of some of the most important things to consider before choosing solar power for your home.
4 Things You Need to Know About Solar Power for Your Home
Is Your Roof Sturdy Enough?
It may seem a simple consideration, but it's definitely one you don't want to skip over. Before you embark on any form of roof modification or installation, you need to conduct a full property assessment. Your roof needs to be fully capable of supporting the new solar panels and be certain that the structural integrity of your home won't be compromised.
We always recommend thoroughly inspect your home before any home improvement project, and solar power is no exception. If you live in an older home, this is one step where you should be extra vigilant. Don't skip over vital roof repairs or maintenance to save money. Remember that the goal is to address issues before future problems arise.
Consider the Types of Panels
Because green initiatives are so popular these days, there are many different types of solar panels on the market today. Without expert advice, it might be difficult to find the right ones for your home. We recommend that you consult with a solar installation provider to ask which types of panels would be best suited to your home. These experts help you reap the full rewards of solar power. And with their guidance, you can rest assured you will have the right panels for your home, the weather, and your region's climate.
Seek Out Solar Power Certifications
It's no secret that homeowners can enjoy a fairly decent government rebate by installing solar power in their homes. However, to do so, your solar energy needs to be certified. Solar panel certification shows the type of testing that's been done on the panels and ensures they meet all the requirements. There are panels tested by both independent labs, as well as those that are assessed by the manufacturer, so you want to make certain you're aware of all certifications they have.
Weigh the Installation Costs
As with any home renovation or addition project, you want to weigh all the costs. Solar power will pay off big time in the end, but if you don't do it right, you'll end up wasting money in the end. It's absolutely crucial that you take the time to find a trusted, reputable installer who will meet and exceed your expectations. Don't overlook the opportunity to ask neighbors, as well as get recommendations from friends.
Furthermore, many installers provide package deals. See if you can find one that includes a yearly maintenance service offer, as well. Always do your due diligence to get the best bang for your buck.
Solar Panel Maintenance and Cleaning Tips
Solar panels for home usage is indeed a major investment. Fortunately, you can protect your investment with regular solar panel cleaning and maintenance to ensure long-term benefits.
Check out these tips for solar panel cleaning.
⎆ Solar Panel Maintenance Tips
Keep your solar panels out of shade because energy production inefficiency may result when they're kept from sunlight absorption.
To ensure compensation for electricity use, always check your solar panels and inverter's flash green lights.
Improve solar panel maintenance by documenting the day-to-day performance of your solar panels, especially during cloudy days.
Monitor systems to determine if the environment is benefited and the amount of carbon dioxide you're emitting or CO2 footprint. Check solar panel servicing information on a wall-mounted display at home.
For homeowners who don't have time to clean their solar panels, automated cleaners can be installed. They work like sprinkler systems in scheduled appointments.
⎆ Solar Panel Cleaning Tips
Today, solar panel cleaning kits are available to clean your solar panels at home. Consisting of a wiper, a small brush, or biodegradable soap, these solar panel cleaning kits are indeed handy.
Read the instructions provided on the bottle. The brush is dipped in the bucket and then gently wiped in the solar panels. Remove plain dirt that accumulated on the solar panels using water.
Check out these solar cleaning tips:
Don't use abrasive soap or sponge when cleaning your solar panel because it may cause scratches on the glass. Instead, use a biodegradable soap or soft rag.
Don't use harsh materials that may cause solar panel damage, leading to costly to repair.
Regular cleaning would just entail running a water hose along the solar panels to remove dirt.
Using a long-handled wiper is a good idea to clean the solar panels while you're standing on the ground.
Use safety ropes when you need to go to the roof to clean the solar panels.
Make the Right Choice For Your Home
The use of renewable energy is increasing each year. As such, it's important to keep up with eco-friendly developments and help aid sustainability in your corner of the world. There are so many advantages to using solar power in your home, and it should come as no surprise that more and more homeowners are turning to solar energy. It reduces monthly costs, decreases their carbon footprint, and creates a more economical means to an end.
As we mentioned though, we never recommend bypassing the professionals. While you will pay the money upfront to ensure it's professionally installed and certified, those costs will pay off in the long run. Furthermore, your installer will help you find the best panels for your individual needs, and you'll be able to enjoy the benefits of solar power for years to come.
Images Courtesy of Canva.
Other Posts You Might Enjoy:
Green Home Guide: 4 Quick Tips for Greener Living
4 Tips for Green Living in Everyday Life
Eco-Friendly Homes: 8 Things Every Realtor Should Know
Make Your Neighbors "Green" with Envy on Your Eco-Friendly Home
https://digthisdesign.net/wp-content/uploads/2018/04/4-Things-You-Need-to-Know-About-Solar-Power.jpg
800
800
Melissa Moore
http://development.digthisdesign.net/wp-content/uploads/2016/11/OLD_DigThisDesign_logo.jpg
Melissa Moore
2018-04-25 01:00:22
2021-01-16 09:58:36
Using Solar Power: 4 Things to Consider for Your Home