I am so honored to announce that my blog has been nominated for the Amara Interior Blog Awards. This is an award to celebrate the most authoritative and respected bloggers in the interior design community. As a veteran designer who was told I should start an interior blog to promote my brand, I could never have dreamt where it would have taken me in my career. I started my blog in 2010 and decided it would not just be a one-dimensional topic. I write about all things design and all things I dig.
My topics range from design, architecture, art, technology, and fashion, I never run out of things to blog about. My blog has proven to be a beneficial and profitable diversification of my career and I would like to share with you what my blog has done for me.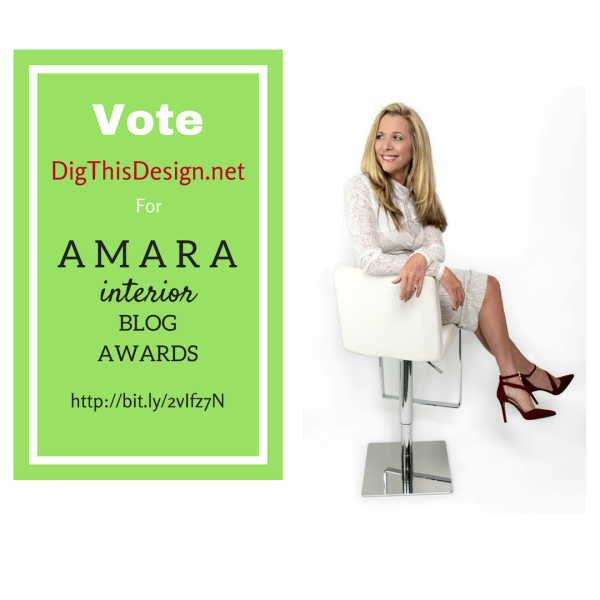 Why My Interior Blog was Great for My Design Career
Work with Brands
A year after starting my blog I received an invite by a large brand to fly to NYC to attend fashion week and to meet and attend fashion designer, Jason Wu's fashion show. I couldn't believe that because of my blog this opportunity had happened. While attending this amazing event I met 20 other interior blog authors and that community just keeps growing with each and every new opportunity my blog brings to me. I love networking amongst the interior blog community and so glad I became a part of it. A creative community that helps each other through promoting a message be it a product, idea, or each other.
Become An Influencer in the Design/Build Industry
My blog has made me a sought after influencer in the design/build community. I have traveled all over the world speaking on topics such as design, smart home technology, lighting design, and trends. I have been interviewed by editors of magazines like Consumer Reports, The Wall Street Journal, HGTV, just to name a few. I am a sought after speaker for the community by Public Relation firms representing brands.
Diversify My Business
As a professional with a 32-year career, I have a lot to share about what I have learned as a licensed interior designer, and a kitchen and bathroom designer. My blog allows me to give design tips to consumers, business tips to other designers by offering a platform of information, allowing me to give back. I have been taken out of the local box of business to business without borders. My clients are from all over the country and can be anything from whole-house design to lighting design. Dig This Design is a monetized independent media platform company that has diversified my business income. It has allowed me to take control over my career and not be simply dependant on the next design job, but open for the next opportunity in design.
Becoming an interior blog design professional has created numerous opportunities for me and this latest nomination for the AMARA Interior Blog Awards is simply more proof of that! Please click this link, http://www.interiorblogawards.com/vote/dig-this-design/, to cast a vote for Dig This Design.
Other posts you might enjoy:
Monogram Appliances, Designer Summit 2017 Taught Us Empathy
Continuing Your Education as a Professional Makes You the Best at What You Do!
Kitchen and Bath Industry Show 2017, a Must Attend Event
Share This Story, Choose Your Platform!