I was invited by Tile of Spain, to participate in Coverings 2017 VIP Press Tour, to see the latest in designer tiles. The Coverings show is always one of my favorite shows to attend because I get to see what's new and what's happening in the tile industry. As a designer, I rely on tile innovations in order to create a unique design for each and every one of my clients. Whether I am creating a signature wall to add the character I want to a room or I am creating a tile backsplash as a focal point to an open kitchen design I need to know what is available. I am excited to share with you, my experience of The Coverings 2017 Show, in Orlando Florida.
Coverings 2017 Show
Color Trends
The overwhelming color vibe shown this year at Coverings 2017 was gray and gray undertones, it was everywhere. The desire for a calm palette still continues allowing for pops of color with artisan mosaics.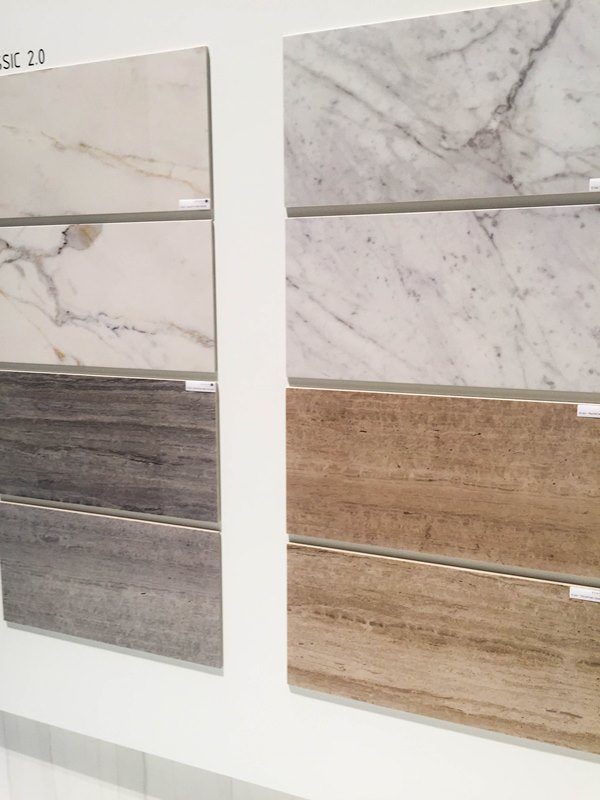 I am always a sucker for brilliant color and this was a success in my eyes. This beautiful handmade tile by CR Studio4 would create a beautiful focal point in any room, I love it! Designers are always looking for a material that will be the center of attention and artisan mosaics does that for me. There was a section at the show dedicated to artisan tile art and I always love checking them out for added inspiration to my mental library.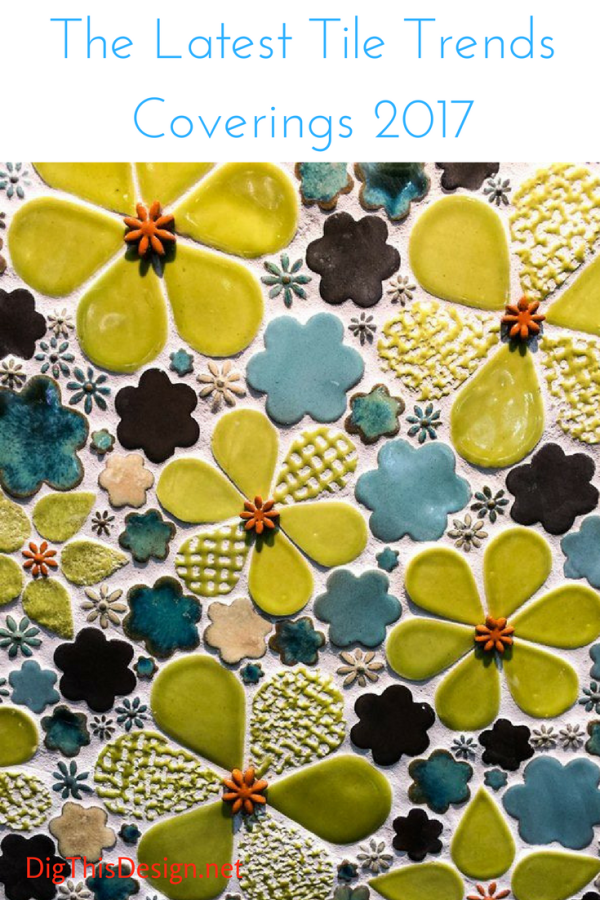 Trending Styles
I saw a couple of trending styles, the first one I want to talk about is the industrial contemporary style. I am particularly a fan of this style and I am currently designing a project with that look, so it was great to see a lot of offerings catering to it.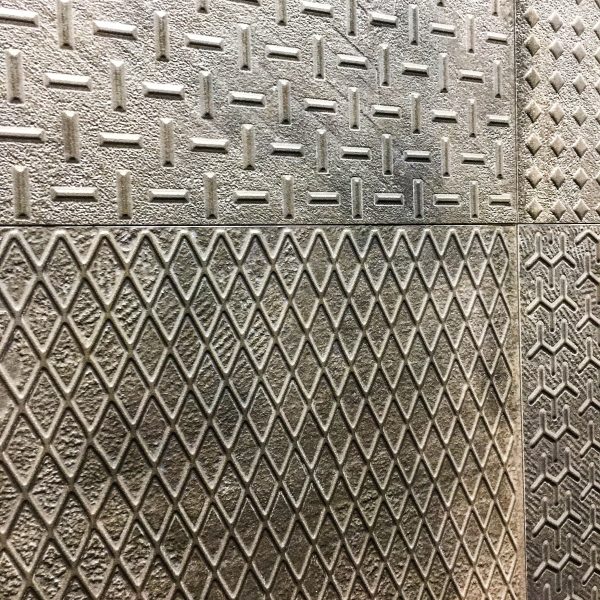 Photo by Patricia Davis Brown, tile by Saloni Ceramica
Industrial style doesn't have to be a hard look. Like most design styles it is about balance and typically you want to find that balance by adding a texture like a worn wood which I found a lot of it at Coverings 2017. Lot's of gray and washed woods, but I found blue wood looks thrown into the mix as shown by Mirage Ceramics Design Sustainability. Unfortunately, the lighting was not designed by me and it was hard to get a good photograph that really showed just how blue this tile is. I'm just saying, it is important when showing materials to use the right color temperature in the lighting.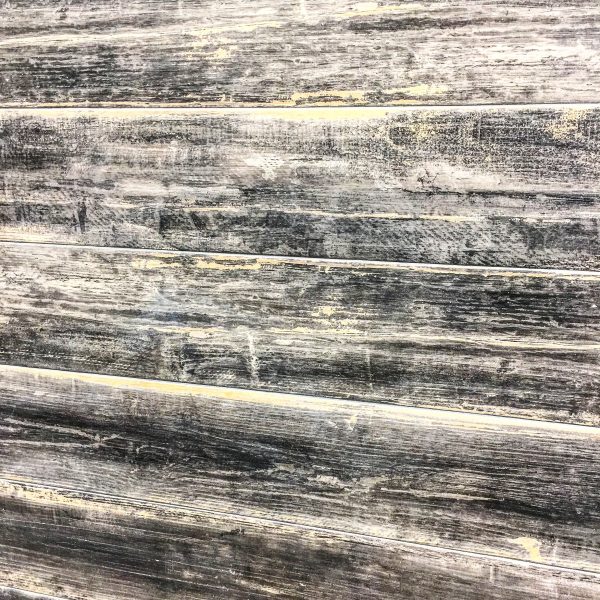 Size Matters
Bigger is better and the message was loud and clear at this year's Coverings 2017. This is driven by people wanting that cleaner look with fewer grout lines. Designers are seeking larger tiles and the popular sizes are, 18 x 36, 24 x 48, 48 x 48.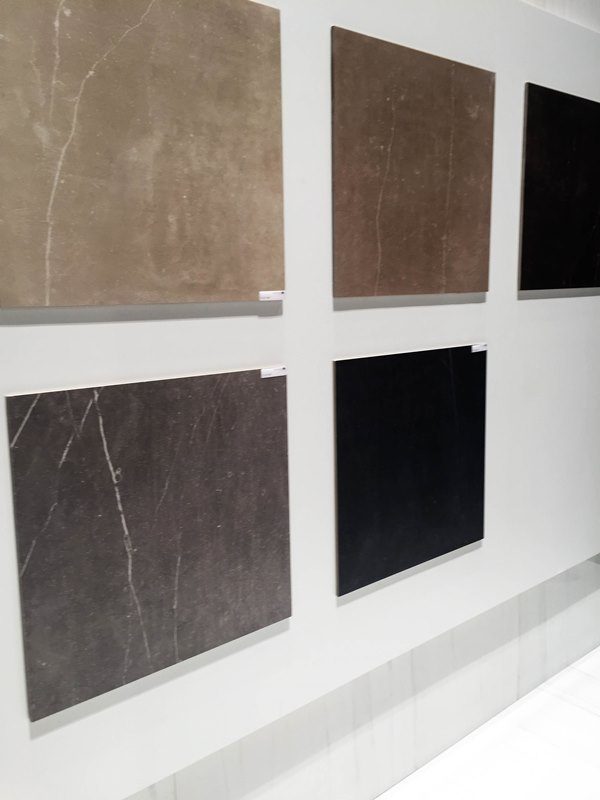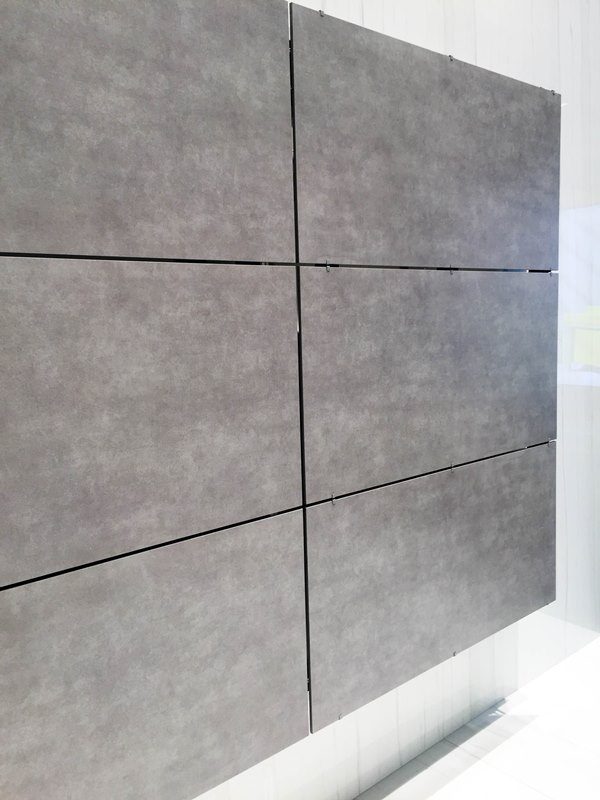 Technologies Create no Boundaries
I am a huge fan of technology and what it is doing for the design world. Digital imagery in the porcelain tile industry offers up so many design solutions for me. A project I am working on currently needs slabs of horizontal cut travertine to create an impressive signature wall. The problem I have run into is that it is hard to find, and if you find it then it breaks the budget. The solution was at Coverings 2017 with digital imagery of horizontal cut travertine in any color my heart desired and this my friends made Patty very happy!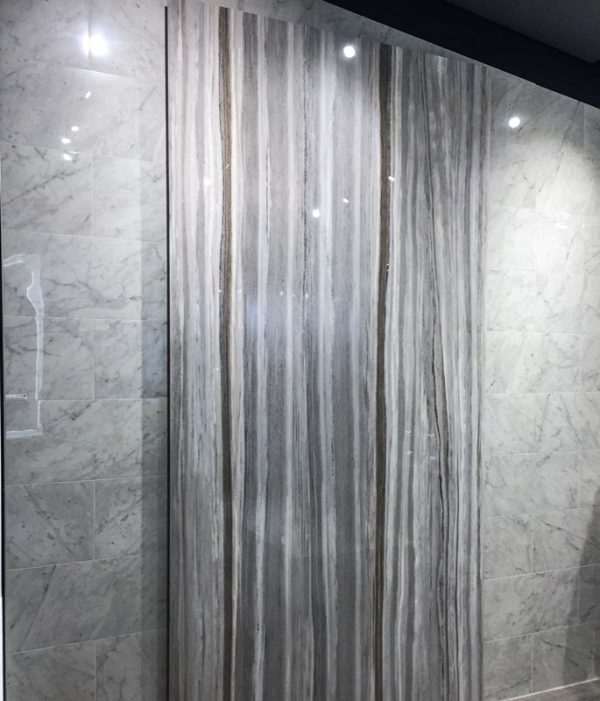 Photo by Patricia Davis Brown
This technique also allows for using porcelain in countertop fabrication by recreating a stone look on porcelain giving it the look of marble and the durability of porcelain.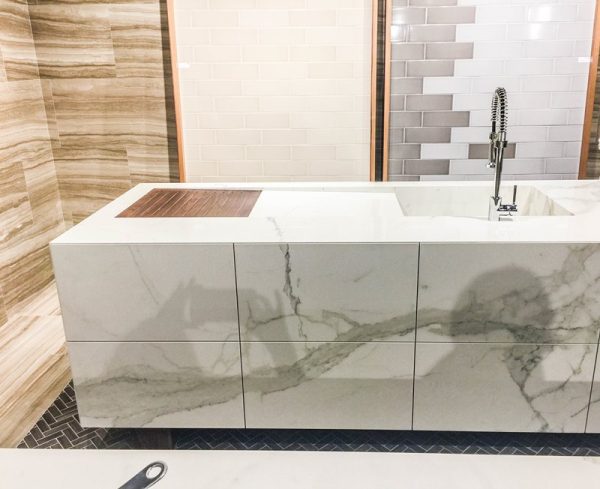 Photo by Patricia Davis Brown
Even art can be digitally rendered onto porcelain giving a wallpaper look to a shower wall, as seen done well by, Fondovalle.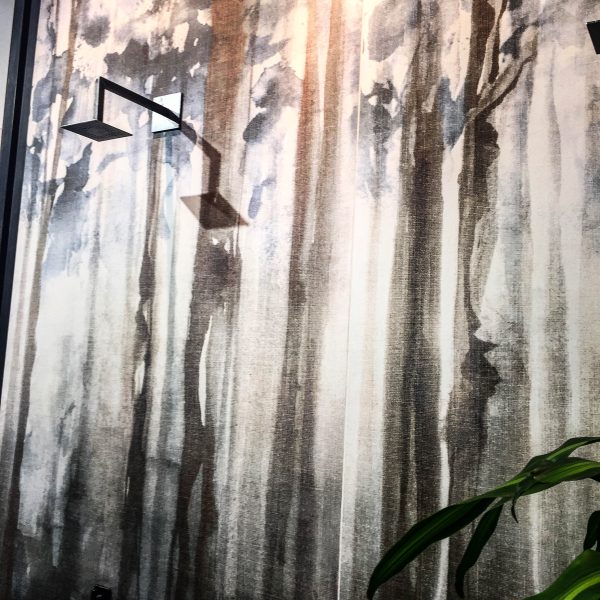 Photo by Patricia Davis Brown
An unexpected blast from the past was recreated on porcelain also, a terracotta look on porcelain. A twist was added by mixing the digital image of ceramic Mexican tile, shown by ELIOS ceramica.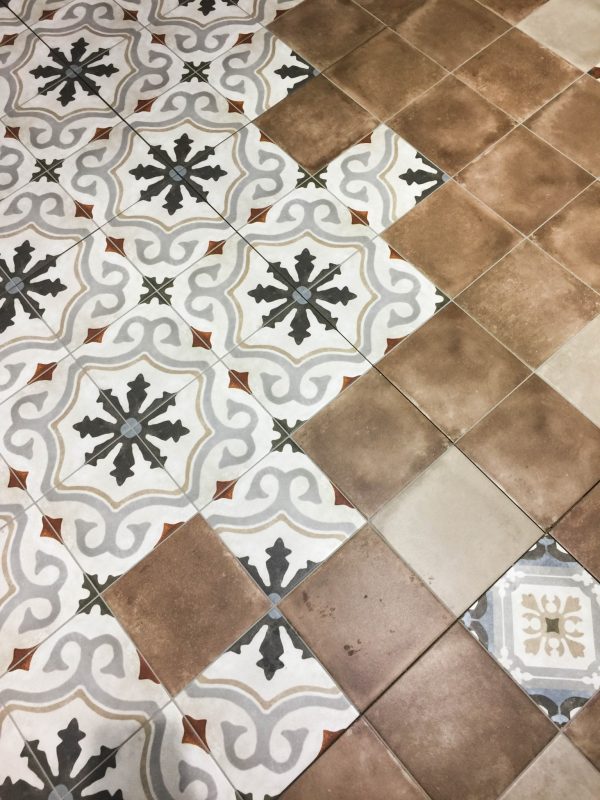 Photo by Patricia Davis Brown
Decorative Tile
3D tiles were shown heavily at this year's show. The fish scale tile caught my eye due to working with a lot of coastal communities on their home designs. I like to bring the environment that my clients live in into their design and fish tile does that very artistically.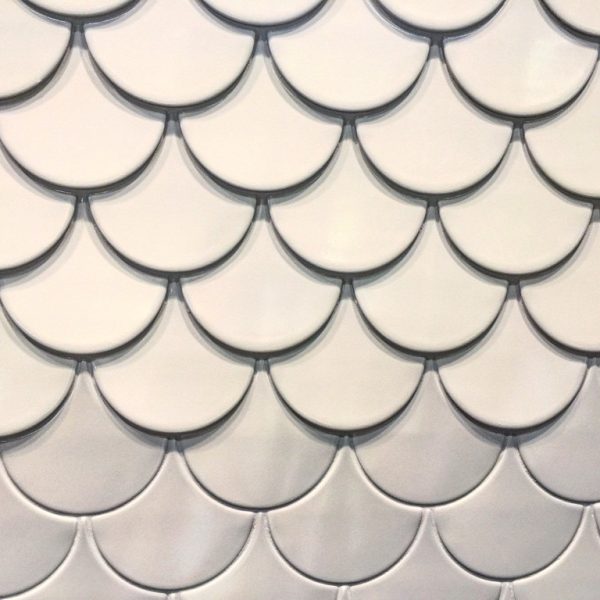 Photo by Patricia Davis Brown
Vintage tin tile was replicated on porcelain and it was hard to tell the difference unless you touched it.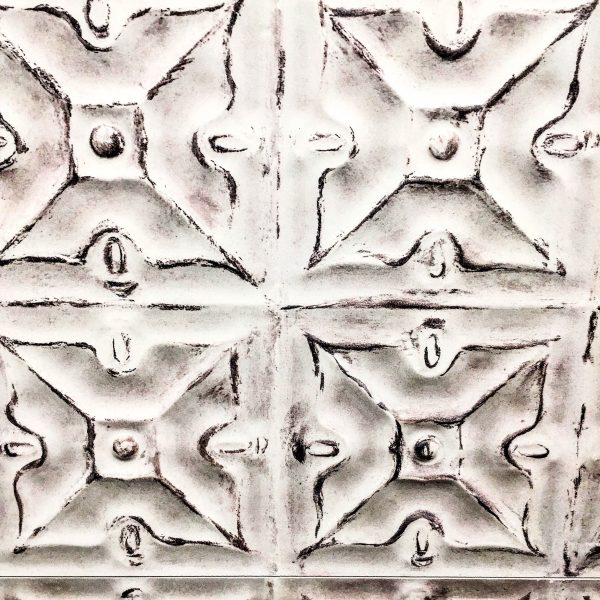 Photo by Patricia Davis Brown
Geometric patterns were shown using combinations of stone and wood looks. I love this pattern by ABK.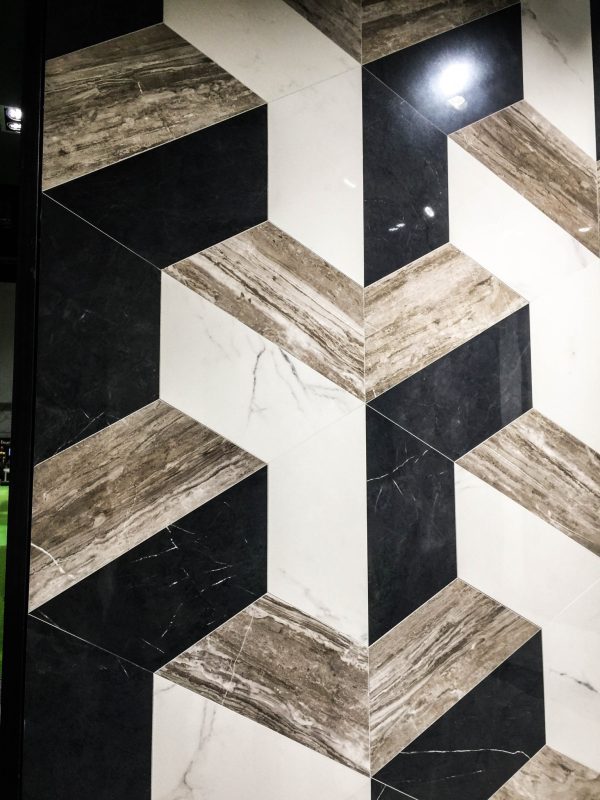 Photo by Patricia Davis Brown
After my tour, I was convinced that any material could be recreated with porcelain. I have never been a fan of a wood imitation tile, but the tile industry has come a long way with the progress of technology. The wood was more real to the touch than I have ever felt before. I am excited at all the possibilities that are offered in the tile market for interior designers like myself.
Images Courtesy of Canva.
Share This Story, Choose Your Platform!