If you're a homeowner in Florida, chances are you've come across the term "eclectic" in home decor. Eclectic interiors are a popular style choice in Florida due to the state's unique blend of cultures and influence worldwide. With eclectic interiors, you have the freedom to mix and match different styles, textures, and colors to create a space that is truly your own.
In this guide, we'll show you how to achieve eclectic interiors, share furniture and accessory ideas, provide tips for decorating on a budget, and offer advice on avoiding common mistakes. So, whether starting from scratch or looking to refresh your home, let's dive into the world of eclectic interiors and see how you can create a space that reflects your personality and style!
Tips for Creating Eclectic Interiors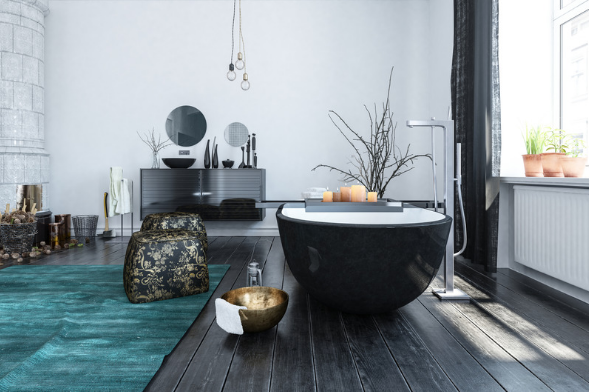 How to Achieve Eclectic Interiors
If you're new to this type of interior, it can be challenging to know where to start. Here are some tips on how to achieve an eclectic style that feels cohesive and visually pleasing:
Start with a neutral base
Begin with a neutral color palette for your walls and larger furniture pieces. That provides a foundation allowing you to add more colorful and patterned elements without overwhelming the space.
Mix and match different styles
Don't be afraid to blend different design styles, such as mid-century modern with bohemian or traditional with industrial. Combining various styles is what makes an eclectic interior unique.
Pick a color scheme of three to five colors and use it consistently throughout the space. That helps tie everything together and creates a cohesive look.
Mixing textures and patterns add depth and interest to a room. Consider incorporating various materials such as wood, metal, and fabric to create contrast.
Incorporate art and unique decor
An eclectic interior is all about personality and individuality. Add art, decor, and accessories that reflect your interests and personality to make the space yours. Remember to balance bold statement pieces with more understated ones to avoid visual clutter.
Furniture and Accessories for Eclectic Interiors
Once you understand what an eclectic interior is, it's time to think about furniture and accessories. Here are some ideas to help you create an eclectic look that's uniquely yours:
Vintage and antique pieces
Incorporating vintage or antique furniture pieces adds character and history to a space. Look for pieces with unique lines or interesting details to make a statement.
Handmade and artisanal items
Handmade and artisanal items add texture and warmth to a room. Add handmade pottery, woven baskets, or macrame wall hangings for a bohemian touch.
An eclectic interior often incorporates elements from different cultures and countries. Look for decor inspired by global designs, such as Moroccan rugs or Indian textiles.
Bold and colorful accents
Adding pops of color through pillows, rugs, and accessories is a hallmark of eclectic interiors. Don't be afraid to go bold and bright to create a visually stimulating space.
Lighting can make or break a space, so consider investing in unique and statement-making fixtures. Look for vintage or industrial-inspired pieces to add visual interest.
If you are about to move homes, carefully consider what furniture and accessories you will use for decorating your new home. Experts at Verified Movers recommend taking measurements of doorways and hallways and making a plan for furniture placement in your new space to avoid any issues.
Eclectic Interiors on a Budget
Decorating an eclectic interior doesn't have to break the bank. A wonderful tip to achieve an eclectic look on a budget is to shop at second-hand and vintage stores for unique pieces at affordable prices. DIY decor projects are another great option to create one-of-a-kind pieces that won't cost a fortune.
Furthermore, repurpose items in your home, such as using an old ladder as a bookshelf or turning a vintage suitcase into a side table. Mix high-end and budget pieces, splurging on statement items while filling in the gaps with more affordable options. Finally, watch for deals and discounts at your favorite home decor stores, and don't forget to shop locally for unique and affordable finds. By keeping your budget in mind, you can create an eclectic, stylish, and budget-friendly interior without sacrificing your comfort or style. 
At the same time, saving money can be especially useful if you are also planning a move. As you probably know, it's crucial to work with experts during a relocation, with their help, you can make even a long-distance move easy. Therefore, you can hire movers for a stress-free relocation by saving money on decor.
Common Mistakes to Avoid in Eclectic Interiors
Creating an eclectic interior can be challenging, and there are a few common mistakes to avoid. First, be mindful of clashing patterns and colors, creating a visually chaotic space. Next, avoid overcrowding the room with too many pieces, as it can make the space feel cluttered and overwhelming. It's also important to balance and maintain cohesion between the different styles, textures, and colors used in the room. Additionally, don't forget about functionality when choosing furniture and decor. 
Finally, while it's tempting to follow the latest trends, it's important to remember that eclectic interiors should reflect your style and taste. By avoiding these common mistakes, you can create a truly unique space that reflects your personality while maintaining a visually appealing and cohesive look.
Final thoughts
Congratulations! You've learned the key elements of creating eclectic interiors uniquely yours. Remember to start with a neutral base, mix and match styles, choose a color scheme, use texture and patterns, and add art and unique decor. Consider furniture and accessory ideas such as vintage and antique pieces, handmade and artisanal items, global-inspired decor, bold accents, and unique lighting fixtures. Create an eclectic interior on a budget by shopping second-hand, DIY, repurposing, mixing high-end and budget pieces, and looking for deals. Avoid common mistakes such as clashing patterns and colors, overcrowding, lack of balance, and choosing trends over personal style. Have fun and be creative. Design your dream eclectic interior today!
Other posts you might enjoy:
Living Room Design Style – How to Choose One
Experience the oy of the Mix with Transitional Interior Designs
Share This Story, Choose Your Platform!